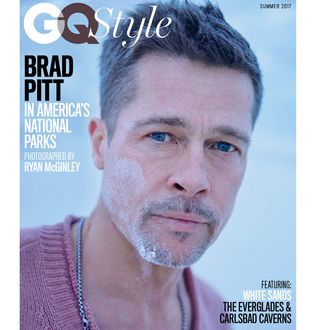 Hand Brad Pitt the aux cord. Your local Wokest White Man in Hollywood has proven time and time again to be an art bae of the highest regard: He skipped the Oscars (where his Plan B–produced Moonlight won best picture) because he was busy sculpting. In March, he was reportedly overheard listening to Waylon Jennings and Bon Iver. Now, according to his GQ Style cover story (complete with portraits that are extremely framable) his taste for art and love for sculpting is even deeper than we could have imagined. How's this for a rebrand: Brad Pitt is a movie star, but acting is just his side hustle now. When GQ Style asked how his days are going now that Angelina Jolie has the kids, he said he's been on a "sculpture folly," spending time in his friend Thomas Houseago's studio, "taking a shit on their sanctity."
So you're making stuff?
Yeah, I'm making stuff. It's something I've wanted to do for ten years.

Like what? What are you working with?
I'm making everything. I'm working with clay, plaster, rebar, wood. Just trying to learn the materials. You know, I surprise myself. But it's a very, very lonely occupation. There's a lot of manual labor, which is good for me right now. A lot of lugging clay around, chopping and moving and cleaning up after yourself. But I surprise myself. Yesterday I wasn't settled. I had a lotta chaotic thoughts—trying to make sense of where we are at this time—and the thing I was doing wasn't controlled and balanced and perfect. It came out chaotic. I find vernacular in what you can make, rather than giving a speech. I find voice there, that I need.
Speaking of voices Brad Pitt needs: Frank Ocean's and Marvin Gaye's! If the move from Waylon Jennings to Gaye's excellent divorce album, Here, My Dear, is any indication, Brad Pitt's back, baby.
When did you have that revelation? What have you been listening to?
I've been listening to a lot of Frank Ocean. I find this young man so special. Talk about getting to the raw truth. He's painfully honest. He's very, very special. I can't find a bad one.

And of great irony to me: Marvin Gaye's Here, My Dear [Gaye's touchstone album about divorce]. And that kind of sent me down a road.
Even Pitt admitted that acting is a "very small slice" of what he's up to these days. He's being real moody now, and spending a lot of time in the studio:
So what's on the agenda later?
I'm anxious to get to the studio. I think it was Picasso who talked about the moment of looking at the subject, and paint hitting canvas, and that is where art happens. For me I'm having a moment of getting to feel emotion at my fingertips. But to get that emotion to clay—I just haven't cracked the surface. And I don't know what's coming. Right now I know the manual labor is good for me, getting to know the expansiveness and limitations of the materials. I've got to start from the bottom, I've got to sweep my floor, I've got to wrap up my shit at night, you know?
Can that agenda include sharing his sculpting Spotify playlist? Because Brad Pitt has Hollywood's best taste in music.