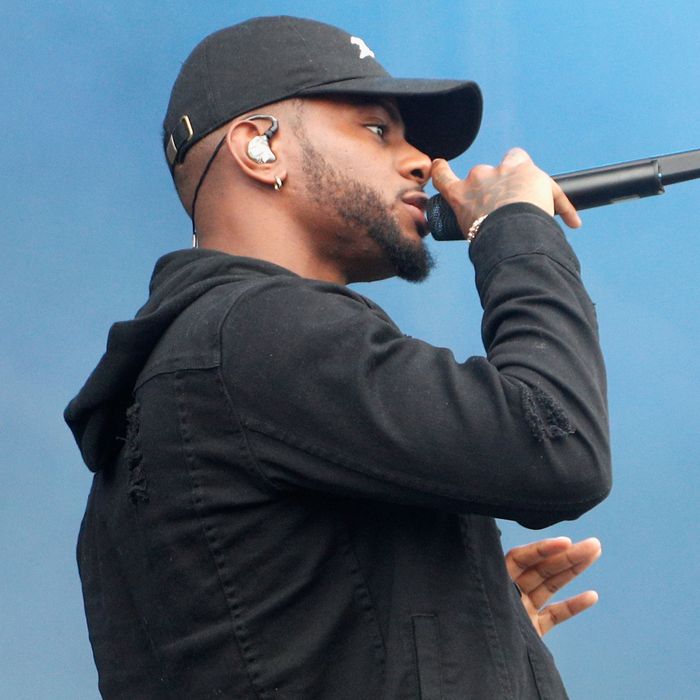 Bryson Tiller.
Photo: Taylor Hill/Getty Images
Louisville, Kentucky, artist Bryson Tiller debuted in 2015 with TRAPSOUL, an album whose title left little doubt which genres he intended to combine within it. Tiller wasn't the first singer-rapper to try to pair trap instrumentals with R&B lyrics, but by complementing the hybrid sound with careful writing and a low-key, relatable, everyday image, his fusion proved to be by far the most successful. In keeping with the steady persona presented on it, TRAPSOUL hovered in the middle-upper reaches of the Billboard charts for half a year, until it went platinum; Tiller's quiet presence and subdued fashion choices notwithstanding, he had gained access to the glittering ranks of the elite.
Though 2016 was a gap year in terms of albums, he kept busy by going halves on tracks with industry stalwarts like the Weeknd, Travis Scott, Gucci Mane, and Future, and only appearing solo on "Let Me Explain," a SoundCloud loosie which also happened to be one of his best songs. If "Let Me Explain" was any indicator, Tiller's sophomore album, titled True to Self, was something worth anticipating. Yesterday's announcement of a June 23 release date paired with the simultaneous drop of three tracks from True to Self has ensured that Tiller's broad and loyal fan base will be in a state of permanent hype in the weeks to come.
In keeping with the artist's preference for consistency over flash, the new tracks ("Somethin Tells Me," "Honey," and "Get Mine") impress through their fidelity to the sound Tiller established on TRAPSOUL. The first track narrates a relationship nearing its end, with the singer presenting himself as torn — not in a too-dramatic way — between a steady girlfriend and abrupt success: "Rubbing shoulders with bitches I used to put on pedestals but still I keep it professional," he explains, accompanied by a synth-layered T-Minus beat whose halting pace is a match for the gaps in communications described by the lyrics. The carnal hymn "Honey" tells a more vibrant story over a '90s R&B-style beat by Nes that pounds and envelops in equal measure; "Get Mine," also produced by Nes, smoothly mixes swagger fueled by newfound status (Young Thug's guest verse reinforces the theme) with suspicion aimed at would-be leeches aggravated by it. True to True to Self's title, Tiller isn't inventing a new sonic identity on these songs so much as he's advancing the one he already created. If he ain't broke — and with millions to his name, he's not — don't fix him; rest assured his sturdy, self-enclosed, yet generous aesthetic makes more sense than ever.