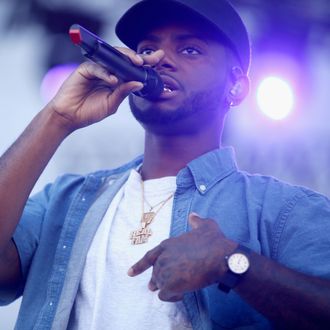 It's here way ahead of schedule.
Photo: Isaac Brekken/Getty Images
What's a release date if not another arbitrary rule to be broken? Though rising R&B star Bryson Tiller originally announced that his sophomore album True to Self — the anticipated follow-up to his unexpected breakthrough debut — would drop on June 23, Tiller has jumped the gun and released the whole thing a month early. Just as he gave up three songs all at once after an extended period of silence, boom, it's all here now. The young Louisville singer made a name for himself with 2015's TRAPSOUL, which took the music industry by surprise, with enough of an online following and the success of singles "Don't" and "Exchange" to go platinum in just six months. If it was all a fluke, Tiller will want True to Self to be the album that proves naysayers wrong and evades the one-hit-wonder fate. In addition to the album, Tiller has shared a video for new song "Somethin Tells Me." Start digesting both below.