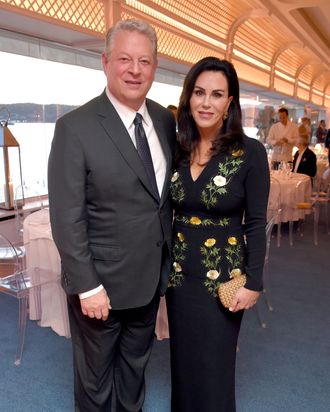 Al Gore and Liz Keadle.
Photo: David M Benett/Dave Benett / Getty Images for Vanity Fair
"This Prince song! I love it!" Al Gore cried out as the Purple One's "Kiss" came on at Vanity Fair's annual Cannes soiree at the Hotel du Cap-Eden Rock, spinning his girlfriend of over five years, California doctor and environmental activist Liz Keadle, around on the dance floor. Theirs is a truly modern romance, given that she lives in San Diego and the self-described "reformed politician" is famously ensconced in Nashville, though it was definitely Gore who was leading the dance charge, getting down to "Groove Is in the Heart" and "Stuck in the Middle With You" before retiring to a table overlooking the ocean to smoke a cigar. Arnold Schwarzenegger, who'd just finished a friendly chat with fellow California Republican Clint Eastwood — at Cannes to mark the 25th anniversary of Unforgiven — was a few tables down from Gore, also smoking a cigar. Perhaps environmentalism doesn't extend to the foot of air surrounding one's face?
While Gore and Schwarzenegger closed down the party chomping on those cigars, fun-loving Cannes jury member Will Smith was one of the first famous faces to show up, looking fly in a tuxedo ribbed with white ribbon. I got to fulfill a lifelong dream and tell him how his wife, Jada Pinkett Smith, was the first person I'd ever heard of who had my name and how, as a very unpopular teenager, that made me feel less weird. "That's fantastic!" he said. "Come here, I need to give you a hug."
As the party got going, among the first people to arrive was X-Men: The Last Stand director Brett Ratner, who'd been banned from the Hotel du Cap after writing a 2004 Variety article bashing it for giving him subpar service when he came there with then-girlfriend Serena Williams. Ratner was back in the hotel's good graces (and just wrote a Deadline article about it), and was parading around a very tall, gorgeous woman and introducing her to partygoers as "my future wife — she's Jewish and Asian!"
Soon the outdoor space filled up with the likes of Smith's fellow jury member, Jessica Chastain, as well as plenty of folks whose movies are subject to their votes, including Julianne Moore, here for Todd Haynes's Wonderstruck; Isabelle Huppert, here for Michael Haneke's Happy End; and Tilda Swinton, leading a very party-happy cast and crew of Okja — including Paul Dano, Lily Collins, Giancarlo Esposito, Steven Yeun, and director Bong Joon-ho — who'd frequently break out into dance-offs with Swinton's younger boyfriend, Sandro Kopp. Kopp very often won.
When Kendall Jenner swept in the room with her four-member model posse, towering over everyone, someone next to me remarked, "Are they genetically modified?" She could be seen deep in conversation with Jake Gyllenhaal, as Adam Sandler — in competition at Cannes with Noah Baumbach's The Meyerowitz Stories (New and Selected) — loudly FaceTimed with what sounded like his daughter. "Heya buddy, how ya doing? We'll talk to you later. Love you!" Meanwhile, T.J. Miller, in town to promote The Emoji Movie, was trying a new cocktail of his own invention: a chocolate macaroon tossed into a glass of Champagne. "I think I've created the grossest cocktail on the planet," he said.
The party's other fun presence, non-vice-president division, was Mary J. Blige, who'd come with her older sister LaTonya, and who could be seen hugging Naomi Campbell one moment and getting down to David Bowie's "Let's Dance" the next. She's freshly divorced, with a new album out, but was most excited about her upcoming film Mudbound (out late this fall) from director Dee Rees. Blige plays Florence, the long-suffering wife of a Mississippi sharecropper whose family is barely surviving on land that's more mud than solid ground — and pundits have been talking Oscar for Blige since its Sundance debut.
Blige, though, couldn't stop talking about how hot and dirty it had been. "Oh my god, you have no idea!" she said. "We were suffering. We had to wear rain boots because the mud was past our ankles." Every night she'd go home and take a shower — then take another one in the morning, just to be sure. "Who knows where that mud was going? We felt like we were rolling in it!" Blige was still there, dancing a few rooms away from Al Gore, as we left. No word when she called it a night, but we can safely assume she was thrilled to only have to take one shower when she got home.
Additional reporting by Kyle Buchanan.