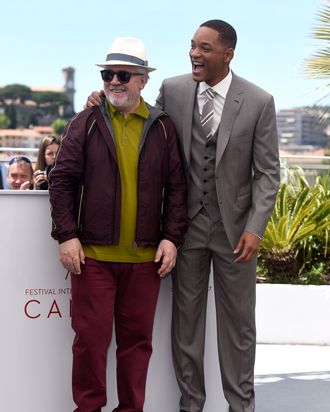 Pedro Almodóvar and Will Smith at Cannes.
Photo: Antony Jones/Getty Images
The jury members of the Cannes Film Festival have barely landed in the South of France and already they seem to be divided on the battle between Netflix and the festival (a battle that also involves the French government).
Here's what's been happening: Netflix has two films not only showing but competing at the festival for the first time. Bong Jong-ho's Okja, starring Tilda Swinton and Jake Gyllenhaal looking amazing, and Noah Baumbach's The Meyerowitz Stories (both on Vulture's Most Anticipated at Cannes list). Then last week, the festival essentially backtracked on having accepted those movies, announcing that starting next year they'll be banning any movie from competition that doesn't have a French theatrical release. For Netflix, this is an untenable position: Because of French laws and the powerful French theater owners' union, any streaming service is required to wait three years after a theatrical release before showing a movie. The French government has also refused Netflix's compromise offer of a limited French release, since the company still insists on releasing the movies day-and-date on their streaming service. The window for something to appear on VOD is a much more reasonable four months, but that's not really the way Netflix works. (Cannes has a much more amicable relationship with Amazon, which abided by the rules and had five films at the festival last year. But Amazon also doesn't have a giant streaming presence in France that would be affected by the rules.)
What all this means is that this first year of Netflix films competing at Cannes may also be the last. And that the current films in competition may now be in danger of being shut out of the awards for because the fraught politics of the issue.
Asked what he thought, Cannes jury president Pedro Almodóvar read a statement, which I've translated thanks to the help of Irene Crespo, a Madrid-based reporter for Cinemanía who was sitting next to me at the press conference. "What I prefer is these films not only to be seen in 190 countries but always to be seen in a big screen. That is really what I am concerned about," Almodóvar began, as the normally staid press corps burst into applause.
"And now if you allow me, I promise to be very brief, but I think you just pointed out the question and the debate of the year," he said. "I'm going to read a small statement in Spanish."
Digital platforms are a new way to offer work, which in itself is good and enriching, But these new form should not try to remove existing forms, like movies. They should not alter the habits of viewers and I think that's the debate now. For me, the only solution is that the new platforms should respect and obey the existing rules that are already adopted and accepted by the existing networks, in the vision of them. And I think this is the only way to make them survive.

Because I personally cannot conceive not only the Palme d'Or, but any other prize, being given to a film and then not being able to see this film on a large screen.

But this does not mean that I am not open and I do not respect and celebrate the new technologies and the possibilities that they offer us. I do acknowledge them, but as long as I am alive, I will be fighting for one thing that I'm afraid the new generation is not aware of: the capacity for hypnosis of the large screen for a viewer.

I think what what really determines the first viewing of a film for every spectator is the size of the screen on which you see it. The size should not be smaller than the chair on which you're sitting and it should not be part of your everyday setting. You must feel small and humble in front of the image that is here to capture you.

French actress-director Agnès Jaoui, a jury member, seemed to fall in the Almodóvar camp. "Netflix is a key issue," she said. "The world is changing and we can't pretend it isn't. They should have rights but they should have duties. They need to pay tax. We shouldn't penalize the great directors who won't be able to be seen on the big screen, and the French people should be able to see these on the big screen."
But Will Smith, a delightful presence on the jury this year, offered a perspective very different from Almodóvar's. Smith just finished filming a $90 million movie for Netflix called Bright, in which he plays a police officer with an Orc partner (Joel Edgerton) in an alternative America where magical beasts and humans live among each other, and he seemed to want the last word on his creative partner's place at the festival:
About the Netflix thing, I just wanted to say I have a 16-year-old and an 18-year-old and a 24-year-old at home, and they go to the movies twice a week and they watch Netflix. There's very little cross between going to the cinema and watching what they watch on Netflix. In my home, and I don't know other people's homes, but in my home, Netflix has absolutely no affect on what they go to a movie theater to watch. They go to a movie theater to be humbled in front of certain images, and there's other films that they prefer to watch at home. It's not as if they would've gone to the cinema if it wasn't on Netflix. It's two completely different forms of entertainment. In my house, Netflix has been nothing but an absolute benefit, because they get to watch films that they never even would've seen. Netflix brings a great connectivity for them to the world. They get to see movies that aren't on a screen within 8,000 miles of them. And now they get to find those artists and they look them up online and they make contact. There's this whole underground world of artists that gets born from that kind of connectivity. It's done nothing but broaden my children's cinematic, global comprehension.
Get jiggy wit that, Cannes!