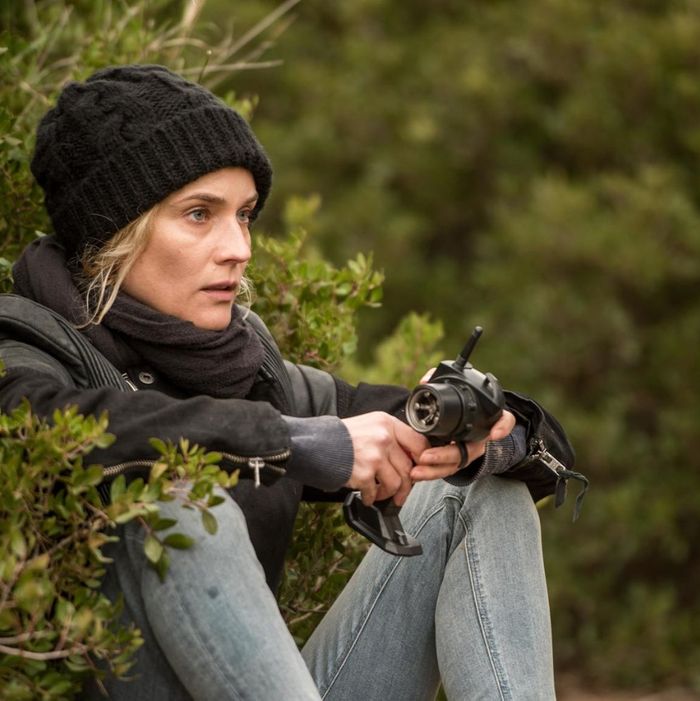 Diane Kruger in Aus dem Nichts (In the Fade).
It's early days in Oscars predictions, but you'd probably be wise to save a Best Actress slot on your ballot for Diane Kruger. This weekend, she won Best Actress at Cannes for her devastating performance as a woman who loses everything in a terrorist attack in Fatih Akin's Aus dem Nichts (In the Fade) — shockingly, Kruger's first German-language production — putting her in prime position for that one Oscar nomination a year that seems to go to a non-American actress (see: Emmanuelle Riva, Charlotte Rampling, Isabelle Huppert).
Kruger doesn't have the legend-who's-overdue-for-recognition status of those other Euro actresses, but her performance may be uniquely positioned to translate to a broader audience. For one, Akin's movie is both extremely topical while also avoiding the political minefields of other terrorist movies you've seen: The loved ones Kruger's Katja mourns are her Kurdish husband and their son, and the horror visited upon them is racially motivated. For another, much of Kruger's remarkable portrait of love and grief is wordless, with the power to transcend both subtitles and national boundaries. Everything you need to know is in her face, as her character moves through horror, depression, and anger before turning, in desperation, to vengeance, as she tries to go on living through unimaginable loss.
My colleague and Vulture's resident Oscar-ologist, Kyle Buchanan, thinks the key to a Kruger nom will be strong critical support. But it will certainly help that Kruger, who's never been nominated for an Oscar, lives in Los Angeles and speaks perfect English, which sets her up nicely to go to all those lunches and hand-shaking events during a long campaign season. Plus, you can never discount the X factor of an articulate actor with a strong message: She told a Cannes press conference the role had affected her so much that "there will be a before and after this movie for me for sure," and she used her Best Actress acceptance speech to honor "anyone who has ever been affected by an act of terrorism and who's trying to pick up the pieces and go on living after having lost everything." The road to the Oscars is long, and who knows whether Kruger will make the final five, but we do know this: At least this awards season, she won't also have to manage Quentin Tarantino's foot fetish.