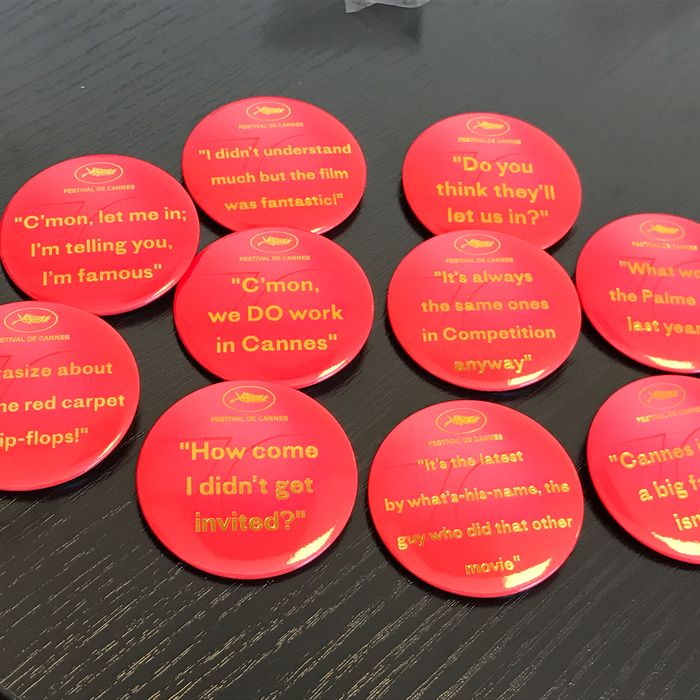 Between the buttons, mockery.
Photo: Kyle Buchanan
At the Cannes Film Festival, they take what you wear very seriously. Zachary Quinto once showed up to the glitzy Cannes premiere of a film he produced, only to be turned away by a guard for not wearing the right sort of black-tie attire. And the festival famously incurred the wrath of women when it tried to forbid flats on the red carpet, an edict that prompted Cannes darlings like Kristen Stewart to speak out against high heels. While the festival is still the site of glamorous photo opportunities and breathtaking fashion moments, it was all beginning to feel a little stern.
This year, however, I detect a bit of irreverence in the form of a big red button. As journalists began checking into the festival yesterday, their badge lanyards came with a shiny button attached, each emblazoned with a hilariously rude statement. "How come I didn't get invited?" mewled my button, like a Cannes-goer desperate to crash a big party. (I, uh, wouldn't know anything about that.)
At an annual dinner for journalists last night at La Pizza, media members compared the broadsides on their badges. "I'm so pathetic: I took a selfie on the red carpet," said one button. "I fantasize about doing the red carpet in flip-flops," went another. (Relatable!) Several buttons seemed to satirize the journo-babble heard before and after big screenings, like, "It's the latest by what's-his-name, the guy who did that other movie," "It's always the same ones in competition anyway," and a sweetly upbeat half-apology: "I didn't understand much, but the film was fantastic!"
For the 70th anniversary of the film festival, had Cannes decided to lead with a sense of humor? Could these "collector's pins," as they're dubbed, be worn with both pride and self-effacement, a fashion statement meant to literally push our buttons? Or, after a 69th edition of Cannes that was full of trolling, had the festival decided to troll the press right back?
To find out, I tracked down the person responsible for the pins: Caroline Vautrot, who works in the festival's communications department. "Even though the festival is 70 years old," said Vautrot, "it knows how to stay young and listen to his participants while making fun of itself." Dubbing them "a funny little wink," Vautrot wrote down 13 plausibly overheard statements, translated into French and English, and had the buttons distributed to many accredited Cannes-goers, including all members of the press.
Vautrot wanted to tell me more, but alas, it was the first official day of Cannes and she was slammed with work. As she attended to urgent matters, I asked which button was her favorite.
She held it up for me: "Cannes is such a big factory, isn't it?" And then, with a mischievous grin, she returned to work.