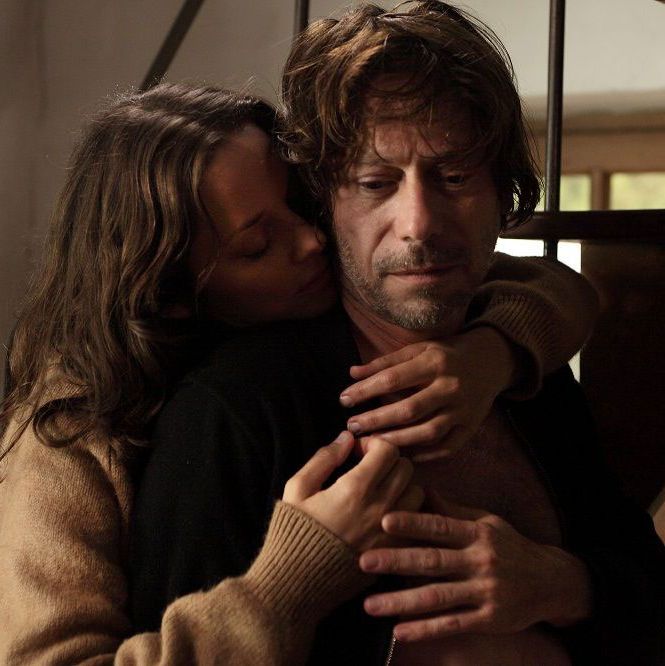 Marion Cotillard and Mathieu Almaric in Ismaël's Ghosts.
Photo: Why Not Productions
What better way to open the 70th Cannes Film Festival — days after the French inaugurated their new 39 year-old president, Emmanuel Macron, who married his now-64-year-old former drama teacher, Brigitte Trogneux, whom he met when he was 15 — than with a très messy love-triangle movie? I'm not spoiling anything that isn't in the trailer of Arnaud Desplechin's Ismaël's Ghosts (Les Fantômes d'Ismaël), in which a presumed-dead Marion Cotillard returns after 20 years to steal her husband (French superstar Mathieu Almaric) from his unofficial partnership with Charlotte Gainsbourg.
Here's just how very, very French this whole scenario is. When Almaric's filmmaker, Ismaël, asks Gainsbourg's astrophysicist, Sylvia, why she has no children, she tells him she's only ever been involved with married men. Shrug. Then he jovially tells her that his wife Carlotta (Cotillard), who disappeared when she was 20, cheated on him constantly; she just loved life so much she couldn't be contained — and he loved her for it. When Ismaël and Sylvia get together, it's in an apartment whose main decoration is an oil painting of Carlotta. He asks her if he should take it down and she tells him to keep it up, even as she often has to take care of him when Carlotta regularly appears in his nightmares, and he often has to run off in the middle of the night to take care of Carlotta's father, who also has nightmares about her.
When the living, breathing Carlotta shows up after 21 years to announce that she's baaaack, it's Sylvia who ends up inviting her to stay in their seaside cottage, and loaning her clothes, and hanging out with her a ton as Ismaël finishes a script. Only in a French movie with these French stars would all of this be played super casual, as if that was just the thing one does when one's lover's ex-lover turns up alive.
This next part is SPOILER-Y: It does turn out that all this openness is a little too open for Sylvia, who didn't sign up for a polyamorous relationship with a missing person and who's privately falling apart, even while going on nature walks and sunbathing with Carlotta. There's a great How is this my life? moment when Carlotta turns on "It Ain't Me Babe" and puts on a dance show for Sylvia. Instead of joining, Sylvia just sits and stares; it's a magnificent actress showdown. Oh yeah, and Carlotta has just declared what Sylvia has known all along, that she wants her husband back. And then Sylvia keeps hanging out with her! The only time she draws a line is when it becomes clear that Ismaël needs to sleep with Carlotta to get his head straight. So she leaves them to it. And this is after Carlotta confesses to Ismaël that as soon as she left him she traveled the world sleeping with other men and then married an Indian guy who died and that's why she's back. Shrug. Cue full-frontal Marion Cotillard — followed by crying-on-cue-and-breaking-your-heart Marion Cotillard.
Whatever faults the rest of the film has (it's essentially four movies: the love triangle, the fast-paced spy thriller that Ismaël is shooting, the behind the scenes of Ismaël's nervous breakdown during production, and some meta nonsense) the parts with Cotillard and Gainsbourg are the perfect embodiment of the French values that won out in the recent election. Empathy. Acceptance. Lack of judgment. The belief in the inherent goodness of people, and the need to let them make their own decisions. The two actresses have never been in a film together, but they cede the floor to one another with a mutual respect, just bringing it in every scene.
So let's raise a glass of champagne to the French — to their president who loves a woman with cellulite, to their great actresses finally together onscreen, and to their love triangles that don't end with winners or losers, but with everyone sexually satisfied.