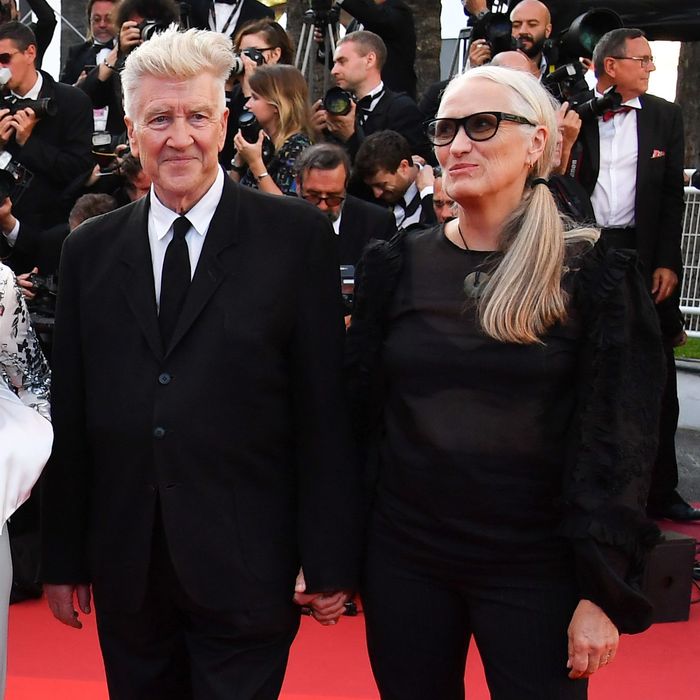 Jane Campion and David Lynch at Cannes.
Photo: ALBERTO PIZZOLI/AFP/Getty Images
The Cannes Film Festival organizers must be pretty thrilled Jane Campion showed up to France this week. This is the fest's big 70th anniversary year, which was marked with a giant celebration of the festival's history — and also the glaring fact that Campion is the only woman filmmaker who has won the festival's top prize in seven decades. (At least that puts Cannes slightly ahead of the Oscars, which has only had one woman filmmaker win Best Director in 89 years.)
Campion got her Palme d'Or all the way back in 1993 for The Piano, and — no one ever mentions this anymore — had to share the honor with a man, Farewell My Concubine director Chen Kaige. That means she's been carrying "The Only Woman Director to Win Cannes" mantle for two decades. "Too long! Twenty-four years! And before that, there was no one. It's insane," she said when I spoke to her the day after the 70th anniversary celebration. "And I'm really annoyed that the director-ess from Toni Erdmann" — German auteur Maren Ade, who at least is on the Cannes jury this year — "didn't win last time. I thought, Finally, a buddy. No. No! There's no more guys winning. That's it. It's just going to be women winning from now on."
The optics don't lie: It was quite a sight seeing Campion walk the red carpet at the 70th anniversary soiree alongside other great directors from the festival's history, dudes one and all: Pedro Almodóvar, Roman Polanski, David Lynch, George Miller, Michael Haneke, Nanni Moretti, Ken Loach, Christian Mungiu, Costa-Gavras, Bille August, Claude Lelouch, Jerry Schatzberg, Mohammed Lakhdar-Hamina, and Laurent Cantet. The festival's woman problem is so glaring that the soiree's hostess with the mostess Isabelle Huppert had to point it out onstage: "Seventy years of Cannes, 76 Palmes d'Or, only one of which has gone to a woman … No comment." The festival director Thierry Frémaux immediately shouted out, "Where's Jane?!" And had the cameras pan directly over to her.
"It was really complicated because I was trying to watch it happen to me at the same time as it did," Campion told me. "I though, Yeah, it does feel like being the queen. And I just don't see myself that way at all, so it's also like, 'Ahhh. Uhhh. Ewww.' Strange, you know?" Also, technically, Huppert is wrong. Three women have received the Palme — though only Campion is still the only woman filmmaker. The Blue Is the Warmest Color actresses shared the Palme with their director in 2013, in what is generally considered a bending-of-the-rules exception to give out several acting prizes. And Agnès Varda became the first woman filmmaker to win an honorary Palme just two years ago.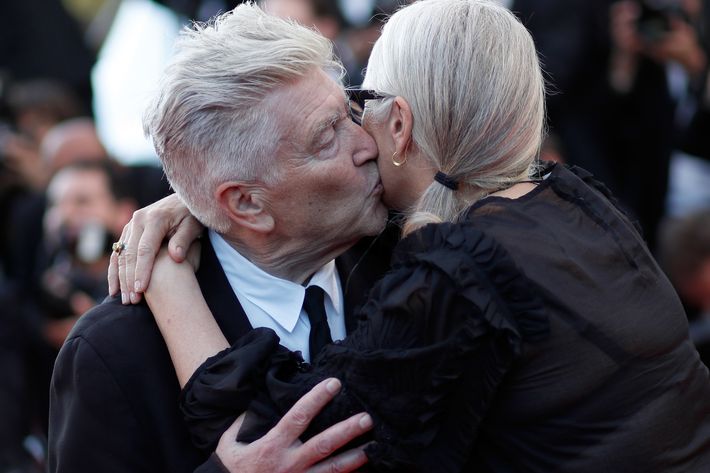 At least if it was going to be a surreal night, Campion got to spend it with David Lynch. The two know each other and this year both had TV series shown in the festival, Campion's Top of the Lake: China Girl, and Lynch's Twin Peaks revival. Watching red carpet footage, one could see them kiss and hug, but Campion tells me it was oh-so-much better. "I was holding hands with David Lynch for ten minutes and that was cool," she said. "I don't know if he forgot he was holding my hand. I mean, I do know David. I have met David before, but I don't think it would matter if I'd ever he'd never met me before. He'd hold anyone's hand. I said, 'Oh, David, you did 18 episodes, how was that?' [Imitates him mumbling] 'Yeah, yeah, it was a lot of fun.'"
Standing there with Lynch, Campion said, the burden and weirdness of being the one woman in the Palme d'Or boys' club faded away — like floating away on a beautiful cloud made of coffee and clouds. "I'd actually had to write something for him about first coming across his work and what an influence it was," she said. "It's David Lynch's year. And I was looking back at Eraserhead and was going like, 'Oh my god, it's so genius.' He's really opened up the unconscious in a way that has liberated me, too. I think I've been copying him my whole life. I'm so inspired by him as well."
And as the flashbulbs went off, and she stepped into her 24th year as the lonely female atop Cannes mountain, the only truth Campion had to care about was that David Lynch's hand was in hers, and hers was in his. "I was just treasuring holding hands with him for a while," she said. "I was so happy. It was just like meditating."