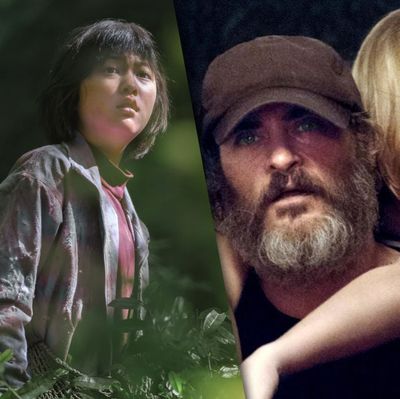 Okja, You Were Never Really Here, and The Beguiled.
Photo: Jonas Stolpe/Netflix/Amazon Studios/Focus Features
Bags have been packed, suits have been dry-cleaned, and helicopters have been rented: It's time for the film industry to convene on the French Riviera for the 70th annual Cannes Film Festival. Vulture's Kyle Buchanan, Emily Yoshida, and Jada Yuan will be on the scene the whole time, giving you the scoop on the famous faces, the feuds, and, oh yeah, the films. Before the festival gets officially underway on Wednesday, here are the handful of projects they're looking forward to the most.

Good Time
Every critic, journalist, or general film lover I've talked to leading up to the festival has flagged this gritty New York crime drama from director brothers Josh and Ben Safdie as a must-see. Endorsed by Martin Scorsese and known for their intimate, little-seen work such as 2014's Heaven Knows What (starring a former heroin addict reenacting her own life), the Safdies have played the Directors Fortnight at Cannes before, but Good Time is their first time in the official competition. Star Robert Pattinson has described it as a "mentally damaged psychopath bank-robbery movie," about a Queens crook who's trying to get his brother out of jail in one desperate, chaotic night; the actor looks appropriately deranged in the couple of photos that have been released so far. If that's not intriguing enough, it already has distribution from A24, the folks who brought you Moonlight and The Witch. Don't sleep on this one. —Jada Yuan
Okja
One of the most anticipated Cannes titles is also one of the most controversial: French movie theaters protested the inclusion of Bong Joon-ho's Okja because Netflix plans to release the film to streaming on June 28, bypassing theaters entirely. (In response, the festival announced that all future films will need French theatrical distribution to compete.) Is it fair that a film most won't see on the big screen can play in competition at Cannes? Certainly, it's a thorny issue, but when you're considering an auteur-directed film about a girl and her pet beast, featuring actors like Tilda Swinton and Jake Gyllenhaal in outrageous outfits, who wouldn't want to program it? —Kyle Buchanan
The Meyerowitz Stories (New and Selected)
Noah Baumbach's latest, about a group of estranged adult siblings coming together to celebrate their artist-father (Dustin Hoffman) would be exciting enough on its own. The cast is stacked: Hoffman, Ben Stiller, Emma Thompson, and Adam Sandler (who's returning to the Cannes competition for the first time since 2002's Punch-Drunk Love). But the ugly battle between the festival and Netflix, which is also distributing Meyerowitz, means the movie's reception will soon be a political tool. If it and Okja are great, it could force the festival to reconsider. If they're middling, there's a chance the festival will conclude its stance was the right one. —Jada Yuan
The Beguiled
For her first film since 2013's The Bling Ring, director Sofia Coppola chose to remake this 1971 drama starring Clint Eastwood, subbing in Colin Farrell to play the wounded Civil War soldier whose masculine presence turns the lives of several women (including Nicole Kidman, Kirsten Dunst, and Elle Fanning) upside down. With Coppola onboard, imbuing the original material with her own obsessions, you know this won't be a mere rehash. —Kyle Buchanan
The Killing of a Sacred Deer
Speaking of Colin Farrell and Nicole Kidman, the two co-star in another Cannes title, this one from The Lobster director Yorgos Lanthimos. The log line on this one is brief — Farrell and Kidman play a married couple whose lives are somehow undone by a teenage boy — but Lanthimos, nominated for a screenplay Oscar this past year, has a deliciously distinctive style and the film recently scored a prime awards-season date. —Kyle Buchanan
Based on a True Story
Roman Polanski was recently forced to resign from his post as president of France's César Awards, after continued outcry from feminist groups about his still-unresolved 1977 rape case. Now he's back in the limelight with his out-of-competition feature Based on a True Story, and it remains to be seen whether the renewed controversy will reach the Croisette. The film itself was co-written by festival favorite Olivier Assayas, and it follows a writer (Emmanuelle Seigner) dealing with an obsessive fan (Eva Green). Hopefully, there's plenty to see here besides the long shadow of Polanski's past. —Emily Yoshida
Happy End
Five years after breaking our hearts, and winning the Palme d'Or, with his last film Amour, Austrian auteur Michael Haneke is finally back at Cannes, with what may be the best-kept secret in cinema. All we know about Happy End is that it reunites Amour actors Jean-Louis Trintignant and Isabelle Huppert (coming off her astounding run in 2016); that it's a chamber drama of a bourgeois family in the northern tip of France being confronted by the presence of a vast refugee encampment known as the Calais Jungle; and that, well, it's Haneke. Which means it likely will be even more uncomfortable than that description makes it sound. —Jada Yuan
Wonderstruck
Todd Haynes's last stop at Cannes was in 2015 for the luminous Carol, now he returns, with a film that sounds as sweeping and ambitious as anything he's attempted before. Based on the young-adult novel by Brian Selznick, Wonderstruck is about two deaf children living in 1927 and 1977, who find themselves connected through mysterious circumstances. Julianne Moore and Michelle Williams co-star, along with 13-year-old deaf actress Millicent Simmonds and a supporting cast filled out by what Deadline reports is "an unprecedented number of deaf actors." If this film doesn't get Haynes his first Palme d'Or, it at least stands a good chance of bringing the waterworks. —Emily Yoshida
You Were Never Really Here
Just how violent will this one be? Let's see, it's the first film in six years from Scottish director Lynne Ramsay, who last competed at Cannes in 2011 with her deeply disturbing school-massacre movie, We Need to Talk About Kevin. And it stars Joaquin Phoenix as a traumatized ex-Marine, who's now a rescuer for hire, chasing down the victims of child trafficking and beating their oppressors to death with a hammer. So, yeah, it's going to be a very stylish, Ramsay-esque bloodbath set to the music of Radiohead's Jonny Greenwood, who did the score. But it's also based on a novella by Bored to Death creator Jonathan Ames. So maybe it's also a wry, meta-bloodbath? —Jada Yuan
Blade of the Immortal
Pulp maestro Takashi Miike is one of the more prolific, if not the most prolific, filmmakers working today, and he's been somewhat of a Cannes regular in recent years. Lately, he's been reliably cranking out anime and manga adaptations alongside original works, and his most recent is Blade of the Immortal, a big-screen version of a manga by the same name, starring Takuya Kimura of super-huge J-pop group SMAP. All this is a recipe for success in Japan; whether or not it plays on the Croisette remains to be seen. —Emily Yoshida
How to Talk to Girls at Parties
Have you seen the photo of Nicole Kidman in this movie, serving weird and wiggy glam-rock realness? That alone is enough to get excited for How to Talk to Girls at Parties, but it's also encouraging that John Cameron Mitchell is helming this adaptation of Neil Gaiman's short story about sex, shyness, and space aliens, with Kidman's The Beguiled co-star Elle Fanning along for the trippy ride. —Kyle Buchanan
The Florida Project
After his breakthrough with the iPhone-shot indie Tangerine, director Sean Baker keeps things intimate with this story of a group of children who delight in their summer break, even as their parents deal with hardship. Willem Dafoe plays one of the parents, but Baker filled most of the cast with nonprofessionals, so expect unfiltered naturalism from the kids, who could become breakout stars. —Kyle Buchanan
Loveless
Russian director Andrey Zvyagintsev made a huge impression with his 2014 Oscar-nominated film Leviathan, and his follow-up has been anticipated ever since. Like Leviathan, a sprawling commentary on life in modern Russia, Loveless has a family drama as its centerpiece, and follows an unhappy couple whose child goes missing during an argument. If Zvyagintsev hits this one out of the park, he could very well cement his status as a Cannes staple, as well as a critical artistic voice from a country at the center of global geopolitics. —Emily Yoshida
Top of the Lake: China Girl
The new Jane Campion would be amazing to see at Cannes, no matter what; she was the first (and so far only) female filmmaker to win the Palme d'Or, way back in 1993 for The Piano. But now she's also the first TV creator (alongside David Lynch, who's bringing Twin Peaks after its premiere on Showtime) to have her work screen in the festival's official selection. An audience will sit through a seven-hour marathon as the series winds through a mystery involving an Asian girl, whose body washes ashore in a suitcase on Sydney's most famous beach. Expect more of Elisabeth Moss going intense and dark as Detective Robin Griffin, with added conflict from a new rookie partner (Game of Thrones' Gwendoline Christie) and Nicole Kidman as the adoptive mother of the daughter Robin gave up long ago. No word yet on what's up with Kidman's insane wig, but I wouldn't bet against it turning in some Emmy-worthy work. —Jada Yuan