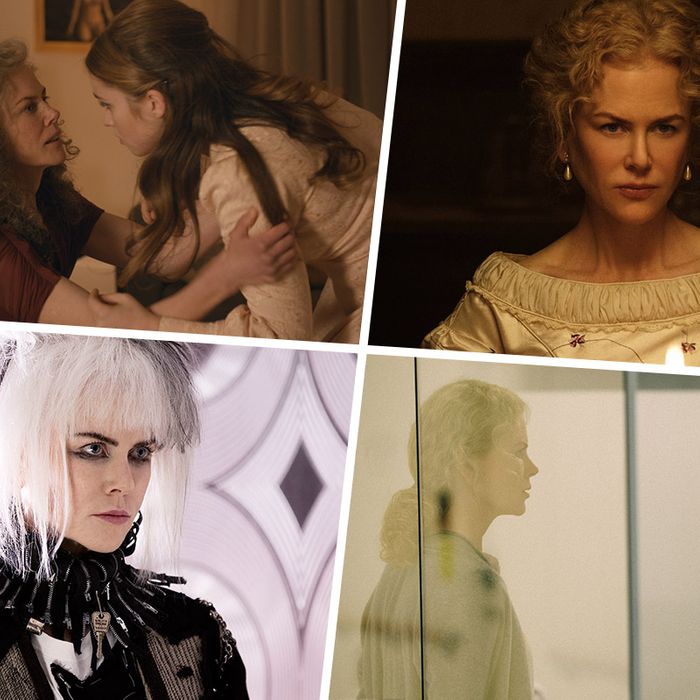 Clockwise from top left: Top of the Lake: China Girl, The Beguiled, The Killing of a Sacred Deer, and How to Talk to Girls at Parties.
Photo: Sundance TV, Focus Features, A24, See-Saw Films
For Nicole Kidman, 2017 is a massive year: Not only will the Oscar-winning actress turn 50 in June, but she's halfway into a career-high annum, springing from her acclaimed work on HBO's Big Little Lies to four more exciting projects that all debuted over the past week at the Cannes Film Festival. But listen, you're a busy Nicole Kidman fan, and we understand! That's why Vulture's crack staff at Cannes has assembled this handy guide to all four of her acclaimed performances on the Croisette before they trickle out over the rest of the year, on TV and in theaters. Take a look and determine which Nicole Kidman character (and Nicole Kidman wig) is right for you, then begin planning accordingly.
How to Talk to Girls at Parties
Have you ever really lived until you've seen Nicole Kidman shriek "yi-yi-yi-yi" in a punk-versus-alien melee? In this loopy lark from director John Cameron Mitchell (based on a short story by Neil Gaiman), Kidman has a supporting role as Boadicea, a punk goddess who single-handedly confers cool points in 1970s London. Boadicea is introduced in a club scene yelling obscenities and slapping insolent punks, though the real first impression she makes is with her out-there look: Boadicea's black-and-white punk duds and outrageous makeup are accentuated with what may be Nicole Kidman's finest screen wig ever, a silver Bowie-type poof that I would adopt if it were a dog. The only thing that could possibly improve the look is later on in the movie where she dons welder's goggles while wielding a blowtorch; essentially, Boadicea is Mad Max meets Blade Runner's Pris meets Sharon Needles.
The A-plot of the movie follows young punk Enn (Alex Sharp) as he falls for a beautiful oddball (Elle Fanning) from an alien collective, but the irony is that even the latex-clad extraterrestrials can't do outer space better than Kidman in her fun few scenes. Whether she's griping about Vivienne Westwood, telling someone his skin smells like cheese, shouting indignantly about her abortions, or ending a cute little flirtation with Ruth Wilson by saying, "Sex is over, haven't you heard?" it's Kidman who feels like the center of the universe. Feel free to spin off Boadicea any time, because we'll be there.
The Beguiled
Imagine a Civil War season of The Bachelor where the frocked contestants eventually team up and turn on the central fuckboy, and you'll come close to what Sofia Coppola has delivered with this remake of the 1971 film starring Clint Eastwood. Here, the injured northern soldier who takes respite in a Virginia girls' boarding school is played by Colin Farrell, and Kidman is the headmistress presiding over a house of curious young women including Kirsten Dunst and Elle Fanning. They're all a little twitterpated by this supine soldier, and while Dunst and Fanning are more overt in their romantic interest, Kidman's buttoned-up belle feels stirrings, too, never more so than when she's cleaning off Farrell's body and running her wet hands a little too close to his Adonis belt.
There's a little more verve to the proceedings than you'd usually get from a languorous Sofia Coppola film, and Kidman nicely bridges the gap between Coppola's more tasteful inclinations and the pulpy source material. It's a performance with comic calibrations that never tips its hand too far in that direction: Like a good southern lady, Kidman knows how to tuck her shade into a polite nicety, and she's never better than when she lets a faint, mischievous half-smile play on her lips.
Top of the Lake: China Girl
According to Top of the Lake co-creator Jane Campion, her old pal Kidman begged to be in the series — their first collaboration since 1996's Portrait of a Lady — and insisted on having her small part fleshed out until she could appear in all six episodes, so she's more than ready to go deep and weird on this one. If you've seen the trailer, you already know Kidman plays the adoptive mother of Mary (Alice Englert), the daughter that Elisabeth Moss's Detective Robin Griffin gave up 17 years ago, and that she's looking gloriously upper-class bohemian in a mass of gray curls, a set of fake teeth that make her upper lip protrude, and copious applied freckles. Though that hair is so insane you may spend the entire series thinking wig, wig, wig.
Kidman's intellectual feminist has recently left her depressed wimp of a husband for a same-sex relationship with Mary's high-school French teacher, while Mary has lashed out against her mother by dating quite possibly the creepiest 42-year-old on the planet (a mesmerizing David Dencik). And then, just when Kidman's Julia is at the peak of her self-pity, Robin shows up — her daughter's birth mom, remember — and things get really interesting. Kidman is only in a few scenes per episode, but what she lacks in screen time she makes up for in a delicious, slow-build performance as a controlling mother who's unable to accept that she's lost control of her kid due to her own bad parenting decisions. The battle-of-the-mothers showdown you know is coming is not to be missed.
The Killing of a Sacred Deer
Greek director Yorgos Lanthimos (Dogtooth, The Lobster) loves a deadpan line reading, so casting Kidman as the female lead in his new film The Killing of a Sacred Deer is an interesting gambit: This is an actress who likes to pack her words full of feeling, not excavate them for effect. What's interesting about the creepy, chilly Deer is that while Colin Farrell and the other actors embrace that traditional Lanthimos flatness, Kidman's line readings are left alone; she adds necessary ballast to these very arch proceedings just by being human, steady, and true.
In some ways, this is the least showy of her Cannes performances, but there's a whole lot cooking underneath that alabaster surface. In Deer, she and Farrell have their comfortable family life upturned by a creepy teenager seeking revenge, and the further things go, the more Kidman resourcefully pulls upon the modes that have served her well in past roles: the protective-mom instincts from Lion, the unreadable ambivalence of Birth, and finally the go-for-broke ambition of To Die For. It's hard to imagine the film working without her, and it's just as difficult to think of an actress as willing to bare her soul — and her body — in the way that Lanthimos asks of her. Kidman rarely holds back, allowing herself to be the willing vessel of any director fortunate enough to cast her. We're lucky that in 2017, so many people have wised up to all the wonderful things she can deliver.