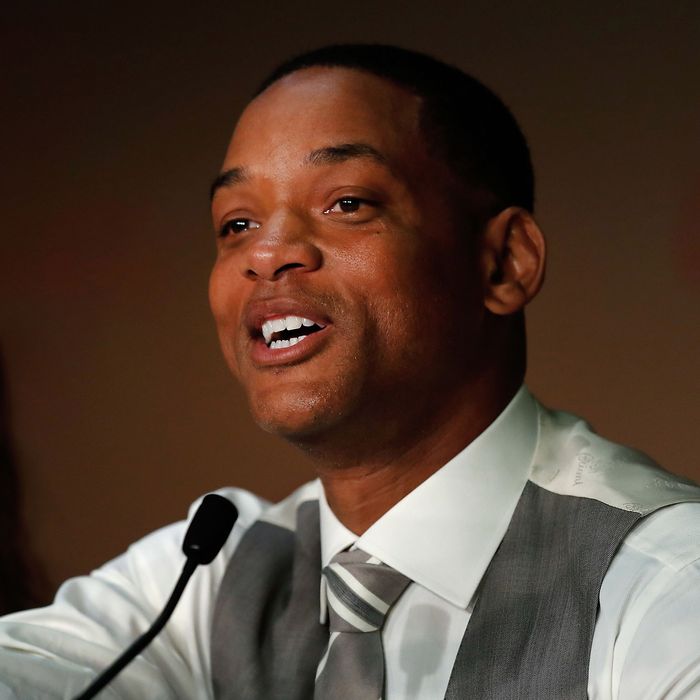 Will Smith at Cannes.
Photo: Laurent Emmanuel/AFP/Getty Images
The 70th anniversary jury for the Cannes Film Festival was just filing into their chairs at their traditional press conference when jury member Will Smith gave the room a taste of what was to come. "I will be playing the part of Will Smith today," he said. When a couple photographers overstayed their brief window to take pictures, he pretended to have security kick them out, with a big grin on his face. Thirty seconds in and it was already the most entertaining jury press conference I've attended in half a decade.
Anyone who looked at this year's jury, presided over by Pedro Almodóvar and stacked with international talent like Italian director Paolo Sorrentino, Chinese actress Fan Bingbing, and Jessica Chastain, probably did a double take seeing the wild card of Will Smith's name. He's such a one-of-these-things-is-not-like-the-others commodity — the king of populist entertainers in most rarified cinema setting in the world. He's also never had a movie at Cannes. But also, as the guy who wrote "Miami," he's perfectly suited for hanging out on yachts and sweatily drinking Champagne in the South of France. And we can't wait to see how he takes to it.
How was he feeling, a reporter wanted to know? Very excited, he said: "I grew up in West Philadelphia — yes, born and raised, yes, thank you. West Philadelphia is a long way from the Cannes Film Festival, and the Cannes Film Festival is the ultimate prestige in cinema. So I'm excited to be here, and, more than anything, learn. When this level of artist comes together you actually never know what will happen and what will be created just in the conversations and the interactions. I'm actually here very selfishly."
When another reporter asked Almodóvar and Park Chan-wook if they were going to view the movies with a feminist eye, given that they'd made so many movies with strong female characters, Smith let them finish, then interjected, "I'm going to make sure I look at all the films with an African-American eye, so I've got it." He nodded and flashed his adjacent jury member a look of conviction. "I got it."
A British reporter stood up. Kirsten Dunst was a jury member last year and she said she wore 28 outfits over 12 days. How was the Fresh Prince going to handle his fashion moment? "Now that I know that I know what she did with 28, we're probably going for 32," said Smith. "It was really warm out there today, so I think that because we're going to be watching two or three movies a day it's going to be much more important to be comfortable. I started out thinking sexy. I wanted to be really South of France, Cannes sexy. But that all went out the window today."
How were they going to manage their own political feelings while watching these movies in such a fraught political time? "I personally think the question is racist," Smith deadpanned. "That was a joke! No!" But really, he did think that the whole purpose of having a diverse jury was to have a set of strong POVs. "I will be having a very distinctly African-American point of view." Also, once more just to be sure: "The question wasn't racist, man, I'm sorry."
In all seriousness, Smith said he was super thrilled to be here. "My publicist, she called me and she said, 'They want you to be on the jury at Cannes.' I said, 'Yes!' She said it's about two weeks. I said, 'Oooh, hold up.' She said, 'Okay, it's ten days.' I said, 'All right, that's cool!' She said, 'You'll be watching two to three movies a day.' I was like 'Mmmmmmm. Okay, two or three a day, I can do that. I can do that.' I was probably 14 years old the last time I watched three movies in a day. Three movies in a day is a lot! I'm looking forward to it. And a movie at 8:30 in the morning? I'm going to be in bed every night. I'm taking it very, very seriously, and I'll be watching my 8:30 screenings wide awake, focused, to give my best."
At the very least, he'd rather be on the jury for the first time than be in the Cannes competition for the first time. "Being on the jury is fun!" he said. "You're hanging out with great people. You're talking. When you're in competition, you're not sleeping, you're stressed out, you're trying to see what the jurors think. Every time a juror scratches their head you're like, Oh! They hated it! This is fantastic."