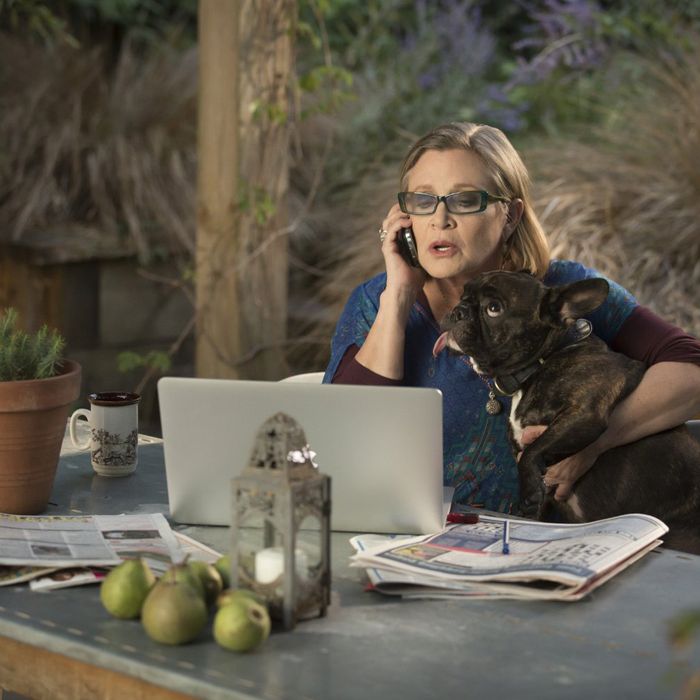 Carrie Fisher in the Catastrophe finale.
Photo: Amazon
Spoilers for the third season of Catastrophe, particularly the last episode, lie ahead. Proceed with caution if you have not finished watching yet.
Carrie Fisher's final performance on Amazon's Catastrophe — one she shot just days before she unexpectedly died last December — comes in the last episode of season three, a half-hour about grief and alcoholism and trying to appreciate your loved ones while they're here even though they often make that seem impossible. Sharon Horgan and Rob Delaney, the stars and creators of Catastrophe, had no idea when they wrote the episode that it would be Fisher's last. Yet by accident or providence, depending on what you believe, it plays as both a fine swan-song showcase for Fisher the actress, and a fitting tribute to Fisher the actual woman. An episode that deals with the loss of a father winds up addressing the loss of a mother as well.
For Fisher, turning into Rob's acerbic, needling, yet hilarious mom Mia — a recurring role she played memorably but admittedly briefly, in just five episodes — seemed like the equivalent of putting on a diaphanous mask. She became a different person, as actors do, but it was always pretty easy to see the real Fisher shining through.
In the beginning of episode six of season three, we first see Mia/Fisher in that mask again at, of all things, a funeral. Sharon's father, Des, has died and Mia is there to insert herself into the mourning, advising Sharon's mother, Carol, that a grieving acquaintance's hugs had "everything to do with getting into your pants" and to say ridiculously reductionist things about Ireland. "So this is where it all began: Riverdance," she says, and it's hard to tell whether she's being serious or ironic.
As usual, Mia is inappropriate and unstoppable and extremely funny, and Fisher knows, with metronomic timing, how to authentically be all of those things in exactly the same moment. In a way, it's not surprising at all when Carol says she wants Mia to stay with her for as long as she likes. ("If she wants to be here, I want her here," Carol says, because of course she does. Who wouldn't want Carrie Fisher to be their roommate for a few days?) It's also not surprising that Mia bails on Carol fairly quickly and heads back to London to bunk with her son's family, an arrangement that leads to a conversation between Mia and Rob that, in classic Catastrophe fashion, almost becomes heartwarming before veering right back into the heart of darkness.
Still unable to admit to Sharon that he's been drinking again, Rob confesses this shameful truth to his mother. The subtext in that moment — the fact that Fisher famously and openly struggled with addiction — is so palpable that there's barely anything sub about its text. This is a woman who knows a thing or two about Wishful Drinking.
Mia lays into Rob and insists that he stop immediately, then tells him for the first time that Rob's father once physically injured her when he was drunk. She bluntly tells her son that if he ever hits Sharon, she'll kill him, a demonstration of female solidarity that's a little heartbreaking considering that, in the scene prior, Sharon was complaining about how awful Mia is. But then the kicker comes. Following Rob's insistence that he would never strike his wife, Mia bluntly replies: "Your being drunk and her being as annoying as she is — you're gonna hit her." Fisher says this with such blasé certainty that what might otherwise sound shocking becomes a laugh line. And turning the shocking into a laugh line is basically the foundation for all of the comedy on Catastrophe.
Catastrophe's seasons usually end on a cliff-hanging note, but the one that concludes season three is particularly wrenching. After picking up an inebriated Sharon from a pub, Rob, himself driving under the influence, lets her jump out of the car to go grab a slice of pizza. Sharon nearly gets hit by a cyclist and then by a bus, but she's okay. Then, moments later, Rob gets into a car accident. The last thing he says to Sharon is that he'll have to take a breathalyzer test when the police arrive and that he's going to fail it.
Mia isn't in that scene, but the nature of that moment is reflective of the way it felt when the world lost Fisher, who initially seemed to be recovering from her heart attack, and also the way Sharon felt when her father died after at first seeming to recover from his stroke. One minute, it can seem like a calamity has been avoided and that everything is going to be fine. The next, the unforeseen and awful still decides to slam into you after all.
As for Fisher's last scene in Catastrophe, one of the final performances of her career, it's much more low-key than that car crash. She's just sitting on the sofa in Rob's and Sharon's living room, channel surfing and eventually finding her way to a show she really enjoys: My Children Are Schizophrenic.
In a recent interview with Indiewire, Horgan and Delaney said that much of Mia's dialogue was completely improvised by Fisher, including the name of that fictitious reality show, its entire premise, and the capper, which turned out to be the last line she would ever say on Catastrophe: "It's great TV." (Who else but Carrie Fisher would dream up a reality show off the top of her head called My Children Are Schizophrenic?)
Catastrophe is also great TV. And on those occasions when Fisher's Mia showed up to sprinkle her particular brand of arsenic all over an episode, as she does in this finale, it got even greater. Her presence will be so, so missed in the seasons that follow.