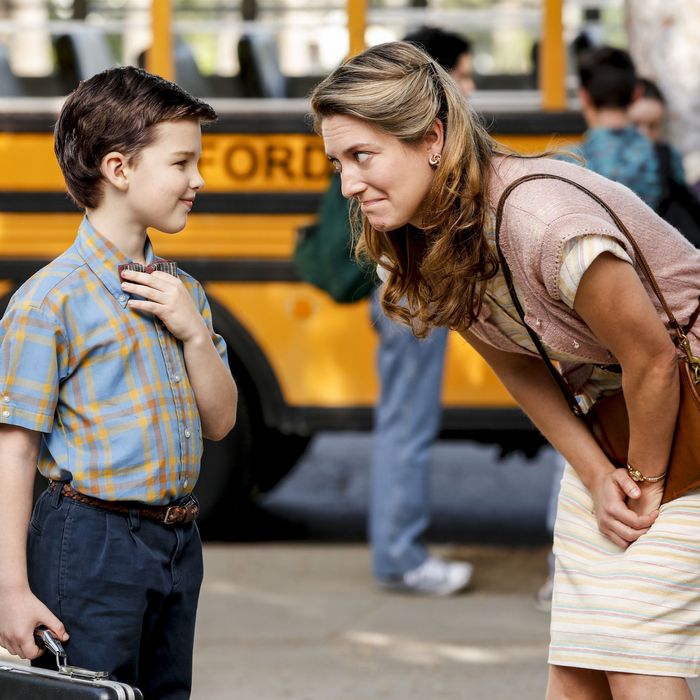 Iain Armitage and Zoe Perry in the Big Bang Theory spinoff Young Sheldon.
Photo: Robert Voets/CBS
Meet the new CBS schedule, pretty much the same as the old CBS schedule — at least in structure. While TV's most-watched network is actually adding more new shows to its lineup this fall than any of its rivals — six, divided equally between comedy and drama — the framework of the lineup remains identical to this season's model. There are still 8 to 10 p.m. comedy blocks on Mondays and Thursdays (with a drama at 10 p.m.); three straight hours of procedural dramas on Tuesdays, Fridays, and Sundays; and Survivor, 48 Hours, and 60 Minutes back in their respective Wednesday, Saturday, and Sunday slots. But while CBS is sticking to its reputation for stability, that doesn't mean the network isn't taking some chances, at least when it comes to comedy.
In a departure from CBS's tendency toward traditional, taped in front of a studio audience, multi-camera comedies, two of the network's three new fall comedies — The Big Bang Theory prequel Young Sheldon and the Bobby Moynihan–led Me, Myself & I — will be single-camera efforts. With Life in Pieces returning for its third season in the fall, CBS will have three single-cam half-hours on its schedule, the most in many, many years. The Eye is hardly abandoning old-school multi-cams: seven of the ten comedies it plans to air next season will use the format. But the network's continued support of Life and the decision to move forward with so many single cams in the fall indicates the network may finally be serious about broadening its comedy brand beyond the belly-laugh basics of so many of its past hits. That sense of adventure doesn't extend to casting diversity, however. All three new fall comedies, as well as mid-season replacement By the Book, are built around white men and their families (though women and minority characters are represented in co-starring roles).
CBS's dramas are a bit more diverse, with CBS fave Shemar Moore leading the multiracial ensemble cast of the network's S.W.A.T. reboot, and Richard T. Jones serving as a co-lead opposite Jeremy Piven in the high-tech crime thriller Wisdom of the Crowd. In terms of the themes of its dramas, however, the network isn't straying from its crime/military formula. Its three dramas, as well as the Alan Cumming–led mid-season effort Instinct, stick to what's worked for CBS before. If you're looking for CBS's version of soapy hits such as This Is Us or Empire, you won't find it next season. And you won't get an apology from the network, either. "We launched the most-watched drama on television this year," CBS scheduling guru Kelly Kahl told reporters Wednesday at a press conference. "It ain't This Is Us. It's Bull."
As for the specifics of the new CBS schedule, the network will once again use The Big Bang Theory to boost as many shows as possible. Young Sheldon will get a preview on the first night of the new season — Monday, September 25 — behind the TBBT season premiere. The next week, new comedy 9JKL gets a monthlong run behind TBBT on Mondays (where Big Bang camps out in early fall while football airs on Thursdays). Sheldon will then return on November 2, when TBBT returns to Thursdays. The only other significant shifts to the Eye lineup are on Wednesday, where Criminal Minds vacates its usual 9 p.m. home to make room for newcomer SEAL Team, and on Sunday, where NCIS: L.A. and Madam Secretary both shift back an hour so Wisdom of the Crowd can get a boost from NFL overruns and 60 Minutes.
Here's the full CBS fall schedule:
MONDAY
8–8:30 p.m. – The Big Bang Theory
8:30–9 p.m. – Young Sheldon (new) (special preview Sept. 25)
8:30–9 p.m. – 9JKL (new) (premieres Oct. 2)
9–9:30 p.m. – Kevin Can Wait
9:30–10 p.m. – Me, Myself, & I (new)
10–11 p.m. – Scorpion
TUESDAY
8–9 p.m. – NCIS
9–10 p.m. – Bull
10–11 p.m. – NCIS: New Orleans
WEDNESDAY
8–9 p.m. – Survivor
9–10 p.m. – Seal Team (new)
10–11 p.m. – Criminal Minds
THURSDAY
8–11 p.m., ET/ 5-8 p.m., PT – NFL Thursday Night Football (premieres Sept. 28)
8–8:30 p.m. – The Big Bang Theory (starting Nov. 2)
8:30–9 p.m. – Young Sheldon (starting Nov. 2)
9–9:30 p.m.– Mom (starting Nov. 2)
9:30–10 p.m. – Life in Pieces (starting Nov. 2)
10–11 p.m. – S.W.A.T. (new) (starting Nov. 2)
FRIDAY
8–9 p.m. – MacGyver
9–10 p.m. – Hawaii Five-0
10–11 p.m. – Blue Bloods
SATURDAY
8–9 p.m. – Crimetime Saturday
9–10 p.m. – Crimetime Saturday
10–11 p.m. – 48 Hours
SUNDAY
7–8 p.m. – 60 Minutes
8–9 p.m. – Wisdom of the Crowd (new)
9–10 p.m. – NCIS: Los Angeles
10–11 p.m. – Madam Secretary