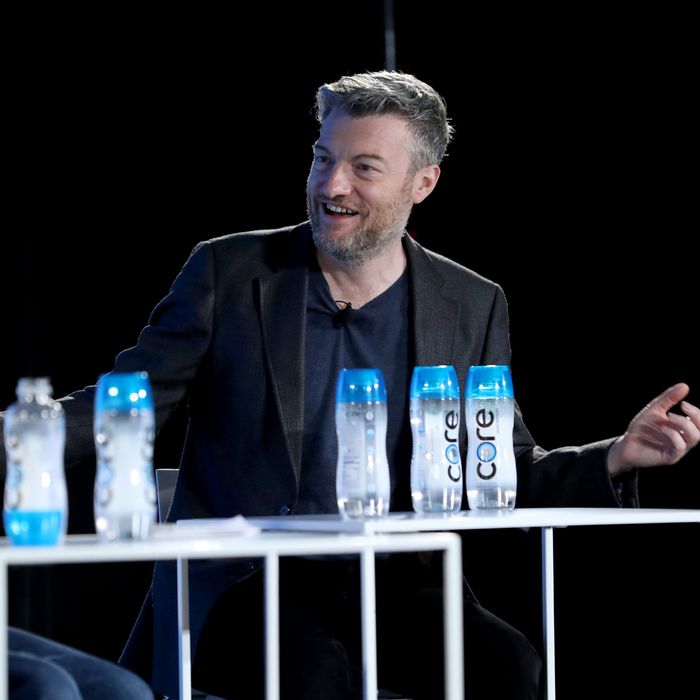 Charlie Booker speaks onstage at the Black Mirror panel during the 2017 Vulture Festival at Milk Studios.
Photo: Cindy Ord/Getty Images for Vulture Festival
Paranoia, anxiety, desolate futures — the Black Mirror panel at the fourth annual Vulture Festival was upbeat all around, as creator Charlie Brooker and co-producer Annabel Jones discussed their techno-anthology series. Of course, it's not a conversation about the troubling direction of mainstream culture without the current commander-in-chief rearing his combed-over head. A Trump presidency will separate last season from the upcoming one, and Brooker had plenty to say about America's new flirtation with fascism.
Brooker mentioned that Trump's media appearances often remind him of one of his most memorably notorious creations: season-one highlight "The National Anthem." For those in need of a refresher: It's the one where the British prime minister has penetrative sex with a pig on live television. While the state of U.K. politics troubles Brooker — he referred to former London mayor Boris Johnson as an "idiot" and Brexit proponent Nigel Farage as "a fuck who represents fucking nothing" — the writer most clearly saw Trump in a similarly swine-y situation.
"If it was Trump, he'd be like, 'Show me that pig! I'm gonna make that pig come!'" Brooker joked. "Then he'd be fucking the pig, and he'd be like, 'This isn't happening! Everybody knows this isn't happening!' So there's a sequel idea."
Brooker also expressed his concerns about the critical mass of game-changing news in the post-Trump era. "I didn't know what was going to be going on, at the time I was writing the scripts," explained. "You're burning through a year's worth of news on a daily basis. When we flew out here, in between taking off and landing, about six landmark news stories had broken. We're at landmark fatigue."
Though the panel may have been defined by bleakness, Brooker still found a positive note to leave audiences with: "Imagine how good this will all feel when it's over. Imagine how fucking amazing it's going to feel when it's over."