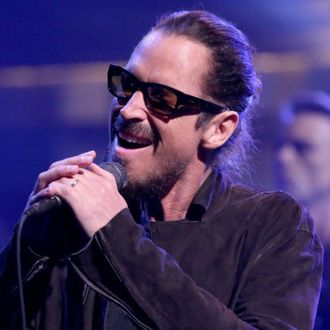 Cornell performing on The Tonight Show in April.
Photo: NBC/NBCU Photo Bank via Getty Images
Chris Cornell, lead singer of Soundgarden and Audioslave, has died at age 52, the Associated Press reports. The musician played a concert in Detroit Wednesday night; his death later that night was "sudden and unexpected," according to representative Brian Bumbery. According to the AP, the city's medical examiner has ruled that Cornell committed suicide by hanging.

Born in Seattle in 1964, Cornell was a key figure in the city's grunge scene, which dominated rock in the early 1990s. His band Soundgarden was the first grunge act to sign to a major label, releasing hit singles like "Black Hole Sun" and selling more than 10 million records over the course of their career. The band broke up in 1997, after which Cornell released a solo album, then joined former members of Rage Against the Machine in the supergroup Audioslave. Cornell reunited with Soundgarden in 2010, and recently said he had been working on a new album.