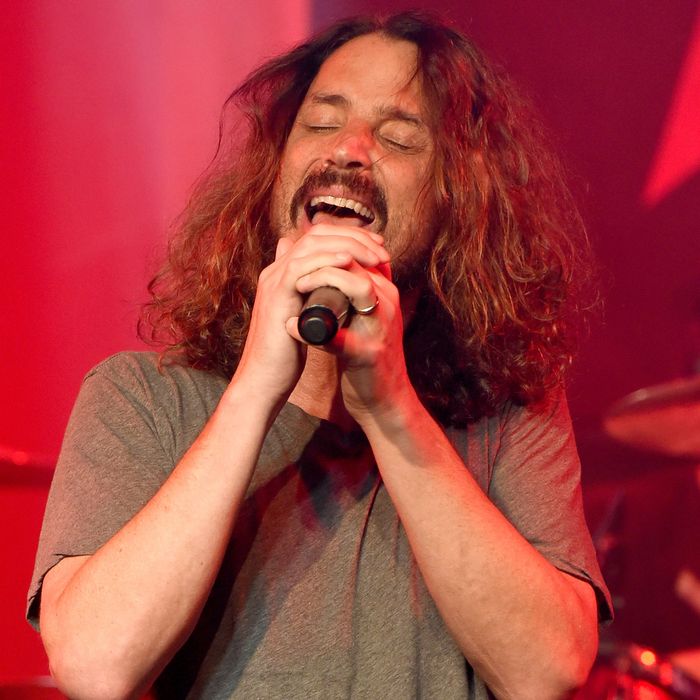 Chris Cornell was 52 when he died.
Photo: Kevin Winter/Getty Images
If a singer sings of suicide, then dies of his own will, what happens to the songs themselves? The question had clearly been on Chris Cornell's mind for a while: When asked by Rolling Stone in 1994 whether it was "legitimate to read a songwriter's demise into his lyrics after the fact," he responded, with typical thoroughness and sincerity, that it was impossible not to, at least for a while. It wasn't just an abstract question. Cornell's close friend Andrew Wood, who had also led a bleak-voiced band, had died of a heroin overdose in 1990, and Kurt Cobain had committed suicide earlier in 1994. Cornell told Rolling Stone:
When Andy died, I couldn't listen to his songs for about two years after that, and it was for that reason — his lyrics often seem as though they can tell that story. But then again, my lyrics often could tell the same one. In terms of seeing everything as a matter of life and death — if that's what you're feeling at the time, then that's what you're going to write. It's sort of a morbid exchange when somebody who is a writer like that dies, and then everyone starts picking through all their lyrics.

In Kurt's case, whatever he was thinking and whatever he was writing, there wasn't an arrow pointing at what his demise was. It's a stream of thought, it's a possibility — it's definitely something that somebody was feeling when they were writing. It doesn't mean that it's going to happen. But it doesn't necessarily mean that it isn't, either.
Twenty-three years later, Cornell himself is dead before his time, and his grim lyrics, especially from his time as Soundgarden's vocalist — the 1994 masterpiece Superunknown alone counts "Let Me Drown," "Fell on Black Days," "Black Hole Sun," "The Day I Tried to Live," and "Like Suicide" among its song titles — are inevitably going to receive the same prophetic reading that lines like Cobain's "And I swear that I don't have a gun" received after his death. It's natural, and hard to fault. Part of grieving is trying to reconcile the new fact of death with what one knew of a person's life, and if the deceased often sang about demises, that hard process becomes a little less agonizing. You can evade the fact that Chris Cornell has just died by thinking that he was, in some way, according to his own words, already dead.
This kind of thinking has to happen, but it shouldn't be the only way to read Cornell's death. What made him a great vocalist and Soundgarden a great band wasn't just technical accomplishment, though they certainly didn't lack for that; greatness implies complexity, and Soundgarden's greatness lay in its ability to convey not only bleakness and the will to death, but the dogged will to live that opposed it. Life isn't death, but living and dying are, actually, the same process. Far from being a monument to despair and abjection, Soundgarden's music plays out the struggle against them. Cornell was too honest to be merely sullen, and the voice with which he delivered his impressions, and the guitars and drums behind them, were too beautiful to simply amount to a document of doom. Heavy as death but dynamic as life, Soundgarden struck a balance between the two, and it was this realness that made their songs a resource for countless desperate individuals too smart to cheer up yet too strong to give in.
How many lives were pulled, even temporarily, out of the abyss by his words? Too many to count, and no doubt more will be with each passing day. It's absolutely terrible that Chris Cornell is dead. There is no way around that. But can anyone whose songs keep saving people, even after his death, truly pass out of this world? "It doesn't mean that it's going to happen. But it doesn't necessarily mean that it isn't, either."