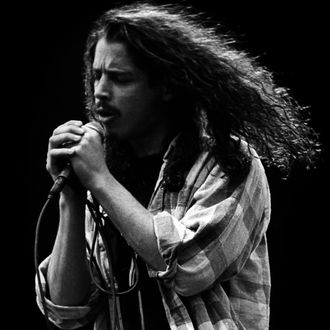 Cornell.
Photo: Paul Bergen/Redferns/Getty Images
As the news of Chris Cornell's suicide last Wednesday night spread throughout the music world, some of rock's biggest stars began processing the loss of the Soundgarden and Audioslave front man with a multitude of tributes over the weekend. His Audioslave bandmate Tom Morello wrote a poem about Cornell's character, saying "you're prince, you're a snare, you're a shadow." But for most of Cornell's peers, music was their way of honoring his life and work. On tours throughout the world, acts from Ryan Adams to Metallica covered his songs, or paid tribute to him with their own. Watch some of the best below.

On U2's Joshua Tree tour, the band dedicated "Running to Stand Still" to Cornell's family and called him a "beautiful, sweet soul."

Heart's Ann Wilson covered the Soundgarden classic "Black Hole Sun" — one of Cornell's best vocal performances — on Kimmel the day after Cornell died.

Ryan Adams took on "Black Hole Sun" in Auckland, New Zealand.

Metallica's Robert Trujillo played a bit of "Black Hole Sun" on bass in Boston.

Eric Church, while better known for being a country star, is also a fan of grunge. In D.C., he married the two styles by covering Johnny Cash's version of Soundgarden's "Rusty Cage" in honor of Cornell.

At their stop in Georgia, Aerosmith played the recording of "Black Hole Sun" over the stadium's speakers with a large image of Cornell projected on a big screen over the stage, to which Steven Tyler bowed. He also led a moment of silence and prayer for Cornell before playing "Dream On."

Red Hot Chili Peppers guitarist Josh Klinghoffer played Cornell's acoustic solo song "Seasons" during the band's encore in Indianapolis.
In Tokyo, Megadeth covered Soundgarden's "Outshined," with Dave Mustaine noting "we have lost one of the most beautiful voices in rock history" and that he "could never sing like Chris."
Soundgarden had been booked to play Ohio's Rock on the Range Festival just days after Cornell's death. Instead, many other bands on the festival's lineup filled in for Soundgarden, in a sense, playing several tributes to Cornell. Bush covered "Black Hole Sun"; Live covered Audioslave's "I Am the Highway," calling it "one of the most beautiful songs ever written"; and Slipknot's Corey Taylor covered Temple Of The Dog's "Hunger Strike." The festival also showed a video tribute to Cornell, set to his a cappella version of "Black Hole Sun."