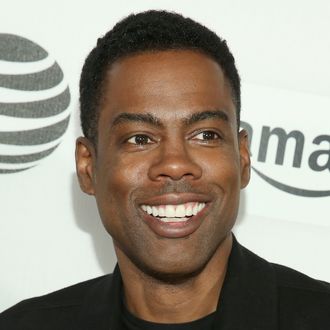 Get ready.
Photo: Monica Schipper/Getty Images for Tribeca Film Festival
Last year, Chris Rock signed a deal with Netflix for two comedy specials, which will bring his legendary stand-up back to the small screen for the first time since 2008. With that much time off, it's hard to know what a Chris Rock routine will look like a decade later, but he's already assuring fans that it'll be as black as ever. In a new Rolling Stone cover story, Rock says he plans on taping at least the first special for a majority-black audience. The decision was partly inspired after he watched Michael Che's Netflix special and noticed a disconnect between the jokes Che was telling and the crowd there to receive them. "I liked it, but it's too many white people in the audience. You do cutting-edge humor about race and you cut to white people — it does not have the same effect," he says. Rock imagines how that same divide would hurt even the best comedians like Richard Pryor: "Pryor does the Africa bit, about 'there's no niggas here,' but it's a bullshit bit if it's done in front of a bunch of white people. When black people laugh, there's a rumble."
For that reason, Rock says he's waiting to find an audience black enough for his first Netflix special, and doesn't plan on filming it until December. (His Total Blackout tour wraps that month, first in L.A. and then in New York City, with the last stop, of course, in Brooklyn.) As for why having a black audience might make the most sense, expect to hear jokes about why every black dad should "begin his son's day with a punch to the face" to teach black boys how to survive in America, and other material not necessarily safe for white people.