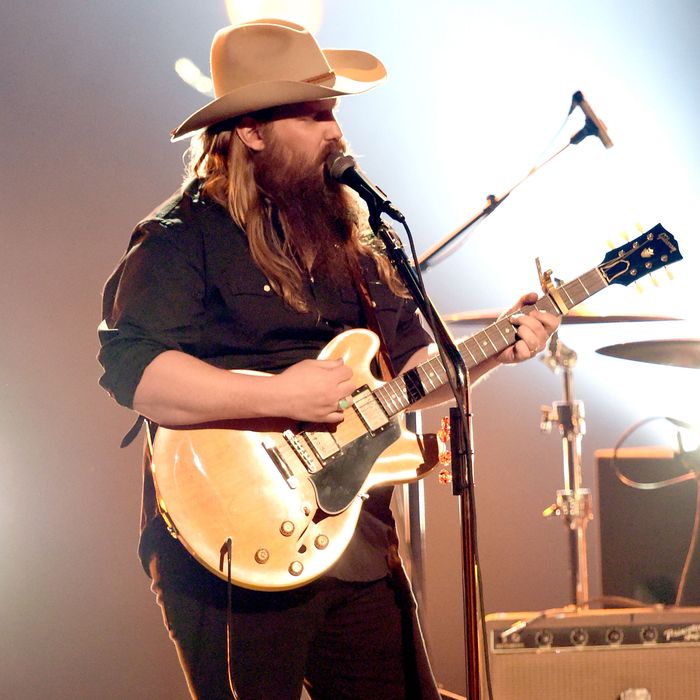 Chris Stapleton.
Photo: Ethan Miller/Getty Images
Chris Stapleton is the superstar modern country deserves: He's a bluegrass-loving, true-blue traditionalist with a voice that could melt stone, whose 2015 debut album Traveller found room for both the shattered sadness of "Sometimes I Cry" and the smirking pot paean "Might As Well Get Stoned." Traveller's mix of hard drinking and sobering thinking was catnip to country fans resistant to the hip-hop moves of Sam Hunt and low stakes, feel-good jams from artists like Luke Bryan and Thomas Rhett. The killer catch is that Stapleton spent years moonlighting as a writer of hit singles for Bryan, Rhett, Kenny Chesney, and more. Championing his songwriting is reckoning with not just the heartrending "Fire Away" or "Parachute" but also joyful, flighty stuff like Rhett's "Crash and Burn" and Bryan's saccharine "Drink a Beer." Traveller didn't blow up until Justin Timberlake showed up at the 2015 Country Music Association Awards six months after the album's release to perform alongside Stapleton. Soul and country don't have to be enemies.
From a Room is the next chapter in Chris Stapleton's unusual career. It's a double album split into two volumes, the first of which is out this week, with the next to land later this year. Volume 1 is as quiet and unassuming of a follow-up to a double-platinum smash as you're likely to hear these days. It's stark and almost uniformly sad, lacking in mid-tempo country-rock exercises like Traveller's "Parachute" and "Nobody to Blame." Barring the boisterous single "Second One to Know" and the requisite weed anthem "Them Stems," Volume 1 is almost entirely ballads about screwing things up with a woman. "I Was Wrong" is the scorcher of the batch, a perfect expression of anguish through winding vocal runs in the spirit of the last album's gobstopping closer "Sometimes I Cry." It's bold, retreating further into the sound of the '70s and early '80s at a moment when everyone's expecting huge sales. But Stapleton has earned the rare trust of the country music establishment, diehards, and casual country listeners, and Volume 1 is more than just an exercise in outlaw-country fan service. It might actually be the more refined album.
Volume 1's downcast mood doesn't starve it of dynamic range, though. "Death Row" rides a patient, subtle blues groove evocative of its character's slow wait for the death penalty. The softly picked guitars of "Without Your Love" bring to mind folky Beatles outings like "Blackbird." Opener "Broken Halos" elicits the edifying meld of soft rock and country that alt-country does so well. What unites these songs, apart from a certain sadness, is a very economic sense of pace. Volume 1 fits nine songs into a half-hour space, and not a note feels misspent. Verses bubble into choruses of increasing intensity; songs fade after a final tantalizing vocal turn, like the abrupt end "Broken Halos" meets just as soon as the melody starts to take flight. Slick structure and smart editing are where Stapleton's decade-and-a-half of work as a Nashville hired hand comes into play, and where Volume 1 starts to sound like the crucial, accomplished career booster its prerelease hype expected.
These songs may be taut in structure, but Stapleton's voice blows across them with the force of a gale. He's note perfect in the repose of "Broken Halos" and "Either Way." He's a careful harmonizer on the hard-charging "Second One to Know" and the drinker's waltz "Up to No Good Livin'." "Them Stems" accomplishes levity, then "Death Row" taps into the passion of a dying man's last thoughts ("Don't need no preacher man coming 'round / I don't need him to lay my burdens down"). "Last Thing I Needed, First Thing This Morning" covers an Always on My Mind–era Willie Nelson tune, nailing the Texas country legend's notoriously tricky vocal timing while maintaining the younger artist's own signature full-throated tone. Stapleton is a country guy with a soul singer's heart, and From a Room: Volume 1 is essential listening for fans on both sides of the fence. Hopefully it can elude the bullish rhetoric about saving country music that tends to dominate the discussion around albums like this. The fact it can exist at all is proof that country's doing just fine.