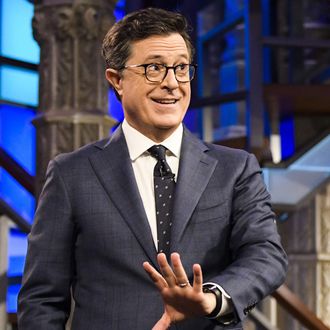 Stephen Colbert.
Photo: Mary Kouw/CBS via Getty Images
Stephen Colbert's Late Show is on a winning streak: The CBS late-night show has bested The Tonight Show Starring Jimmy Fallon to become the most-watched late-night show on air. Colbert's win comes from a slim margin — 22,000 viewers — but he ends the 2016–17 broadcast season with his show's 16th consecutive weekly win, according to a statement from CBS. It's also a first for CBS, which hasn't beat the Tonight Show in the ratings since the 1994–95 season (that's excluding the 2009–2010 season, when Conan O'Brien briefly replaced Jay Leno).
Colbert's ratings are benefiting from some behind-the-scenes changes: The show hired CBS This Morning executive producer Chris Licht as showrunner this season, and also experienced a bump from the host's incisive Trump coverage. Fallon, meanwhile, has faltered on Trump coverage — the self-described "people pleaser" incurred outrage for playfully tousling the then-presidential candidate's hair, and hasn't found a tone on Trump that works. Fallon may still be winning the key 18–49 demographic, but Colbert has indeed dethroned him for the season.