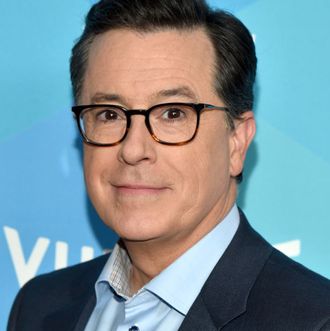 Stephen Colbert.
Photo: Bryan Bedder/2017 Getty Images
Stephen Colbert is feeling a little overwhelmed these days. "It feels like things are on fire, and I'm not a fireman," the Late Show host told Frank Rich at the Vulture Festival today. "I'm a guy who dances next to the fire and says, 'Let's all admit this is on fire. Do you think this should be on fire? Is that something we want to burn today for one man's ego?'"
He's speaking, of course, about the Trump presidency — a topic about which Colbert has been strikingly and famously articulate. But how will it end? Colbert foresees a bitter surrender. "Trump will leave and declare leaving office a victory because he went in to make the changes that he wanted, and shake up the system, and now the job is done and you are welcome," Colbert said. "And that seems completely plausible to me."
If Trump doesn't toss in the towel, Colbert hopes that Democrats will get it together for the midterms. "If he stays on, and doesn't go anywhere, but is just hamstrung, it seems like the best thing you could hope for is this grinding status quo that gets you to the 2018 midterm elections," he said. "And then, if the Democrats have just two Saltine crackers in their skull to rub together and can get control of either house of Congress, then you can have a serious investigation that is public."
He believes the appointment of former FBI director Robert Mueller as an independent counsel in the investigation of the Trump campaign's Russian ties is a good idea, but also thinks there need to be an honest evaluation of Trump's time in office. "Mueller is going to be great, but there needs to be a public coming-to-Jesus on what Trump means and what we are willing to accept as governance or as our standard," Colbert said.
"Because the fire we are dancing next to is really our norms and our standards and our principles. And are we willing to burn everything for a golden calf — who is Donald Trump — just for vindictiveness's sake? Because our politics have become a bastion of vindictiveness," Colbert said. "People who felt they were being treated cruelly decided to respond with an act of cruelty, and Donald Trump is an act of cruelty. But there needs to be a reckoning."
Still, Colbert sees a kind of bright side. Sort of. "The one good thing about Donald Trump," Colbert mused, "is that he himself is such a redolent turd that we have to examine how we allowed that thing in the food chain."