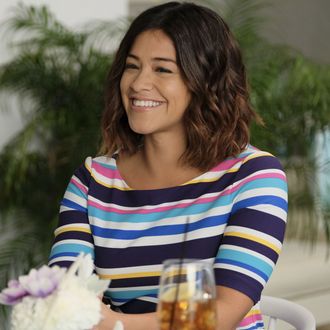 Jane's got a new home.
Photo: Scott Everett White/The CW
Consider the CW's Friday schedule your new stress relief lineup. Ahead of its Upfront presentation Thursday morning, the network unveiled its 2017 fall schedule, in which Jane the Virgin is moving from Monday nights to Fridays to run just after Crazy Ex-Girlfriend, which is moving an hour earlier. This is something of a scheduling reunion for the Golden Globe–winning comedies, as they both ran on Monday nights during Crazy Ex's first season, though now they will both face less ratings pressure in Friday-night slots.
The network's new Dynasty reboot, meanwhile, is moving to Wednesday, getting a lead-in from fellow prime-time soap Riverdale. The network's other new addition, the military drama Valor, will follow Supergirl on Monday nights
See the full schedule below, with new shows in bold:
MONDAY
8:00-9:00 p.m. Supergirl
9:00-10:00 p.m.Valor
TUESDAY
8:00-9:00 p.m. The Flash
9:00-10:00 p.m. DC's Legends of Tomorrow
WEDNESDAY
8:00-9:00 p.m. Riverdale
9:00-10:00 p.m. Dynasty
THURSDAY
8:00-9:00 p.m. Supernatural
9:00-10:00 p.m. Arrow
FRIDAY
8:00-9:00 p.m. Crazy Ex-Girlfriend
9:00-10:00 p.m. Jane the Virgin