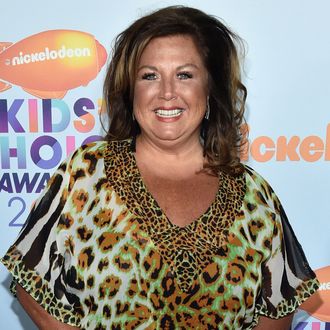 Abby Lee Miller.
Photo: Alberto E. Rodriguez/Getty Images
Almost a year after pleading guilty to bankruptcy fraud, Dance Moms' Abby Lee Miller was sentenced Tuesday to a year and a day in prison by a federal judge in Pittsburgh, according to Deadline. She'll also have to pay a fine of $40,000, along with an additional $120,000 for a currency-reporting violation she was investigated for last summer. Miller filed for bankruptcy in 2010, and was first indicted in 2015 on 20 charges of bankruptcy fraud, concealment of bankruptcy assets, and false bankruptcy declarations. Her legal woes came to a head after federal agencies found evidence that she tried to hide $775,000 in income from Dance Moms, the spinoff Abby's Ultimate Dance Competition, and other Dance Moms–related appearances and merchandise.
In Tuesday's hearing, character witnesses said Miller isn't anything like the combative and demanding dance instructor she was portrayed as on the Lifetime show. Afterward, Miller took the stand to defend herself, saying, "Dance Moms became a hit and I became the laughingstock of reality TV." Miller will likely serve nine months in a facility close to Los Angeles, and have an additional two years of supervised release. Miller's charges carried up to $5 million in fines and possibly five years in jail, but the Feds initially pushed for a two-and-half-year prison sentence. Miller has 45 days to report to prison.