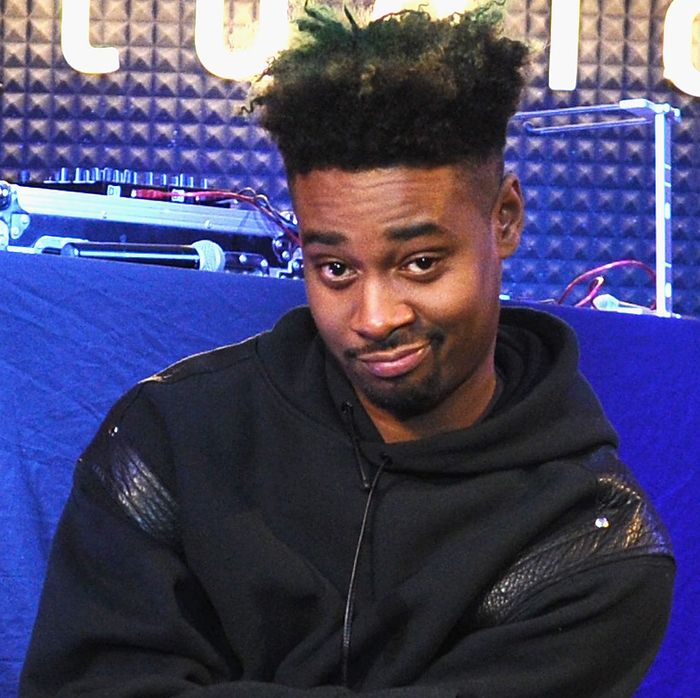 Photo: Ilya S. Savenok/Getty Images for Pandora
If Danny Brown wasn't getting busy, he wouldn't be Danny Brown. Since releasing Atrocity Exhibition last fall, the Detroit rap virtuoso known for his hyper-kinetic delivery has been pushing the album by touring North America and Europe while delivering on guest verses for Run the Jewels and Gorillaz. His latest affair is "Kool Aid," a Soundcloud loosie slated to appear on the forthcoming soundtrack for Mike Judge's HBO tech-industry satire Silicon Valley.
The pairing is less strange than it seems, not least because Brown has made a career out of making strange combinations familiar: For example, Atrocity Exhibition takes its title from a Joy Division song, and was released through the legendary indie label Warp, best known for releasing Aphex Twin and similar acts. "Kool Aid," with its pummeling, digitally textured beats, flows so emphatic as to be punishing, and drug-infested content ("I can't feel my face now / But I feel that bass now") fits in well with the intricate aesthetic Brown's been developing since Old and XXX.
Judge, for his part, has a longer relationship with rap than just Silicon Valley's music: Rap videos were part of the diet Beavis and Butthead served themselves, Office Space's white-collar rebels were avid hardcore rap fans (especially Michael Bolton), and Idiocracy cast Scarface in a prominent role as a villainous pimp. A conservative humorist obsessed with degeneracy, mass media, political correctness, and office conformity, Judge produces films and shows characterized by a marked ambivalence toward rap, a mass cultural juggernaut with a — how do you say? — flexible sense of morality that, however, operates beyond the reach of liberal and corporate taboos. "Kool Aid," and its placement with Silicon Valley, is as good an opportunity as any to marvel at the weirdness of a world where Judge and Brown, one judgmental and white, the other permissive and brown, are nonetheless in range of one another.