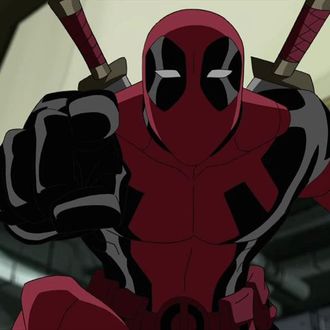 Still from Deadpool's appearance on Disney XD's Ultimate Spider-Man.
Photo: Marvel Entertainment
Any given bit of superhero news usually has at least some rumormongering that precedes it, but if anyone knew Fox was mulling an animated series about Marvel Comics character/brand Deadpool, showrun by the creators of Atlanta, they sure did a good job of keeping it under wraps. The surprise announcement of the as-yet-untitled show came from FXX and Marvel Television today — and not as news of a pilot or a development deal. No, this sucker is going to series, with ten episodes planned to debut in 2018. And as if that weren't eyebrow-raising enough, Donald Glover and his brother Stephen are EPs, showrunners, and writers for it. It's not Donald's first outing with Marvel — he's in Spider-Man: Homecoming and made a cameo on a Spidey cartoon a while back — but this is easily his biggest commitment to the geek powerhouse yet.
This news comes at a time when Marvel is making a somewhat astounding push for its presence on non-Netflix TV. In the 2017–18 season alone, they'll be debuting this, Inhumans, and the X-Men spinoff The Gifted on ABC, Runaways on Hulu, Cloak and Dagger and New Warriors on Freeform, and the kids' cartoon Spider-Man on Disney XD. That's in addition to continuations of FX's Legion, ABC's Agents of S.H.I.E.L.D., and Disney XD's Avengers Assemble. And of course, the acclaimed (though, post–Iron Fist, slightly tarnished) Netflix sub-franchise will continue with The Defenders, The Punisher, and more as-yet-unannounced projects on the streaming site. It's a good time to be Marvel Television chief Jeph Loeb.