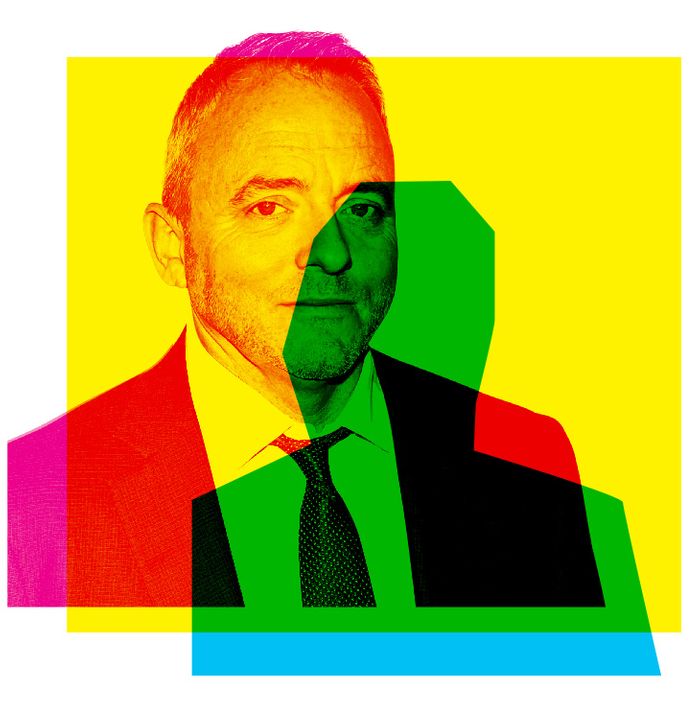 Photo-Illustration: Art Handler/Patrick McMullan
Dennis Lehane moved from Boston to Southern California "three years, nine months, and two days ago," he says, and the specificity of his answer gives him away. He knows it; he's not hiding anything. But he is feeling a bit unsettled. It's a brisk Friday afternoon in Santa Monica, and he has no obvious reason to be at loose ends: His 14th novel, Since We Fell, is due out any minute; he's working with David E. Kelley (Ally McBeal, Big Little Lies) on a ten-episode adaptation of Stephen King's 2014 novel Mr. Mercedes; he's got a vacation to Hawaii coming up, and he has nothing pressing he needs to finish. And yet that's the problem, or one of them. "I have a very hard time not working," he concedes, in a voice that bears a trace of Boston, where he was born and where nearly all his most-celebrated books, such as Mystic River and Gone, Baby, Gone, take place. "You don't want to be around me if I'm not working. I start to lose my identity fast."
Lehane, who's 51, is best known for his novels, but he's spent the past decade or so carving out a parallel career in film and television, starting in 2004, when he began writing for The Wire. Several of his novels have been adapted into features — Mystic River in 2003 by Clint Eastwood, Shutter Island by Martin Scorsese in 2010 — which is why Lehane came west in 2013, where he now pursues a bifurcated existence: a New Englander in California; an author seeking to balance the isolation of writing prose with the collaborative nature of TV. "I've been doing it so long, for 31 years, I don't know how to not," he says of writing fiction. "Scripts are all about advancing the narrative. But I need to just write a nice clean line now and then."
Lehane is talking about art, and he's talking about business, but he's also talking about finding a comfort zone. This is an ongoing theme in his life these days: the matter of expatriation, even exile. His school-age daughters are happy in the west. The work is plentiful and good. "If I go back, I give all that up." As for the restlessness, it has always been a part of what drives him, and a key factor in his fiction: "It's very hard for me to drill down on a character who's not an outsider. I don't function well with people who fit."
His work often centers on characters who are unsure of what they want or what they have, and Since We Fell features such a figure: a former investigative reporter named Rachel Childs. It moves from her childhood with a withholding mother, to her experience covering the 2010 Haiti earthquake, to her marriage to a mysterious man who has a talent for turning up where he should not. The novel sprang, he says, from a desire to "do a Hitchcock" — to tell a story where the danger is related to the personality of the main character, a mystery in which the risk is psychological and physical.
Since We Fell is a departure for Lehane — part thriller and part domestic drama, it's largely the saga of Rachel's complicated marital life. Perhaps not coincidentally, Lehane finds himself at a new imprint with a new editor. The book also benefited from what he calls "happy accident," the moment the narrative begins to assert itself. He cites the first 100 pages, which detail Rachel's early years. They were not part of the original draft but grew from a scene in which the character confronts the memory of her mother. "It was a great feeling, because I felt: I'm not writing for plot anymore. It's like my first drafts are base coat." Asked to elaborate, he breaks the process into two parts: plot and the interior narrative. "First, get why they read down. Then get why you write down."
For Lehane, this is an increasingly essential balance, between crime fiction and social narrative. "It was only after I finished Mystic River that I realized I was writing about the vanishing of a culture. It's like that great Tony Soprano line: 'I'm getting the feeling that I came in at the end.' That's what I was writing about — a group of people who felt they came in at the end." Now he wants to cast the net more widely to write about people he hasn't addressed. "The idea of the white male working-class crime story," he says, "I can't wrap my arms around it anymore."
There it is again, that uneasiness, that restlessness. The Red Sox are on TV, and Lehane checks the score, then tells a story about his father, who constantly "talked about going back to Ireland every day from the time he landed in Boston. The immigrant's lament." After his first flush of success, Lehane offered to buy his father a property in Ireland, only to be rebuffed. "Why the hell would I want that?" the older man said to him, as if complaining had been the point. "I worry," Lehane says with a chuckle, "that I'm that guy now."
Since We Fell will be published on May 9 by Ecco.
*This article appears in the May 1, 2017, issue of New York Magazine.