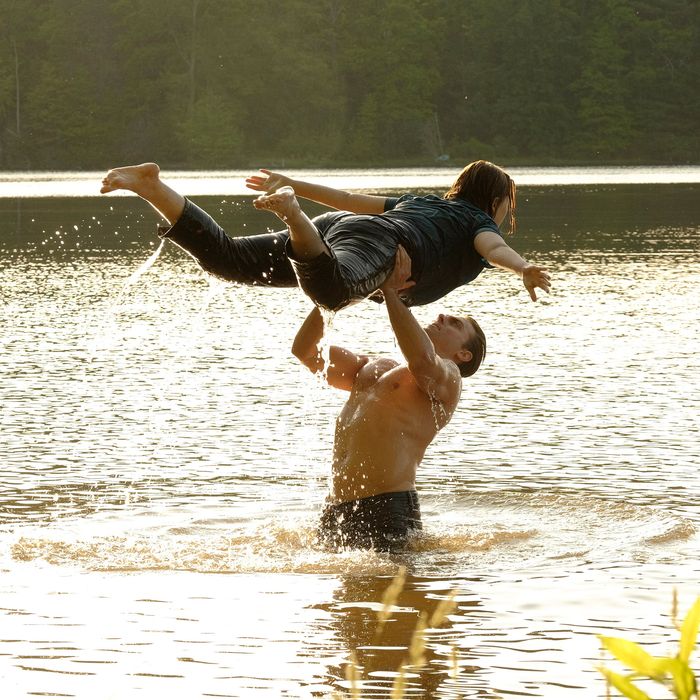 Can you take me higher?
Photo: Guy D'Alema/ABC
If you're a fan of Dirty Dancing starring Patrick Swayze and Jennifer Grey,watching Abigail Breslin and Colt Prattes fill their iconic roles may cause you physical pain. As our Jen Chaney wrote in her review of ABC's remake, "Nobody's got hungry eyes in this thing. At best, their eyes are saying, 'Eh, I don't know. I guess I could have a snack.'" And when it comes to Dirty Dancing, is there any harsher indictment than a passionless remake? Ahead, we review the lows, highs, and abs.
LOW: The "Cry to Me" pre-sex scene. What functions as Solomon Burke–backed sexual surrender in the original movie amounts to a lot of awkward swaying, ineffective attempts to replicate the Jennifer Grey circular dip, and poor Abigail Breslin being forced to strip down to an unflattering grandma bra. "Nothing could be sadder than a glass of wine alone?" I don't know, Solomon Burke, I think this scene might be sadder.
HIGH: Every time this TV movie makes you think about the 1987 movie. When you're reminded of the original, for a moment, you can pretend you're watching that instead of this nonsense.
LOW: The lack of fire. Breslin and Prattes are in an unenviable position. Swayze and Grey — compelling both on their own and as a romantic pair — carried the original film with their electric performances. At no point do Breslin or Prattes come anywhere close to bringing their characters the sort of energy that made Swayze and Grey's dynamic so charged. If there were ever a time for a pre-casting chemistry read, this would be it.
HIGH: J. Quinton Johnson. Johnson, an Everybody Wants Some!! breakout who's now on Broadway in Hamilton, plays Marco, the piano player who big sis Lisa (Sarah Hyland) develops a crush on. The romance is a lame afterthought that sets up a toothless acknowledgement of the era's racial divide, but every time Johnson appears is a good time. He can dance and sing — his cover of "When I'm Alone" is this cast's only original recording that's worth hearing.
LOW: "I'll Take You There" showing up on the soundtrack. This song, released by the Staple Singers in 1972, came out nine years after the events of Dirty Dancing take place. If you're really taking me there, to 1963, you're going the wrong way, Dirty Dancing.
HIGH: Abs.

LOW: Billy Dee Williams being forced to utter that stupid line about racial harmony. While watching Lisa and Marco perform their ukulele duet, Williams's Tito remarks: "Everything is changing. But maybe that's a good thing." And on that night, in 1963, racial injustice disappeared forever.
HIGH: Nicole Scherzinger. For just a moment, try to withhold judgment of the Pussycat Doll's laborious upstate New York accent. Nothing in this movie is an improvement on the original, but there is something to the scene where Scherzinger gives Baby a private dance lesson while Johnny's out. Did the original capitalize on the friendship between Jennifer Grey and Cynthia Rhodes? The remake's scene is trying to conjure up a "sisters doing it for themselves" thing, and lands somewhere near "Nicole Scherzinger doing this for herself," which isn't the worst thing in the world.
LOW: The dancing. When Jennifer Grey walks into the bunkhouse and lays eyes on the dirty dancing, the whole sexual revolution crackles with energy right in front of her eyes. The scene is crowded and sweaty — you really believe this is a little slice of rebellion the kids are acting out in basements across America. Abigail Breslin, on the other hand, appears to stumble upon some very well-timed choreography. This remake never capitalizes on the crawling-out-of-your-skin horniness of the original. (Jennifer Grey is rightly frustrated in half of the scenes, furious about how difficult it is to get your hips to shake just so.) Not even the choreographed routines the leads spend the entire movie rehearsing feel earned. Dancing should be the star of this movie, and it's reduced to some sedated hip shaking.
LOW: Baby and Johnny run into each other on Broadway. Just in case the ending of a corny (but deliciously fun) '80s movie didn't make it crystal clear, Baby grew into a woman in the summer of 1963, and lived happily ever after because she learned how to grind and gyrate. This TV remake inexplicably tacks on an ending that can only be described as La La Land lite: Baby's a famous author with a blowout, a husband, and a daughter. Johnny's choreographing a Broadway adaptation of their personal life. Our two leads don't end up together, but it's okay! Baby got a blowout, so at least something worked out.