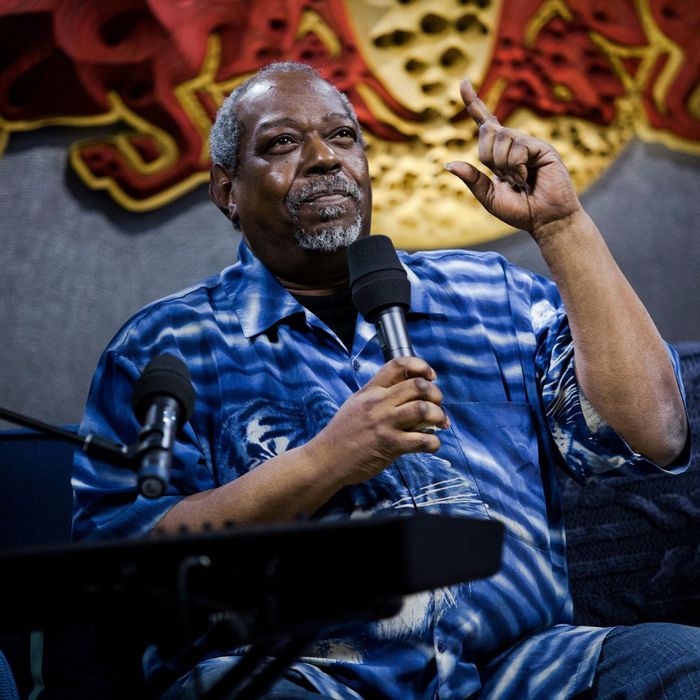 Patrick Adams.
Photo: Courtesy Christelle de Castro/Red Bull Content Pool
Patrick Adams might not register as a household name, but for fans of uptown soul, peak-era disco, early hip-hop, and '90s New Jack Swing, Adams is such a legend that it's inconceivable that even the most casual music fan hasn't found herself getting down to a track that the man's had a hand in. His name can be found on records ranging from Gladys Knight and Candi Staton to Salt-N-Pepa, from Leroy Burgess and Rick James to R. Kelly. Across his lengthy career, Patrick Adams personified, pushed forward, and in some instances, wove gold and platinum success into a half-century of African-American music.
Born in 1950 and bred in Harlem, Patrick Adams's world orbited around 125th Street. As a kid, he grew up seeing Malcolm X and Muhammad Ali strolling the streets. He played pickup basketball in the park with the likes of the Miracles and Smokey Robinson. As he recounted to Wax Poetics, during one game, he asked the Motown star and songwriting secret weapon a question: "'What advice would you give a young person who wants to be a producer?' Smokey looked me straight in the face and said, 'Forget it.' I look back at that, and I cherish it, because it was the right thing to say."
But Adams didn't forget it. Instead, he took to hanging around the Apollo Theater. He was there so often that Reuben Phillips, who conducted the orchestra, finally took the young Adams under his wing and let him hand out sheet music to the band. Adams was studying trumpet at the time, and being around the Apollo Theater Orchestra was a real music lesson. One week might feature the Stax Revue from Memphis, the next week might be a Motown group, or else the newest thing blowing in from Chicago. But it was when Adams checked out the Beatles on the Ed Sullivan Show that he switched over to guitar and immediately began writing his own songs.
By the time he was a teenager, Adams was hustling at a studio on 125th, rehearsing bands, sitting in on engineering sessions, and practicing piano in his downtime. He happened upon a teen named Leroy Burgess, who was just two years younger than the 18-year-old, and together they formed a vocal group. While waiting in the lobby, hoping to peddle his new band to the Perception Records label, he overheard that they needed an arranger and presented himself as one, quickly landing a gig recording a jingle for a Welch's Grape Juice commercial. He soon found himself writing, arranging, and producing at the progressive label. By the time he left in the mid-'70s, he was executive vice-president.
Now on his own, Patrick Adams became infatuated with the analog synthesizers that Malcolm Cecil was deploying on Stevie Wonder's classic Motown run, beginning with 1972's Music of My Mind. Adams began noodling with them on his own arrangements, but was soon foregrounding the Minimoog and ARP on his own tracks. "I wanted to do Patrick Adams, but Patrick Adams is not a great singer, [so] I decided the synthesizer was going to be my voice," he told Wax Poetics.
That was the moment when Adams elevated into a field of his own. Cloud One, Universal Robot Band, Bumblebee Unlimited, Inner Life, Sandy's Gang, Sine, Musique, Phreek, The "P" Crew … Adams was the synth wizard behind them all. By his estimation, he made 22 studio albums between 1979 and 1982. At once heady and bawdy, perfect for body-moving and losing your head in the clouds, his tracks, which mixed children's playground chants with the grown-up grooves of disco, became staples at David Mancuso's Loft, Nicky Siano's Gallery, and a good number of Adams productions became veritable anthems at Larry Levan's Paradise Garage. It simply wasn't the weekend until Levan dropped Adams's "Weekend" on his dancers.
True to his hustler spirit, when Adams heard the new sounds of hip-hop and electro emerging as disco started to flame out, he quickly leapt into experimenting with the forms, creating early staples like "Patty Duke" and "Nasty Rock." As the '80s went on, he even helped engineer early singles from newcomers like Salt-N-Pepa and Eric B. & Rakim, and when Teddy Riley's New Jack Swing came up later that same decade, Adams was there, helping the likes of Keith Sweat and R. Kelly on their first albums.
As Nile Rodgers put it to Jason King recently: "Patrick Adams is not only one of my favorite composers/producers, he's also one of my greatest influences … I don't mind admitting that I sometimes copy bits of Patrick's chord progressions. They were some of the cleverest and vibey back in the day when [we] started Chic."
But despite such accolades, Adams has been all but written out of disco's history, barely warranting mention in Tim Lawrence's Love Saves the Day and left out of Will Hermes's deep investigation of New York City's mid-'70s happenings, Love Goes to Buildings on Fire. The generations of producers that followed helped keep the music of Patrick Adams alive. Masters of Work, Todd Terry, and French house fanatics like Daft Punk and Dimitri From Paris all flashed the kind of soul that Adams had helped pioneer. And now a new generation of producers, be it Hercules and Love Affair or Disclosure, keep the tenets of his music at heart in their dance productions. As Rodgers said of his esteemed peer: "Patrick is a master at keeping butts on the dance floor."
Check out some of Adams's greatest hits below:
Black Ivory, "I Keep Asking You Questions" (1971)
Black Ivory was the teen band that Adams formed with Leroy Burgess, who was just two years his junior but boasted a formidable set of pipes. Adams produced and arranged this early single for the group, and no doubt that opening blast of horns, strings, and chunky drums will be familiar to Wu-Tang Clan fans, as the RZA sampled this song on the Raekwon classic "Criminology."
Astrud Gilberto, "Touching You" (1972)
Adams was a jack-of-all-trades at Perception Records, which was known more for its progressive fare than its soul hits. But early on, during his tenure at the label, he wound up on a session for Brazilian bossa nova royalty, Astrud Gilberto, penning a song for her and playing bass on this slinky number.
The Eight Minutes, "Looking for a Brand New Game" (1973)
Using a drum patter reminiscent of Thom Bell's deft arrangement on the Spinners' "I'll Be Around," Adams added preadolescent vocals from the Eight Minutes, hinting at the blending of childhood innocence with adult knowledge that he'd explore later in his career.
Ace Spectrum, "Keep Holding On" (1975)
New York vocal soul quartet Ace Spectrum boasted no true front man, and instead alternated vocalists depending on the song. They worked with Adams as arranger and producer on their second album, 1975's Low Rent Rendezvous, and he delivered this funk-tinged number, adding plenty of strings, horns, and even a thrum of harp.
Cloud One, "Atmosphere Strutt" (1976)
This is the track that established Patrick Adams as a synth space explorer of the highest order and set many a disco party soaring. Wringing a squealing frequency out of his Minimoog, Adams had Sylvia Striplin and some friends sing the line "We're gonna fly, fly away," and then threw a party in the background. It soon became a disco track that was, itself, an instant party.
Cloud One, "Spaced Out" (1976)
The roots of cosmic disco can be found on the opening track from Cloud One's debut album, which is as loopy as a bowl of Cheerios. A loping rhythm of hand drums and kit hold down the low end, while sensuous pants come in between the helium-huffed chants of the title. And at the fore are Adams's tickly synth lines, proving he was a maestro when it came to eliciting frequencies that push his dancers just outside of gravity's reach.
Universal Robot Band, "Dance and Shake Your Tambourine" (1976)
Adams was now setting his synth to tickled-baby yip rather than extraterrestrial gurgle, and he slows down the tempo of this single but makes a more delectable and celebratory track. If you ever found yourself on the dance floor at David Mancuso's Loft, you know this track encourages dancers to deploy their own battery of hand percussion as accompaniment.
Bumblebee Unlimited, "Love Bug" (1976)
In 1975, Adams's girlfriend took him to his first disco. It was a revelation for him: "It really helped me to focus on the importance of emotion to the dance experience," he told Wax Poetics. Sped-up vocals portray buzzing bees as club cruisers, ordering glasses of nectar and playful winks to "sting you with my love" as his strings quote "Flight of the Bumblebee."
Marta Acuna, "Dance, Dance, Dance" (1977)
Plenty of Patrick Adams's productions have a dusted feel about them: lo-fi, hazy, and floating a few inches off the ground. But none of them feel quite as woozy as the lone single from Marta Acuna. With a heavy Spanish accent and a wobble to her dramatic voice, the mysterious Acuna entices people toward the disco floor, as Adams mixes xylophone, needling guitar, and synthesizer to intoxicating effect.
Musique, "In the Bush" (1978)
This was Adams's first inescapable disco hit, a feverish, frenzied track that pushed beyond the confines of downtown loft parties and into the rest of America. Its single-entendre lyrics led to it being banned by numerous radio stations and kept it from climbing higher than the lower rungs of the pop charts, but it topped club and black singles charts and became a classic anyway.
Golden Flamingo Orchestra, "The Guardian Angel Is Watching Over Us" (1979)
A break-heavy track with none of Adams's telltale ARP or Minimoog. No matter, as he makes a tough groove and infuses it with gospel harmonies, with Margo Williams singing as sweetly as possible about New York City's difficult public-transit systems. She sings of broken lights and the rats running over the tracks. It's capped by an MTA announcement thanking the Guardian Angels riding with the rest of the commuters.
Phreek, "Weekend" (1978)
One of Patrick Adams's most ubiquitous tracks, though the version that kicked off most weekends at the Paradise Garage and the version that almost every disco dancer knows is not his version. Released as a promo that failed to gain much traction, some five years on Larry Levan came in and recut the song as "Class Action." He tightened up the groove and brought in original vocalist Christine Wiltshire, which unfortunately eclipsed Adams's own version.
Inner Life, "I'm Caught Up (In a One Night Love Affair)" (1979)
"Weekend" may not have ignited dance floors like Adams had hoped, but he nevertheless registered a top ten disco hit the very next year with a new group, Inner Life, featuring the vocals of Jocelyn Brown and Leroy Burgess. Paired with Adams's sumptuous string work and some slick upticks of guitar, "I'm Caught Up" was classy and sweaty at once.
Cloud One, "Patty Duke" (1979)
As the disco bubble neared its popping point, Adams already had his ear to another sound coming from the streets of Harlem and the South Bronx. He Paired his diving-sparrow synth blips to a slinky beat — with some timbales and some squeezed squeaky toy for extra spice — and named it after a popular '70s street dance, the Patty Duke. Adams made an instant old-school classic. Since then, it's been sampled by the likes of Spoonie Gee, El-P, and EPMD.
Inner Life, "Ain't No Mountain High Enough" (1981)
Along with Universal Robot Band's "Barely Breaking Even" from the next year, Inner Life's monumental reworking of this Motown classic found Adams operating at the peak of his powers. In tackling this Ashford and Simpson–penned hit for Marvin Gaye and Tami Terrell, Adams made it into a mountain, reconstructing the track and gradually building to a stunning gospel climax.
Salt-N-Pepa, "It's Alright" (1987)
Early hip-hop legends, this lady trio from Queens soon tasted platinum success on their debut album thanks to the ubiquity of "Push It." At the time, Adams was an engineer at Power Play Studios in Long Island City and he helped midwife some of hip-hop's earliest albums. On their debut, Adams engineered this slow and rugged dancehall meets hip-hop deep cut that shows off Sandy "Pepa" Denton's Jamaican roots.
Eric B. & Rakim, "I Know You Got Soul" (1987)
Strong Island's finest also got an early boost thanks to Adams's acumen behind the boards and his idea to use a bass drum microphone to capture the resonant low end of Rakim's voice on tape. Adams engineered the duo's earliest singles and first two albums and produced this stinging old-school cut. It's remained a hip-hop touchstone ever since, and has been sampled by the likes of Aaliyah, Jay Z, and even Limp Bizkit.
Keith Sweat, "Don't Stop Your Love" (1987)
"I had no plans to do R&B music," Teddy Riley told the Atlantic on the occasion of the 25th anniversary of Keith Sweat's epochal Make It Last Forever. "New Jack Swing would've been just rap if I didn't get with Keith Sweat." That melding of hip-hop to R&B happened under Adams, who served as engineer for the album. He gets a credit on the simmering and jacking vibe of "Don't Stop Your Love," the bits of electro and boogie hearkening back to Adams's classic sound.
R. Kelly & MGM, "Why You Wanna Play Me" (1990)
Patrick Adams's knowledgeable touch stretched into the '90s, as he engineered the first single from a new Chicago R&B group Mentally Gifted Men, featuring a charismatic front man soon to strike out on his own: R. Kelly. The group only made one single before disbanding, but this forgotten New Jack Swing cut marked the start of R. Kelly's storied career.