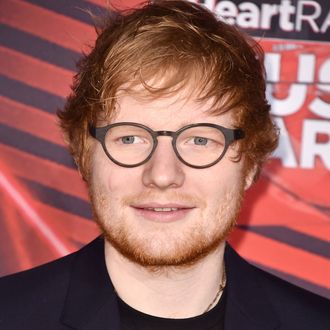 Watch out for those swords, Ed!
Photo: Alberto E. Rodriguez/Getty Images
Recently, Ed Sheeran took some time out of his busy injury schedule to film a cameo in the upcoming seventh season of Game of Thrones. Sheeran already looks like he could play any number of bedraggled medieval characters but, in a recent radio interview, the singer revealed that he will, in fact, be playing a singer on the show. "I just do a scene with Maisie [Williams, who plays Arya]," he said. "I sing a song and then she goes, 'Oh, that's a nice song.'" Williams is a big Sheeran fan and, as the cast revealed at their SXSW panel, the cameo was designed to be a surprise for her. We hope that Sheeran gets a tattoo to honor the experience, and that, inspired by Saoirse Ronan, Maisie Williams misspells it.