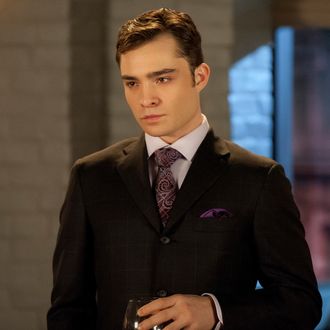 Photo: David Giesbrecht/The CW
You know you hate this, XOXO, Gossip Girl. With revivals for television shows gradually becoming more commonplace in our current cultural landscape, one of the natural candidates for getting another go on the small screen is the wildly popular teen drama Gossip Girl, which bowed out nearly five years ago after six seasons on the air — especially since Blake Lively, arguably the most famous actor on the series post-GG, said earlier this year to "never say never" to a revival. ("Why not?") But hold on to your cleavage rhombuses, Upper East Siders. Because for a true revival you'll need all of the main cast to come together, and none other than Chuck Bass himself, Ed Westwick, doesn't think it's such a grand idea.

"Nah, that's not gonna happen," Westwick said in a new interview with the Radio Times. "I know there's a bunch of them coming back — I hear they're doing Will and Grace, they've done Gilmore Girls … but it's such a strange thing to think about. It feels like we only just finished! And I haven't done enough in between yet to feel like I could comfortably revisit it. And I did so much with that character — it's played out, man. It's done." But if Netflix gave him a multimillion dollar payday, he might be inclined to change his mind. "I'll do it then," he said. "Hundred percent. Course you will!" Because once a Bass man, always a Bass man.