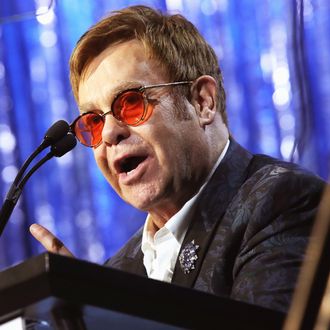 Sir Elton John.
Photo: Ari Perilstein/Getty Images for EJAF
Elton John is at the Cannes Film Festival to shepherd along a competition called "Elton John: The Cut," meant to award achievement in music video direction. The parameters were very specific: In honor of the 50th anniversary of John's songwriting partnership with Bernie Taupin, competitors had to create a video for one of three Elton John songs, "Bennie and the Jets," "Tiny Dancer," or "Rocket Man," with a winner to be chosen for each song. The victory presentation included a conversation with John and Taupin that was moderated by Spike Lee, and in his remarks, the piano man had some feedback for people who grew up loving MTV when it actually played music videos.
"We were before the MTV generation, and I'm glad we were because we were real artists," John said. "The MTV generation brought with it a lot of people who were great, but a lot of people who just made videos. A lot of the artistry went out of the music. We were lucky that we made it before videos." (He added, though, that "videos enhance music.") After knocking Gen-Xers and millennials down a peg, the "Candle in the Wind" singer proceeded to praise the youth for their world-changing potential. "We need the next generation to be good because the world is shit at the moment," he explained. "I just love the energy and the adrenaline of the new kids. That's the adrenaline we had when we were younger. You can't buy it. You can't bottle it. These people have it." What a nice thing to say, mostly.
Carita Rizzo contributed reporting to this story.