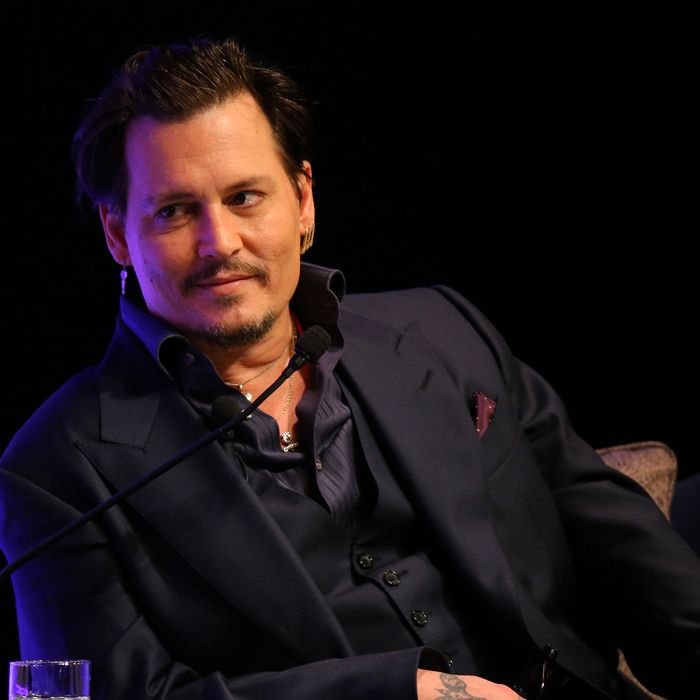 Johnny Depp, sans diamond cuff.
Photo: Mark Davis/Getty Images
With Johnny Depp and his former business advisers The Management Group (TMG) currently embroiled in dueling lawsuits, two points have become abundantly clear: One, Depp makes ridiculous amounts of money, and two, he spends even more. While it will be up to the courts to decide whether TMG was responsible for the reported $650 million Depp made and lost in the 13-plus years he employed the company, the actor's comically extravagant tastes certainly didn't help put him on a stable financial footing. We're not judging — honestly, we're kind of impressed. Here are the most luxurious items Depp spent his money on.
$30,000 per month on wine
According to Business Insider, this vino was "flown in from all over the world for personal consumption." Hopefully the word "personal" is being used loosely here.
$200,000 per month for flying in private jets
Since commercial flights will rarely let you bring your personal collection of wine aboard, this just makes sense.
$400,000 for a single diamond cuff
Depp has spent "millions" on jewelry over the years, but his dedication to bling is truly inspiring. According to The Hollywood Reporter, this purchase was something of an impulse buy, rather than the carefully considered investment most diamond cuffs are.
Millions on guitars
Depp has 70 guitars, which is a lot of guitars, even for a guy who really, really likes rock and roll.
Millions on artwork
Depp is said to have 200 pieces of art in his collection, which includes names like Andy Warhol and Amedeo Modigliani. He also bought three Leonor Fini paintings from a Manhattan gallery seemingly on a whim; one Fini cost $245,000 and was a gift for Depp's then-girlfriend Amber Heard.
Millions on Hollywood memorabilia
Lots of celebrities, including Lady Gaga, like to pay tribute to the Hollywood legends of yesteryear by buying all their old stuff, but Depp's collection is so huge he allegedly needs 12 storage facilities to contain it all. He also spent another million having the collection archived, which makes him possibly the world's most organized hoarder.
$3 or $5 million for a "specially made cannon" to blast Hunter S. Thompson's Ashes over Aspen, Colorado
There's no disputing that Johnny Depp actually did this, but TMG says he spent $3 million, while Depp claims they were so negligent with their accounting, they didn't even realize it was $5 million. Either way, it was a fitting epitaph.
$3.6 million annually for a 40-person staff
In addition to his personal assistants and around-the-clock security detail for him and his children, each of his residences also is also fully staffed.
$5.35 million for three islands in the Bahamas
Why buy a beach house when you can own the beaches?
$18 million for a 156-foot yacht
Who would have thought that a fancy boat would be more expensive than islands? The yacht also required $350,000 a month in maintenance. With Depp's money woes, the yacht was one of the first luxuries to go; in a magical twist, it was bought by J.K. Rowling.
$75 million on buying and renovating 14 residences
You could get an entire HGTV show — and maybe a few spinoffs — out of just finding and fixing up Depp's vast array of properties, like the 45-acre chateau in the south of France near Saint-Tropez, the five penthouse apartments in Downtown L.A., and the working horse farm in Kentucky.