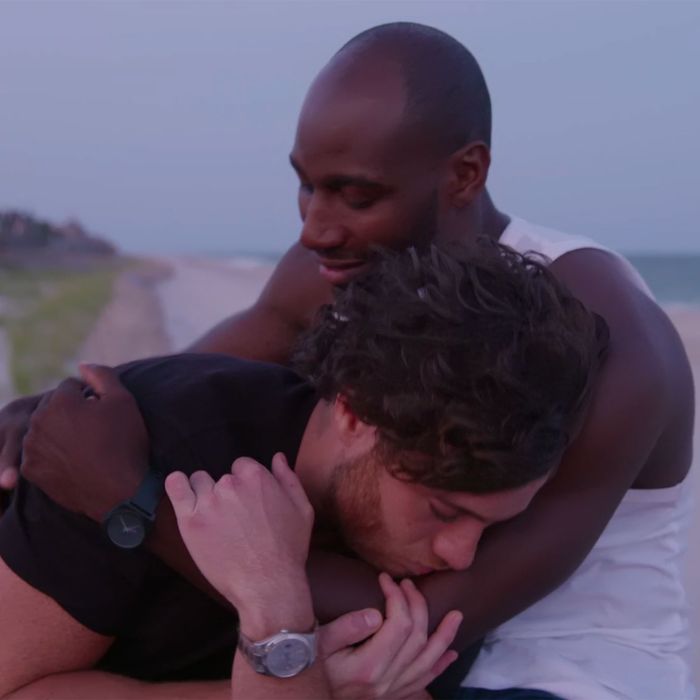 This week's episode begins with Patrick alone in the house talking to his dog, which happens a lot on this show, and leads one to believe Patrick potentially spends all week wandering the halls of that sun-dappled cottage, muttering things aloud to his Pomeranian-Yorkie mix. If that's the case, he's living the dream. As he grabs something out the freezer, a quick glimpse inside shows a year's supply of rosé, which only serves to enhance the dream-life thing.
Back in New York, we see a quick montage of the guys at home. Khasan is in the dance studio, Justin is talking about art, Cheyenne and Brandon get pedicures, and Jorge Skypes with his boyfriend. This is the first time I recall hearing that Jorge even has a boyfriend, let alone one he's been with for eight years. The boyfriend, Fabio, lives in Venezuela and isn't coming to visit Jorge anytime soon. Instead, he's "going to a big party" in Barcelona (because that's a perfectly rational reason to not see your boyfriend of eight years for months at a time). Fabio gets awkward because his straight friends have arrived and he's apparently not 100 percent comfortable being gay. The music tells us we're going to hear about this story line for the rest of the episode and I pour myself a glass of wine to wash down some Advil.
Jorge, Khasan, Cheyenne, and Brandon arrive on the island. They greet people at the ferry with typical how do you dos. Khasan says, "You're getting hairier and hairier!" to a kind-faced character we've never met and who, frankly, doesn't even look that hairy. Someone else is passing out flyers for a morning dodgeball game, which coincidentally is a combination of my least favorite words: starting first with "morning dodgeball" and with "flyers" coming in at a close second.
Cheyenne tells us he's going to cook a big dinner at the house tonight because he feels bad about missing Justin's art show the previous weekend. With a completely serious face, he explains that "there's no better way to bring people together than with a home-cooked meal" as if he's just stumbled upon this intriguing life hack after a decade's worth of research and field work. Then they go shopping in one of those annoying reality-show montages that's really just four mildly interesting people goofing around in a grocery store like they've never purchased produce before.
Back at the house, Brandon helps Cheyenne prepare dinner as they discuss what they might do later. Brandon wants to go out because he's still got that "I'm single and on Fire Island" thing going on. Cheyenne playfully schools him for having "threeways" and "orgies" every weekend. In regards to this, Cheyenne says that their room was like a "backpack holding facility" the other night, which brings me to two questions. One, what the hell is a backpack holding facility? And two, who the hell brings a backpack to an orgy?
Justin arrives and immediately confronts Cheyenne about missing the art show. (I am officially over hearing about the art show, by the way.) Justin reluctantly accepts Cheyenne's apology and somewhere around this point, I realize that Cheyenne is one hemp puka choker away from always being dressed like "the hot one" from every '90s boy band.
Patrick arrives for dinner with a gaggle of co-workers and everyone is pissed. I side with everyone else on this one: Can they have at least one night when Patrick doesn't show up with a new batch of gay people whose names I have to learn for the sake of writing these dumb things? Patrick's insistence has begun to feel a little put on, as if he (correctly) knows it is a perfect way to stir the pot of drama. Having watched Camille Grammer on season one of The Real Housewives of Beverly Hills by his side, I suspect I might be right. He also does this thing where he talks in the patronizing, childlike tone he used to use when we were fighting for the bulk of 2010 and I now need another Advil.
Everyone sits down for dinner and Cheyenne makes a toast. Patrick announces he's going to compete in a drag pageant in Cherry Grove called Miss Cherry's. He's always wanted to try drag and has decided to re-create his mom's look from when she competed in Miss Georgia.
The next morning, they make breakfast and prepare for the dodgeball game on the beach. Also, one of Patrick's friends stayed over and hooked up with Brandon. I forgot to write this guy's name down because I didn't realize he'd become such a big character, but he is handsome and insanely tall. He reminds me of a hotter version of that guy from the Billy Crystal movie My Giant.
Cheyenne and Justin laugh about Brandon's youthful frivolities. Justin asks, "Do you remember being 21?" and Cheyenne replies with a scoff: "Um. No!" He's only 29, but continues doing this "sitting in a rocking chair on the front porch of an old A-frame house regaling us with tales of yesteryear" routine. "And movie's only cost a nickel!" I keep expecting him to exclaim out of nowhere.
The dodgeball game is heinous and I refuse to write anything else about it. Jorge is there with a "mistress" and they cut to Khasan explaining what a mistress is and you have to wonder just how dumb they think we are. The "mistress" is a sexy Italian guy who speaks in broken English. He attempts to tell Jorge about getting to the island, but it comes out as just him naming forms of transportation: "Train … train … bus … train … boat," he explains in what could pass as beat poetry in the right Portland coffee shop.
The next morning, Cheyenne has to leave for a "last minute shoot in NYC," which I can only assume has something to do with Mr. Turk's Instagram story. Of course, this means he's going to miss Patrick's show. Brandon reveals that he's getting more and more into the My Giant guy and spends a few minutes explaining the size of his body parts, one by one.
Meanwhile, Patrick gets into drag with the help of his friend, Sarah, who I know and who has been a wonderful friend to him for many years. His drag persona is named "Poly Cockit." Although he's running late getting ready, he vows, "I WILL make it onstage dressed as my mom!" That's the spirit, Patrick!
While he gets ready, Jorge, Brandon, and Khasan make the trek to Cherry Grove for the pageant. They go through the "Meat Rack," a rambling section between the Pines and Cherry Grove where people go to hook up with strangers. I walked through the area once and saw a plastic chair with a hole cut in the seat and haven't been the same person since.
At the pageant, we see a plethora of gorgeous drag queens competing before an enthralled gazebo of drunk people. (That's pretty much queer culture in a nutshell, isn't it?) Patrick gives it his all and his friends are very supportive. The My Giant guy arrives and he and Brandon sneak out for ice cream to discuss their future. (They met not even 24 hours ago.) As they leave, Khasan tells them, "DO NOT MISS EVENING GOWNS!" which, in my opinion, is a rule to live by.
Patrick wins "Audience Favorite" and he is thrilled. There's a sweet moment where he FaceTimes with his mom to show her he re-created her outfit from her pageant days. In drag, Patrick kinda resembles Sheana from Vanderpump Rules meets the daughter from Father of the Bride in a hailstorm.
The high of the pageant wears off when Patrick finds out Cheyenne didn't come. It's clear he's hurt, and I get it. The pageant was clearly very important to Patrick and he put a lot of work and energy into it. It's clear the Cheyenne-Patrick feud is far from over, but he manages to shake it off for the night. As so many of us know, it's never ease to stay pissed off when you're wearing a gold evening gown and a literal tiara. Oh, and I ran out of Advil.