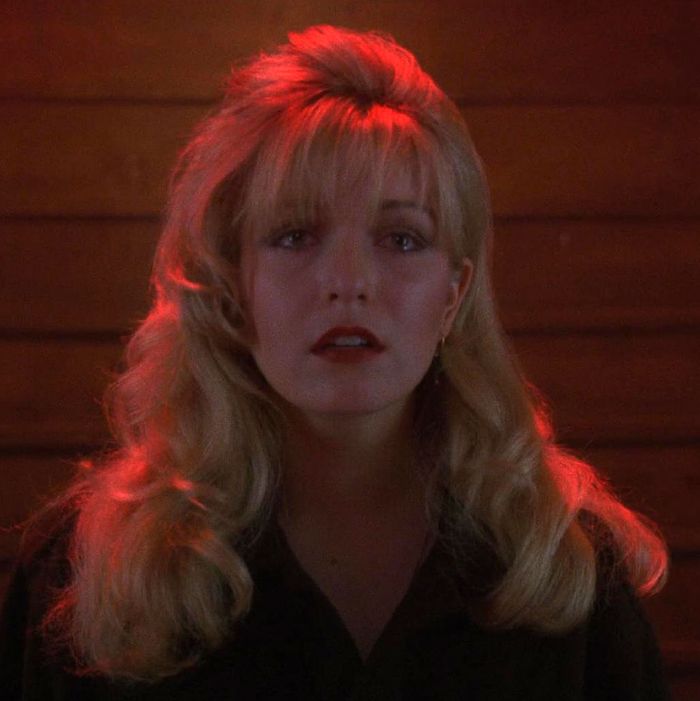 Fire Walk With Me.
Photo: New Line Cinema
If you never saw Twin Peaks: Fire Walk With Me, the 1992 David Lynch–directed feature about the days leading up to Laura Palmer's murder, the first thing to know about that movie is that, if you'll pardon the Peaks meets Mad Men reference, it's not great, Bob.
Let me rephrase that a tad. This being a Lynch film, it does contain some startling, haunting moments that stay with you, not to mention a fully committed, wrenching performance from Sheryl Lee. The biggest problem with Fire Walk With Me is that it feels so utterly disconnected from Twin Peaks the series. It's much darker, seamier, and completely lacking a sense of humor. (No one eats or even discusses doughnuts in this thing!) It also depicts events that happened prior to Laura's death that seemingly would have been addressed in the series, but aren't. For example: Bobby actually kills a dude in Fire Walk With Me while trying to score some drugs. This seems like the kind of thing that would have come up, or at least made Bobby far more freaked about being questioned by the cops, in the Twin Peaks pilot. Even though Fire Walk With Me is supposed to be setup for Twin Peaks, it plays like it's set in an alternate timeline. Although it's quite possible that's the point.
As David Lynch recently said in this Variety story, Fire Walk With Me is "very important to understanding" the new Twin Peaks, which begins airing Sunday night on Showtime. Since none of the episodes have been screened ahead of time, it's difficult to know exactly how the two may overlap. But here are six details from Fire Walk With Me that may be worth keeping in mind during Twin Peaks 2017.
1. The Teresa Banks case.
The first part of Fire Walk With Me delves into the murder of Teresa Banks in more detail, the waitress and part-time prostitute killed in Oregon a year before Laura. (As it turns out, she, too, was murdered by Leland Palmer while he was under the sway of BOB.) As the movie begins, two FBI agents, Chester Desmond (Chris Isaak) and Sam Stanley (Kiefer Sutherland), start to investigate the Banks case and wind up dealing with some uncooperative cops at the sheriff's department and visiting the Fat Trout Trailer Park, where Teresa lived and her world-worn landlord Carl (Harry Dean Stanton) is only happy to offer guests extra-strength coffee. During a second visit to the trailer park, Chester finds a green ring, once possessed by Teresa, that has the symbol of the owl cave on it. (The owl cave is part of Twin Peaks' Ghostwood National Forest, where the entrance to the Black Lodge is also located. Revisit the latter episodes of Twin Peaks season two for more information. Or don't, it honestly might not help you make that much more sense out of this.) After finding the ring, Chester disappears; when Agent Cooper goes to the same trailer park, the only evidence of Chester is his car, which has the words "Let's rock!" — famously uttered by the Man From Another Place — scrawled across the windshield.
This information may be of value, or it may not. Stanton is on the (long) list of actors who will be part of the Twin Peaks 2.0 cast, so it seems likely that Carl, at least, will pop up again.
Another detail: The guy that Bobby kills, who was sent to Twin Peaks by Jacques to sell him drugs, is Deputy Cliff, one of the cops from the Oregon town where Banks was murdered. The two places and cases are connected by more than the man — or entity — that murdered two women.
2. That owl-cave ring, which seems destined to reappear.
During Fire Walk With Me, Teresa wears the ring in a photograph. In one scene, Mike (the one-armed man) waves it at Laura while warning her that BOB is actually her father. Others have the ring in their possession at various points during the movie, too, including Annie, Cooper's girlfriend (Heather Graham), Chester, and Laura. Film School Rejects has a detailed take on what it may signifiy — essentially, that it binds souls to the Black Lodge in some way. It's a good bet that the piece of jewelry will make an appearance again on Showtime.
3. Repetition and bizarro worlds.
The section of Fire Walk With Me that focuses on the Teresa Banks case partially plays like an inside-out version of what initially happens when Laura's death is investigated. A special agent whose initials are C.D. is in charge of Teresa, as opposed to the one with the initials D.C., who oversees Laura's case. In both examinations of the body, letters are extracted from beneath the fingernails of the victims. Chester and Sam visit a police department with a blond, seemingly ditzy receptionist at the front desk that seems a teensy bit like Lucy. They even hit a diner run by a woman who could pass for an older relative of Norma Jennings. Point is: I would not be surprised if some of the events of the original series "happen again" but in slightly different form, setting, or with new people playing the roles once owned by other actors. (That happened out of necessity in Fire Walk With Me; Moira Kelly played Donna when Lara Flynn Boyle was unavailable to do so.) As the Man From Another Place says in the Twin Peaks finale: "When you see me again, it won't be me."
4. Phillip Jeffries.
Jefferies is an FBI agent who, during Fire Walk With Me, shows up in an agitated state at the bureau's Philadelphia office, sits down to talk to Gordon (David Lynch) and then suddenly vanishes, even though footage on security cameras confirms he was physically there. While at the bureau, he yells about a woman named Judy. Who is Judy? Where did Jeffries go? Twin Peaks 2017 had planned to resurrect the character — Harry Goaz, who plays Deputy Andy, confirmed that in an interview. But the unexpected death of the man who played him — the legendary David Bowie — put a wrench in that plan. That doesn't mean Jeffries might not be mentioned, or that the story of Judy may not finally be told.
5. The location of good Dale Cooper.
In the final episode of Twin Peaks, Cooper was taken over by BOB. In a scene in Fire Walk With Me, a bloodied Annie appears before Laura and tells her that "the good Dale is in the Lodge and can't leave." It seems fair to assume that the new Twin Peaks will focus, in part, on breaking good Dale Cooper out of there.
6. The blue rose.
Another thing that Fire Walks With Me establishes, at least in a manner of speaking, is that certain FBI cases are categorized by Gordon Cole as "blue roses." Chester never fully explains to Sam what that means. The Twin Peaks Wiki surmises that blue rose cases are ones that involve the supernatural, which means that both the Teresa Banks and Laura Palmer investigations would qualify. Will the new Twin Peaks actually explain this further, and will there be a new blue rose to dissect? Until Sunday, all we can do is guess.