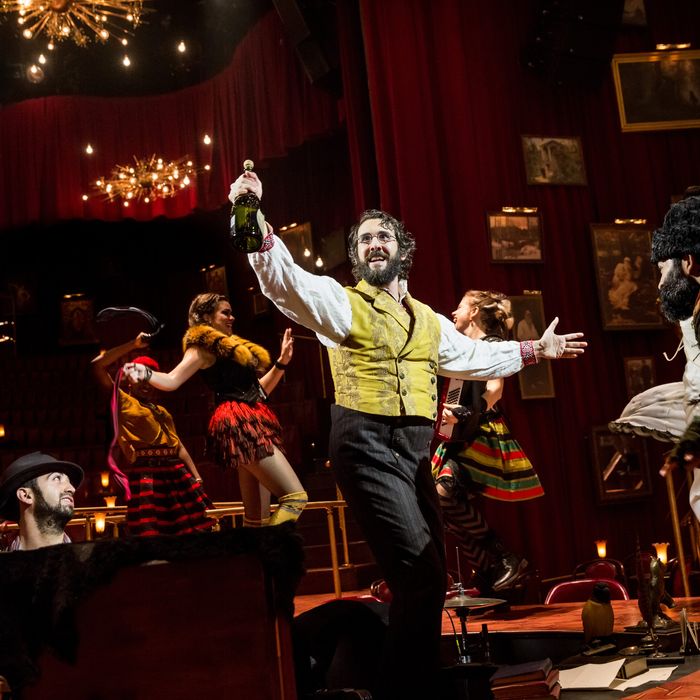 From Natasha, Pierre, and the Great Comet of 1812.
Photo: Chad Batka
When reading War and Peace, Dave Malloy was struck with the way Leo Tolstoy's epic tells the story of "all of Russia," from princesses to troika drivers. So when Malloy decided to adapt a sliver of the novel into the musical that would become Natasha, Pierre, and the Great Comet of 1812, he decided he would have to use "all of music."
"Each song," he explains, "required a different genre or style." The Great Comet's sprawling soundtrack includes everything from traditional Russian sounds (sung by the old-fashioned Marya), to indie folk-rock (heard in "Sonya Alone"), emo (for the melancholy Pierre), and soaring Broadway melodies (Natasha's "No One Else"). In advance of the release of Great Comet's Broadway original cast recording on May 19, we're hosting a first listen to all that music here on Vulture.
For those not acquainted with the musical, the plot follows the naïve Natasha as she makes her way in Moscow society, and is eventually, disastrously seduced by Anatole, who, as the prologue helpfully explains, "is hot." That introduction, which passes through the cast of characters one by one like a name game you might play at summer camp, was "written out of spite," Malloy jokes. At the end of The Great Comet's early workshops, audiences complained that they needed help following all the action, especially when everyone seems to have three names. "I was like, 'fine,'" he says. "I'm going to write the most clear, simple, stupid way of explaining who these characters are — and it became the prologue."
The Great Comet's Broadway cast recording also shows signs of other changes made over the course of its history. The musical first premiered Off Off Broadway at Ars Nova in 2012, then moved into a tent nicknamed the "Kazino," and then traveled to Boston's American Repertory Theater, before arriving on Broadway. There have been a few edits since the 2013 cast album, which featured Malloy as Pierre and Phillipa Soo, pre-Hamilton, as Natasha, notably including a ballad, "Dust and Ashes," written to fit Josh Groban, who took over the lead role. Groban's "angelic" voice, Malloy says, "allowed me to open up the more spiritual side of Pierre that lives at his heart, that he really has a hard time expressing."
On Broadway, with Groban as Pierre and Denée Benton as Natasha, The Great Comet has remained a success, earning 12 Tony nominations, the most of any show this season, and introduced more than a few audience members to both Russian literature and eclectic musical references. Malloy delights in sharing his taste with fans, and he's recently been sharing his Great Comet influences on Twitter. "In watching the show, [audiences] become fans of the show and all the totally different styles of music they might not have heard before," he says. "There was this one woman at the stage door one night, she was with a large group of her friends. She said, 'We came to the show as Grobanites, but we're leaving it as Cometeers.'"
You can purchase the Great Comet cast recording here.