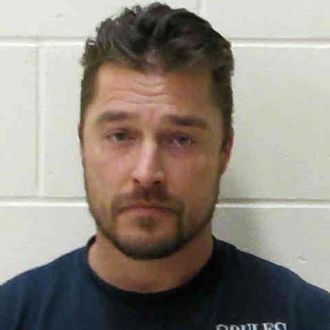 Chris Soules.
Photo: Buchanan County Sheriffs Office /Getty Images
Following his arrest last month for his involvement in a fatal car crash in Iowa, Bachelor alum Chris Soules has been formally charged with hit and run resulting in death, according to Iowa NBC affiliate KWWL. The court filing, obtained by KWWL, says Soules "[drove] a vehicle involved in an accident resulting in the death of any person and did not immediately stop the vehicle at the scene of the accident or as close as possible, and/or failed to return to and remain at the scene of the accident." Soules allegedly rammed into a tractor trailer, sending the vehicle into a ditch. That vehicle's driver, 66-year-old farmer Kenneth Mosher, died of his injuries. While Soules called 911 to report the accident, he left the scene before ambulances arrived and was taken into custody hours later.
Soules' lawyers filed a motion to dismiss the case last week, citing audio from his 911 call after the wreck, but prosecutors said he was unclear about the alcohol he bought just before the crash, and alcohol containers were found around his vehicle (because he fled the scene and was found hours after the crash, no sobriety test was performed). Soules is scheduled to be arraigned May 23 at 9 a.m. Soules, an Iowa farmer, first appeared on The Bachelorette in 2014 and became the star of The Bachelor in 2015; he later competed on Dancing With the Stars. He faces up to five years in prison if convicted.