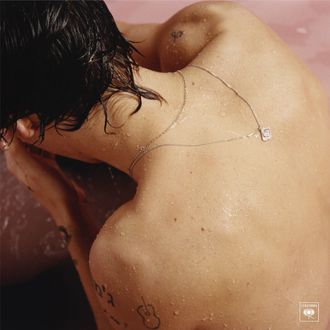 Boy bands are peculiar machines. Identity within a pop singing group is squeaky clean and carefully defined but also masterfully slippery. Singers flash megawatt charm but coolly avoid specific stances that might alienate their base, since their base is essentially everyone. In many ways, their success hangs on the ability to be personable without exuding too much personality. The more you reveal about yourself, the less endlessly relatable you become. As such, it is possible to follow a boy band for years and still find its membership sort of ineffable and unknowable. Maybe you pick up on favorite colors or food items, a beloved friend or pet, but the battery of interviews, video shoots, signings, and performances that occupies a working boy band's time can often leave big picture questions of life and love unanswered. It's hard to make yourself known in a group of five, to define who you are through choreographed routines in football fields packed with screaming masses.
One Direction was a monsoon. That all of it — X Factor auditions, platinum albums, international stadium tours, miles of branded merchandise — happened in just over five years is insane. That the guys seem normal after spending their teen years in the middle of a media maelstrom is commendable. That they're all angling for respectable solo careers flies in the face of much of boy-band history. New Kids on the Block spawned a few decent but forgotten Joey McIntyre and Jordan Knight records. With respect to JC Chasez's promising Schizophrenic, 'N Sync launched Justin Timberlake into lasting solo fame and left the other guys with nice pensions. The last time a male singing group splintered into a spread resembling the 1D singers' expanding campaign of rap, R&B, folk, and rock solo tracks might have been New Edition's fruitful late '80s.
One Direction alum Harry Styles just released his self-titled debut solo album, and it's a conscious effort to create a musical identity separate from both 1D and the rest of his pop peers. He swears he had no idea what he was making going into the writing process, but the album's sound and scope are so refined it's hard to believe. There's no state-of-the-art beats or duets with outside guests, no EDM or dancehall vibes. There's very little inkling that this music was created in this decade at all. Classic rock and country-folk are the points of inspiration throughout Harry Styles. It's a curious move; while Styles certainly sang on rock and folk-pop cuts like "Story of My Life," "Little Black Dress," and "Through the Dark," the songs he helped write were more often big ballads and heavily produced pop. From opener "Meet Me in the Hallway" through "From the Dining Table," Harry Styles shrinks away from that, abandoning heavy embellishments for the comfort of a small band.
The first thing you notice on Harry Styles is wide open space. "Meet Me in the Hallway" coasts on acoustic guitar, watery bass, faint keys, and Styles's high lonesome wail. Even the busiest album cuts — the massive "Sign of the Times," where Styles pushes a huge hook up and up like a rising tide, the jagged blues jam "Woman" — seem sparse, big sounds coming out of just a handful of building blocks. That's likely due to the presence of star producer Jeff Bhasker. Bhasker's touch gave fun.'s "We Are Young" and "Carry On" some of their pomp and assisted in mitigating the balance of hip-hop and dream-pop values on Lana Del Rey's Born to Die. Styles' specific magic is sounding warm and light, not so much produced. It's a record about good craft, great performances, and the feted power of rock and roll.
If you came to his album not knowing Harry Styles is something of a rock obsessive, you'll find out in a dozen reverent flourishes and lyrical tics. The chugging "Carolina" evokes "Stuck in the Middle With You" by the Scottish band Stealers Wheel, once home to the great Gerry Rafferty. "Two Ghosts" offers the same mix of wistful, airy acoustic guitars and tasteful electric leads as the Allman Brothers Band's "Melissa," while the lyrics appear to call back to Pink Floyd's "Wish You Were Here." ("We're just two ghosts swimming in a glass half empty" borrows images and cadences from Floyd's "We're just two lost souls living in a fishbowl.") The lean licks and bluesy swagger of "Only Angel" are Rolling Stones fan service; "Woman" apes the sparing, echoing drums Ringo Starr played on John Lennon's Plastic Ono Band. In spite of obvious influences, Styles avoids coming across like a kid punching out of his weight class thanks to some clever writing and truly transcendent vocal performances.
Harry Styles was first discovered on the talent show X Factor, so it should come as no surprise that he can sing. You don't make it past Simon Cowell night after night without serious pipes. Still, the giddy twists and runs of the album are bound to shock everyone but diehards with encyclopedic knowledge of who sang what in 1D. "Sign of the Times" is the calling card: brash blue notes, pristine falsetto, and controlled, tuneful screams silenced early concerns that this record would be lightweight radio fodder. The world-weary "Ever Since New York" and the hotly jealous "Woman" deliver two different pictures of longing back to back. The former's patient upper-register vocal commutes exhaustion through hanging syllables, while the latter eases off high notes, selling pain on sultry runs and a stutter in the explosive chorus that oozes desperation.
You can hear Styles pushing himself as a writer too. "Meet Me in the Hallway" is practically Panic in Needle Park, with its tale of two lovers trying to navigate cohabitation and codependency under a pall of opioid addiction. "Sign of the Times" has been described by the singer as a mother's pep talk to her newborn as she dies during childbirth. Not everything here is that heavy; there are songs about the rush of new attraction and the gnawing emptiness of a breakup. The lyrics carry '70s hard rock's taste for clever koans and witty turns of phrase that skirt silliness without falling prey to it: "You can't bribe the door on the way to the sky," "I'm just trying to remember how it feels to have a heartbeat," "Promises are broken like a stitch is."
The cheeky classic rock approach doesn't always land. "Carolina" is a character study of a Southern girl taking root on the West Coast whose chorus ("She's a good girl / She feels so good!") is big but not as fascinating as the tiny observations leading up to it. "Kiwi" pushes for edginess but comes back sloshed on kooky sex and coke metaphors, plot that seems contrived for the sake of rhyme ("When she's alone she goes home to a cactus / In a black dress, she's such an actress"), and a lyric about questionable agency that nudges it way off track. (Is "I'm having your baby, it's none of your business" a barfly's sketchy pickup line or a conniving threat to cash out on his fame? Both readings feel a little shady.)
We're still getting to know Harry Styles after all these years, and he is still adjusting to having control of his own career, but the hard-won wisdom of these songs exudes potential. The album is filled with stories about bad things happening to questionable judges of character. The junkie in "Hallway" who runs with thieves after her lover ditches her, the boyfriend in "Two Ghosts" who clings to a relationship he knows is over, the guy in "Kiwi" who is getting scammed but swears he's "kinda into it," the ex in "Woman" who can't accept that his crush has moved on … everyone is in the heat of a war between irrational urges and the knowledge that the thing they crave the most might not be good for them. That's just growing up. Eventually you figure out that you can't eat candy for breakfast, play video games all day, speak to people any way you please, or drink and sleep around all night and wake up a clean slate. You've heard Mick Jagger say it before, but it applies here too: "You can't always get what you want."