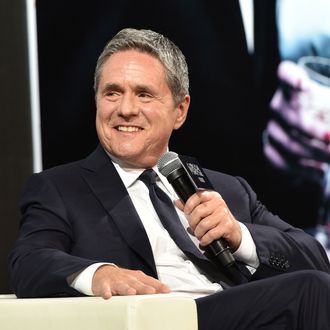 Brad Grey.
Photo: Emmanuel Wong/Getty Images for Paramount Pictures
Former Paramount chairman and CEO Brad Grey died of cancer on Sunday night at age 59. Grey took his job at the studio in 2005 and then left the studio this February; on his watch, Paramount released franchises including the Transformers, Star Trek, and Mission Impossible films, but also struggled through a series of notable flops and shrinking film production in general.
In his relatively short 59 years, Grey cut a formidable path through Hollywood. His career in entertainment started with Bob and Harvey Weinstein, working as their assistant four decades ago, when the brothers were promoting things like rock concerts instead of Best Picture nominees. Grey was just 20 when he worked on his first production, a Frank Sinatra show in Buffalo, New York, which he followed up by scouting comedy clubs for up-and-coming talent. Bob Saget was his first client, but his most important one would be Garry Shandling. Together, the two would produce It's Garry Shandling's Show as well as The Larry Sanders Show, but their years-long partnership came to a rocky and very public end in the late 1990s when the two exchanged hefty lawsuits.
During his early run as an ultra-successful talent manager, Grey formed Brillstein-Grey Entertainment with Bernie Brillstein. In addition to the projects with Shandling, the company also produced major hits like The Sopranos and Real Time With Bill Maher. Among his clients at BGE were Jennifer Aniston and Brad Pitt, and together with them Grey helped co-found the Plan B production company. At the time he agreed to take the job leading Paramount in 2005, the new company was just about to start production on Martin Scorsese's The Departed. Pitt, who took charge of Plan B with Dede Gardner and Jeremy Kleiner, then followed Grey to his new home at Paramount, where the massive studio maintained a first-look deal with Pitt's smaller imprint until a disagreement over the movie 12 Years a Slave led to the companies parting ways.
While at Paramount, Grey developed prestige pictures like There Will Be Blood and No Country for Old Men along with the larger tentpole projects like the revived Mission: Impossible franchise. He also oversaw the acquisition of DreamWorks SKG — which brought with it heavyweights like Steven Spielberg and David Geffen — and a separate deal that would make Paramount the distributor for DreamWorks Animation. In 2015, Grey signed a contract extension that was meant to run through 2020, but then the studio got wrapped up in the nasty infighting of its parent company, Viacom, and Grey was let go as Paramount's film division was making fewer and fewer films and posting hundreds of millions in losses. Before his departure, though, Grey did oversee the development of Oscar contenders Arrival and Fences.
He's survived by his wife and their son, three grown children from a previous marriage, mother, brother, and sister. Grey's family is planning a private funeral service later this week, while a memorial service will be scheduled in the coming weeks.