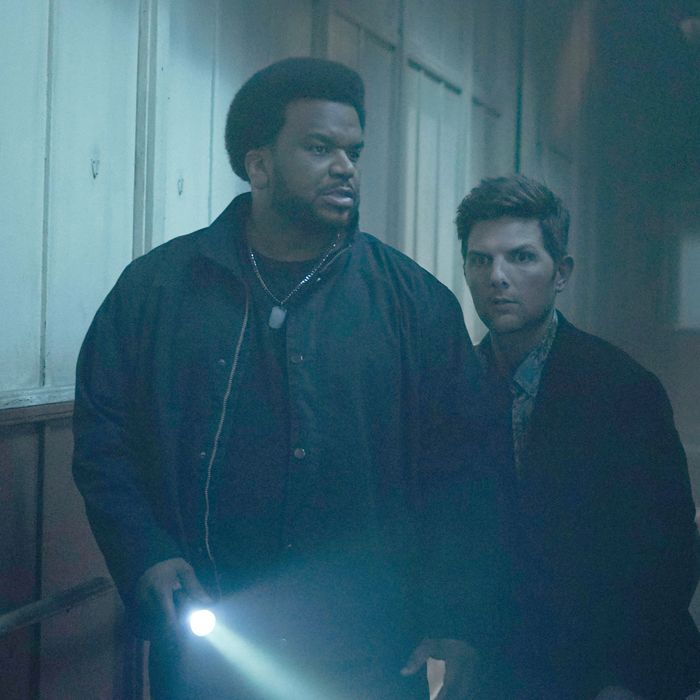 Craig Robinson and Adam Scott in Ghosted.
Photo: FOX
Fox is making a major bet on science fiction next season, rolling out a new fall schedule in which all three of its newcomers — two dramas and one comedy — feature supernatural elements. While the network has some conventional cop and doctor procedurals slated for early 2018, its fourth quarter will be devoted to launching a new Marvel-produced series connected to the X-Men universe (The Gifted); a Seth MacFarlane–created space adventure in which MacFarlane also stars (The Orville); and a paranormal comedy starring Craig Robinson and Adam Scott (Ghosted). And while Fox is being conservative by limiting its fall premieres to just three new shows, the network is being a bit more bold in scheduling, with tentpoles such as Empire, Gotham, and freshman hit Lethal Weapon moving to new time slots.
The two biggest shake-ups are on Mondays and Thursdays. Gotham, which has anchored Mondays at eight since it premiered three years ago, will shift to Thursdays, replaced in the kickoff hour with solid first-year success Lucifer. The latter series will be paired with The Gifted, where its biggest competition will likely be Monday Night Football on ESPN. Fox will then use Gotham on Thursdays at eight to try to bring an audience to MacFarlane's Star Trek meets Buck Rogers in the 25th Century–sounding The Orville. With ABC and now NBC focusing on female viewers on Thursdays, Fox is clearly hoping young men will find its Thursday lineup appealing (though, once again, the network will be up against the NFL for most of the fall).
Fox has also finally decided to shift Empire to 8 p.m. on Wednesdays, a move many industry insiders thought the network would make right after the show's red-hot start in winter 2015. Though its halo is not as strong as it once was, the still very successful soap will now have a chance to boost another series, starting with the second season of Star, which will air at 9 p.m. on the night during the fall. The remodeling on Wednesdays means Lethal Weapon will now kick off Tuesday nights, with returning comedies The Mick and Brooklyn Nine-Nine getting later time slots. (New Girl, renewed this weekend for a shortened seventh, and final, season, seems likely to return in 2018.)
By limiting the number of new series premieres in the fall, Fox will have plenty of new fare for the first half of 2018, including the Ryan Murphy–produced first-responder drama 9-1-1 (starring Angela Bassett) and a medical ensemble called The Resident (with The Good Wife's Matt Czuchry and Revenge's Emily VanCamp). The network is also planning another ten-episode run for The X-Files, most likely next winter. Here's Fox's full fall schedule:
MONDAY
8–9 p.m. Lucifer
9–10 p.m. The Gifted (new)
TUESDAY
8–9 p.m. Lethal Weapon
9–9:30 p.m. The Mick
9:30–10 p.m. Brooklyn Nine-Nine
WEDNESDAY
8–9 p.m. Empire
9–10 p.m. Star
THURSDAY
8–9 p.m. Gotham
9–10 p.m. The Orville (new)
FRIDAY
8–9 p.m. Hell's Kitchen
9–10 p.m. The Exorcist
SATURDAY
7–10:30 p.m. Football
SUNDAY
7–7:30 p.m. Football
7:30–8 p.m. The OT/Bob's Burgers
8–8:30 p.m. The Simpsons
8:30–9 p.m. Ghosted (new)
9–9:30 p.m. Family Guy
9:30–10 p.m. The Last Man on Earth