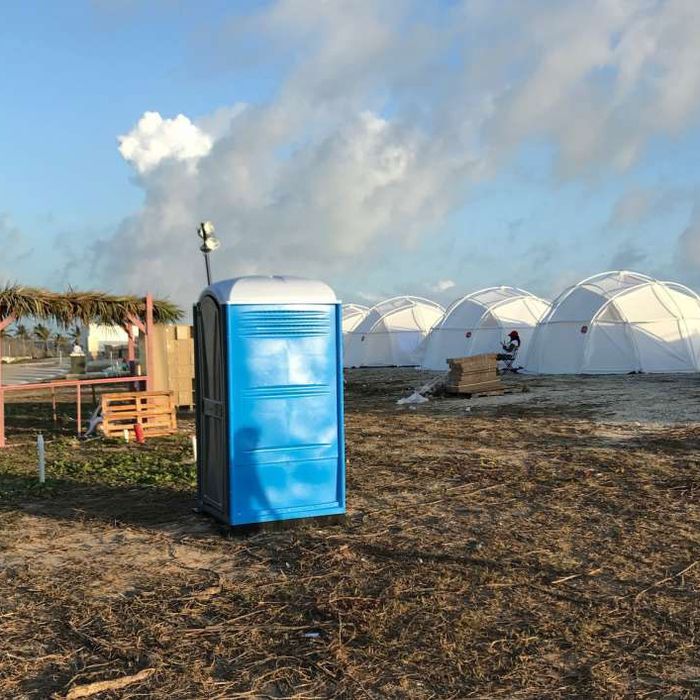 Wish you were here?
Photo: @AlexStivers/Twitter
"Come, seek, for searching is the foundation of fortune," reads an early slide in the Fyre Festival's pitch deck. The sales pitch for the now-infamous festival, obtained by Vanity Fair, sells a Bahamian fantasy of a music festival with luxurious accommodations and plenty of models and influencers in attendance. In short, it's nothing like the beach calamity and mass chaos that drew Hunger Games comparisons on Twitter after attendees arrived in the Bahamas to discover Fyre had no infrastructure in place to accommodate its guests. So how did we get here? It turns out Fyre was pretty disorganized and doomed from the start. Let us explain.
Ja Rule and Some Rich Guy Decide to Throw a Festival on an Island They Randomly Land On
October 2016: Twenty-five-year-old Billy McFarland, a college-dropout entrepreneur and the festival's mastermind, thinks up the idea during a Halloween trip to the Bahamas with Ja Rule, according to The Hollywood Reporter. The festival is meant to promote his Fyre talent-booking app. His first move is to announce the festival in the following month and spend millions to produce ads with Instagram models. "[McFarland spent] millions on models, private jets, and yachts to promote what would be his first-ever large-scale event," Vice reported.
December 2016: Organizers recruit a group of influencers they call "Fyre Starters." Among the crop: Kendall Jenner (whom McFarland paid $250,000 for a single Instagram), Ashanti, Bella Hadid, Emily Ratajkowski, and Hailey Baldwin. Their pitch deck flaunts millions of "media impressions" and pending partnerships with Samsung and Casamigos Tequila. The deck names Ja Rule ("widely recognized as among the most commercially successful hip-hop artists of all time") and McFarland ("he guides the company's overall direction and strategy") as the event's organizers. The "Fyre Squad" of organizers includes chief marketing officer Grant Margolin and Elliot Tebele, who cultivated a social presence repurposing other people's jokes on his Instagram account @FuckJerry. After the first round of ticket purchases come in, Margolin reportedly eyes a private island to purchase, but the island had no electricity or water, so that plan is abandoned.
January 2017: McFarland reportedly hires a TV production company to film a reality-TV show around the festival (ha!) but didn't pay their $100,000 bill.
Oh Great, the Video
January 12: Fyre Festival's glossy marketing campaign kicks off with this luxe video:
March 2017: Low on funds, McFarland and his team try to get a second round of investments. Meanwhile, employees describe planning meetings as boys' club powwows ("They talk about f—ing bitches and hoes in conference meetings," per Vice). The festival site is also nowhere near ready, a former Fyre Festival talent producer told the Cut: "This was a development lot covered in gravel with a few tractors scattered around. There was not enough space to build all the tents and green rooms they would need. There was not a long, beautiful beach populated by swimming pigs. There were, however, a lot of sand flies that left me looking like I had smallpox."
During this time, Ja Rule comes for a site visit. Discussing how they could possibly pull off the festival with now-limited budget and planning time, a guy from the festival's marketing team supposedly says, "Let's just do it and be legends, man," according to the Cut's source.
March 31: Initial expectations planned for 40,000 ticket sales by March 31. That figure is later lowered to 20,000, and the luxury rustic lodging Fyre advertised is changed to the disaster-tent style housing that is actually on hand.
Early April: After sending staff to the Bahamas for a site visit and putting together an 100-page plan outlining meal offerings and staffing, high-end caterer Starr Catering Group pulls out of its contract with Fyre Festival. The reason? Festival organizers rejected the caterer's six-figure cost, according to Bloomberg, and said they could find other caterers for the event with the budget they had.
April 27: Blink-182 drops out as a headliner. "We're not confident that we would have what we need to give you the quality of performances we always give our fans," they wrote in a statement.
The Festival Basically Doesn't Exist, But Don't Worry! There Are Terrible Sandwiches
April 28: Chaos! "So Fyre Fest is a complete disaster," tweeted blogger William N. Finley IV. "Mass chaos. No organization. No one knows where to go. There are no villas, just a disaster tent city." Finley provides the most colorful account of Fyre Festival's opening-night mania. Flights to and from the festival site are almost impossible to come by, and once reports came out of the less-than-luxe lodgings, the festival tweets that it will postpone the event rather than continue with the second weekend. That day, McFarland tells Rolling Stone that he and his team "were overwhelmed and just didn't have the foresight to solve all these problems," which isn't an apology, but by the time you're stuck in the Bahamas for a bogus festival, I guess you take what you can get. Later that night, Ja Rule tweets that the festival was "NOT A SCAM" and it is "NOT [HIS] FAULT."
Early May: In audio of a Fyre Media conference call obtained by Vice News, McFarland tells his employees they won't be paid. "After conferring with our counsel and all financial people, unfortunately we are not able to proceed with payroll," McFarland says. "We're not firing anyone; we're just letting you know that there will be no payroll in the short term." McFarland tells the staff that the company will be focused on the talent booking platform that he still believes is profitable. When someone on the call asks about being contacted by the FBI, McFarland replies that concern is "really more of an individual thing." Ja Rule is on the call too, but he muted his audio because of bad reception.
Let The Lawsuits Begin
May 1: Lawsuit! Celebrity attorney and trial lawyer Mark Geragos files a $100 million lawsuit against McFarland and Ja Rule in California. The suit is filed on behalf of plaintiff Daniel Jung, who is seeking $5 million and alleging fraud, breach of contract, breach of covenant of good faith, and negligent misrepresentation, according to Variety. The suit is seeking class-action status with more than 100 plaintiffs, and it's expected they'll seek a minimum of $100 million. In an amended complaint filed a few days later, the suit calls the festival merely a front for a Ponzi scheme, according to Pitchfork.
Also May 1: The Bahamas government officially bans Ja Rule and McFarland from doing any further business on the islands. Sources at the Bahamas Ministry of Tourism told TMZ they'll also examine future festivals with stricter regulations. Meanwhile, Fyre Media emails ticket buyers a form that offers them passes to the 2018 festival instead of a refund. "We have received support and commitments from several musicians to perform at next year's event," the paperwork claims. "We would be so thankful to have your support as well."
May 2: A second class-action lawsuit is filed against the festival, alleging fraud. The suit claims that during promotion, Fyre Media spent hundreds of thousands on social-media stars with smaller followings. According to Vice, none of these influencers were paid less than $20,000, and many of their sponsored posts were not clearly marked as ads. "Instead these influencers gave the impression that the guest list was full of the Social Elite and other celebrities," the suit claims.
May 4: Third time's the charm! Ja Rule, McFarland, Fyre Media, and chief marketing officer Grant Margolin are named in a suit filed in New York City. Attendees Matthew Herlihy and Anthony Lauriello — who each bought $1,027 ticket packages and put money on their wristbands to spend at the festival, allege "false representations, material omissions, and negligence regarding the 'Fyre Festival' and their failure to organize, prepare, and provide attendees with the experience that the Defendants marketed as being a luxurious private-island getaway," according to court documents obtained by Pitchfork.
Also May 4: The hits keep coming. In addition to the three aforementioned class-action suits, National Event Services sues Fyre Media in Philadelphia federal court. NES, which was hired to provide medical services during the festival, alleges the organizers "failed and/or refused" to buy cancellation insurance. "When NES arrived on the Island, on or around April 26, 2017, it immediately discovered that the accommodations were uninhabitable, including bug infestation, bloodstained mattresses, and no air conditioning," the lawsuit states.
May 8: Another new class-action suit brought against Fyre Media — the sixth lawsuit so far — is filed by ticket buyers in Florida federal court. Kenneth and Emily Reel allege Fyre threatened to sue attendees who shared details about the event's failure online: "As for those individuals who elected to speak negatively about the Defendants on social media, they are now being threatened with legal action via cease-and-desist letters," their complaint reads. This new suit names the usual suspects (Ja Rule, Billy McFarland, and Fyre Media), as well as PR company 42West and marketing agency Matte Projects.
May 11: Lawsuit No. 7! The New York–based EHL Funding LLC alleges that Ja Rule personally guaranteed a $3 million loan for the festival, and that he and his cohorts have stopped making payments. "While Ja Rule and others have paid back approximately $1 million, they stopped making payments after April 21," according to "Page Six." EHL says Ja Rule and McFarland agreed to make weekly payments until the debt is cleared. EHL is seeking full repayment, interest, and legal fees.
This post has been updated throughout.