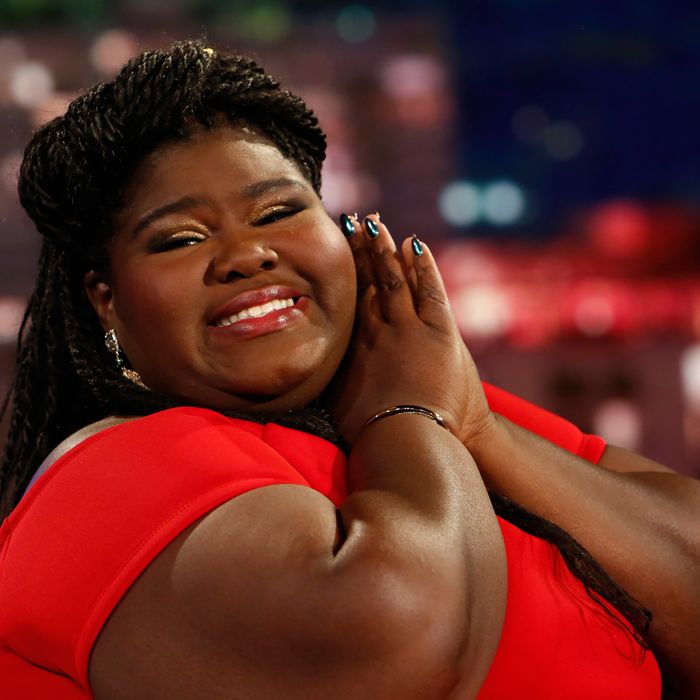 Gabourey Sidibe.
Photo: Randy Holmes/ABC via Getty Images
Gabourey Sidibe is not Precious. That's a fact she makes clear within the first three pages of her new memoir, This Is Just My Face: Try Not to Stare. While she is still often tied to her 2009 breakout role, Sidibe (whom Barack Obama calls "the bomb") uses her new book as a way to share her own story, from a difficult childhood in Brooklyn to her unexpected fame to her recent decision to undergo weight-loss surgery. In her uniquely sassy and observant voice, Sidibe tackles issues like body image, eating disorders, and depression alongside amusing anecdotes about bleaching her hair and dealing with rumors of her own death. Here are some of the best stories.
That Emma Roberts feud was totally fake.
Sidibe doesn't share many behind-the-scenes secrets, but she does discuss the rumors about her fighting with American Horror Story co-star Emma Roberts. She says the rumors were far from true. "This is a story that is 100 percent made-up!" she writes. "First, Emma is lovely. She's also a nerd. She reads books on set. She always has her nose in a book; I don't see how she would find the time to be mean to anyone. Second, I wouldn't yell at someone in front of people. I've been there and it's embarrassing. Third, there were way more interesting things happening on that set than some dumb cat fight, and fourth, I'm super into minding my own damn business." Of course, she said, the truth didn't stop the story from spreading. It was wanting to dispel this rumor, in fact, that convinced her to finally join Twitter. She wanted to gain some followers first, but she eventually did post a photo of her and the actress with the caption "Emma and I are in a feud?! You sure? #ThatsMyHomeGirl #AintNobodyFuckinwitMyClique"
Her mother was offered a role in Precious five years before she was.
While Sidibe was a young girl, she had no desire to be an actress. She spent her childhood watching her mother, Alice Tan Ridley, sing as a well-known subway performer. Her mother's fan base of subway travelers kept growing, and Ridley was surprised when a film director named Susan Batson approached her about an adaptation of the novel Push — the movie that would later become Precious. Batson thought Sidibe's mother would be a good fit for the role of Precious's mother, but Ridley refused after reading the book, saying she didn't want to be seen as an abuser. She passed along the novel to Sidibe, who "inhaled the book." Neither of them guessed that Sidibe would find herself playing the role of Precious only five years later.
Her first Cannes outfit only cost $120.
Despite landing the lead role in a film, Sidibe wasn't able to afford the designer outfits her co-stars wore on the red carpet in 2009. At the time, she was living on and supporting her family with the money she made filming Precious. "You don't know pressure until you've had to stand directly in between Paula Patton and Mariah Carey in clothes you bought from a mall and Payless shoes," she writes, describing how she would wear prom dresses and outfits from Torrid to film festivals and premieres. "I felt like a contest winner, in a bad way," she writes. "Like I didn't really belong on the red carpets, but I'd sold the most raffle tickets, so the powers that be were allowing me to feel fancy for a night."
Just like you, she wrote NSYNC fan fiction as a teen.
In one of Sidibe's best stories, she confesses a very interesting pastime from her teen years — a secret passion for writing NSYNC fan fiction. She says she would fill countless notebooks with "creeptastic fantasies about Justin, JC, Chris, Joey, and Lance," that she shared with no one but her best friend. Over time, her stories took the shape of TV shows, and she'd write an episode each day for about seven years, amounting to about 13 seasons. And yes, in case you're wondering, she still has the notebooks.
Multiple psychics told her she was going to be "famous like Oprah."
Starting with her stepmother (who also happened to be her first cousin once removed), three different psychics told Sidibe that she'd grow up to be famous. While she sought out this first reading at age 10, the later predictions were unsolicited. The second psychic stopped her in the streets of New York saying, "I can see in your eyes that you're going to be a very important person." The third came when she was waiting to start rehearsal for a college production of The Wiz, one of her two acting experiences before being cast as Precious. This one said, "I saw you when I walked by before and I just had to say something. You're really special. One day the entire world will be listening to you." Even stranger? According to Sidibe, all three women mentioned Oprah. And, as chance would have it, Sidibe appeared on Oprah's show the same day the host announced her retirement. "I had made it just in time for all of the psychics to be right," Sidibe wrote. "I cried like a bitch throughout the entire show. Emotions, yo!"