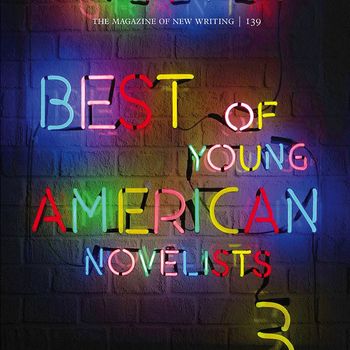 The modern method of literary star making was invented in 1983 by Bill Buford, who as a graduate student at Oxford revived its mummified lit mag Granta and went about the work of codifying schools (e.g. Dirty Realism) and christening generations. The first list of Best of Young British Novelists included writers who were already stars (Martin Amis, Salman Rushdie) and made stars of others (Kazuo Ishiguro, Pat Barker). More than half the writers from that first roundup, some now in their 70s, still enjoy heavyweight reputations and the lingering aura of making the list. Their obituaries won't omit the fact that they were once bright young things.
Buford, a Louisiana native who grew up in California, brought the model home with him when Tina Brown hired him to edit the fiction in The New Yorker, and so beginning in 1999, Granta's American lists, which kicked off in 1996, have had to compete with The New Yorker's "20 under 40" rosters in the decade-by-decade editorial arms race to identify the not-yet-middle-aged "It" kids of lit. Journals like the Paris Review and NOON have risked their pages on unlisted unknowns (who prove that publicity isn't the oxygen that keeps fiction alive). It was in one of those magazines that, to my mind, the knockout discovery of 2017 appeared: Formentera Storyline, by Jean-René Étienne and Lola Raban Oliva, a "photo-novella" in the spring issue of the Paris Review, about a Spanish-island group vacation that devolves across 150 pages — most of which feature a banal photo from a Mediterranean villa (e.g., the washing machine) and a deadpan sentence or two — from Pilates and talk therapy into druggy chaos and bad Instagram behavior. All told, a party where everybody stays too long. It's funny, sly, and very much of the Fyre Festival moment.
But if astonishing new writers are fun, whole issues full of them are even more fun. Last month saw the release of Granta 139: Best of the Young American Novelists 3, and I'll admit I find these cohort-defining interventions interesting as snapshots of the literary slipstream even when the herded writers aren't all that astonishing. Some of the writers gathered are familiar: best sellers like Emma Cline and Garth Risk Hallberg; MacArthur Genius grant winners like Dinaw Mengestu and Ben Lerner. Some, like Halle Butler and Jen George, I'd never read before. A few of them — Mengestu, Karan Mahajan, Ottessa Moshfegh — I've known since before they published a word, and others (Cohen, Lerner) I've worked with as an editor, which tends to involve something like being pals.
Sigrid Rausing, Granta's publisher and editor, is right to recall that the last installment of Best Young Americans (from 2007) was aptly categorized by Zadie Smith when she asked (in the introduction to another anthology), "Why so sad, people?" Sadness seemed a prerequisite for many young writers during the Bush administration, either as a method of sympathy generation or as an assumed mode of being American in a post-9/11 world. Gary Shteyngart was one of the few who could see there were laughs to be had in all the melancholy; he's a specialist in the comic loser man-child. As the critic Elaine Blair has argued, these guys are all over the place: See the books of Michael Chabon, Jonathan Franzen, Keith Gessen, Benjamin Kunkel, Jonathan Lethem, Sam Lipsyte, David Foster Wallace, et al. If in the end, the loser gets the girl, it's at the price of serial humiliations that render him sort of lovable in a post-feminist world. Adelle Waldman parodied this sort of guy and the authors who write about him in The Love Affairs of Nathaniel P: The joke was how easy a time he actually has getting laid. We may have had enough of this man-child already, and he seems to be receding from the fictional terrain. What we haven't had, until now, is a recognizable female counterpart.
Granta's new Best Young Americans delivers one. Reading the stories of the new anthology, you come across half a dozen narrator-heroines who have a few things in common. They're young women who are no longer naïve but not at all liberated from youth's precarity. They're tough and smart but anxious that that might not be enough to get them through. Sad isn't the word for their state of mind, but happy isn't even in the lexicon. They make their weary way through these stories without self-pity. They're resourceful but a little resentful that they have to be so resourceful to get by. They're aware that they're prone to making wrong choices, but they won't be humiliated. Disappointments may be inevitable, but they also may be ways of averting disaster. Some disasters aren't averted. In composite, I started to think of this young woman as the Girl Who Knows She's Stayed at the Party Too Long. The Party — by which I mean youth itself — isn't quite over but there's little fun left to be had, although that doesn't mean there's any reason yet to go home and get up early.
But generalizing is probably a disservice; better to take the narrators one at a time, and the stories too. "Anyway I didn't like sweet boys," Claire Vaye Watkins writes. "I liked filthy weirdos who scared me a little and I still do." Her story "I Love You But I've Chosen Darkness" is a tour de force of autofiction about a dead ex-boyfriend and grotty life in Reno, sex good and bad and not always consensual. (The title is a tattoo across the ex's back; it's also the name of a band.) The story is self-portrait via portrait of dead lover, as well as a before and after of class ascent that takes the narrator from rural check-cashing counters to parties with Michael Chabon and Meryl Streep, details she addresses to the dead man in an impassioned coda. There's another dead lover in Jen George's "Revolutions," about a couple in something like a communist state where "the party" has a hand in sexual relations. The political framework is subtle, and within it the love story has a striking strangeness. The scene drawn by Emma Cline in "Los Angeles" is immediately recognizable: The story follows "Alice," a new employee at a store that sounds a lot like American Apparel, who makes money on the side by selling underwear advertised as having been tried on by celebrity actresses. Her first customer is a man in a fleece pullover and their transaction is either creepy or scary.
Loretta, in Rachel B. Glaser's "Day 4," is on a road trip that ends at a motel in Kentucky where she encounters a man named Lyle who says, "I may not look it, but I read a lot of books." Like the dead ex in Watkins's story, he's the sort of rough, not-too-eloquent man who pops up a lot in these fictions. The narrator of Halle Butler's "The New Me" goes to bed with another woman after a night of drinking beer and then turning to cooking sherry. In the morning she walks across town to a liquor store that hasn't opened yet in a state of "aimless, giddy dread" with her mind on a bunch of new dresses she's ordered with the intention of going femme. About her hangover: "I'm not wearing underwear and didn't brush my teeth because I was afraid of the taste of water." Catherine Lacey's narrator in "The Answers," afflicted by a constellation of symptoms of an unknown disease, speaks with a similar bluntness: "When shit happens, it doesn't really matter what asshole is responsible."
These stories by Watkins, George, Cline, Glaser, Butler, and Lacey have in common a woozy mood of uneasiness and an intermittently comic quality that doesn't rely on exaggeration or joke-cracking. The narrators are never evasive. Their protagonists are cousins to the narrators of Nell Zink's The Wallcreeper (2014) and Sheila Heti's How Should a Person Be? (2011), as well as the women in Alexandra Kleeman's novel You Too Can Have a Body Like Mine (2015), Jade Sharma's Problems (2016), and Ottessa Moshfegh's recent story collection Homesick for Another World. Moshfegh writes in several modes, and her story in Granta: 139 is mock folklore set in a feudal land, about a mad failed knight.
As with any good anthology, there are many valences to this one. For those keeping score, the realists outnumber the non-realists 17 to 4 (including George and Moshfegh). Jesse Ball's "A Wooden Taste Is the Word for Dam a Wooden Taste Is the Word for Dam a Wooden Taste Is the Word For" has in common with its title a defiance of sense: It involves a cripple, a few beavers, a broken window, and something like a metamorphosis. Count Mark Doten as the first to slake our thirst for fiction about the 45th president. "Trump Sky Alpha" is a surrealist fantasy about a fleet of zeppelins touring the sky after the president has set off a nuclear Armageddon. Though his own zeppelin explodes, it doesn't kill him, so it's hard to say the story has a happy ending. Like his novel about the Bush administration, The Infernal, "Trump Sky Alpha" combines the language of actual politics with the sort of nightmare images that politics inspires.
Politics is a pronounced concern among several of the male Best Young Americans. Since his long and brilliant 2010 novel Witz, in which the reader may have trouble telling if the action on any given page is going on at a suburban New Jersey Shabbat dinner or inside a gas chamber, Joshua Cohen has been making a slow march toward realism. His "Uri" is a portrait of an IDF infantryman discharged with bad dreams and something like a death wish: "Though backpacking between the better hostels of East Asia will never be as dangerous as bulldozing hovels in the West Bank, there was still the chance of not coming back, or not coming back alive." Karan Mahajan's "The Anthology," the opening of an unpublished novella, begins with a terrorist attack that hits a literary conference and wipes out a generation of Indian writers. It's a sharp, funny story that both extends and negates the analogy between terrorists and writers made by Bill Grey, the novelist in Don DeLillo's Mao II: "Bombs see the possibility in everything, and in this way they are like artists, brilliant improvisers, except that they happen to kill, and so isn't there a strange poetry, you ask, in a bomb that kills artists? No."
Cohen foregrounds political material in a story about grunts who aren't inclined to comprehend it; Mahajan arranges a scenario in which the literary and the political are in direct though semi-comic confrontation — Roberto Bolaño is an obvious point of comparison. (It's surprising that Bolaño's echoes aren't more prevalent in America these days, given the mass vogue for his work only a few years ago.) It's notable that their fictions locate political action abroad. Greg Jackson incorporates politics just by having his characters talk. The speakers in his "Country & Eastern" are soaked in the thinking of the American New Left that indicates Jackson's spent fruitful hours immersed in back issues of Ramparts. Sana Krasikov's "Remembering Westgate," about the shopping mall terrorized in a 2013 massacre, reads less like fiction than like a memoir-essay. Returning to the unexpectedly bustling scene of the crime years later, she writes, "The sound of crying babies filled my own breasts painfully." She imagines how she would protect herself and her daughter if the horror repeated itself.
It's hard not to sense one divide among the Best Young Americans: Some of them clearly have children, and thus parenthood on their minds, and others either don't or haven't brought the experience to their stories. Dinaw Mengestu's "This Is Our Descent" is a picture of marital strife around a child with a deteriorating condition ("it was obvious that something inside him was wasting away"). Deflected into the marriage it's all the more heartbreaking. The narrator of Lauren Groff's "Yport" takes her children from Florida to the coast of Normandy to pursue some research on Guy de Maupassant, and has a not very good time. There's a creepy hotel clerk, bad Wi-Fi, emails from her husband she's not interested in answering, and news of a far-off acquaintance who's died. I tried to detect a meta element to do with the presence of Maupassant in the story, but he turns out to be just another part in the big drag: "When she returned to Guy as an adult, he disappointed her with his hatred of women, with his syphilitic brain. She'd thought there was a moral center to him, but there wasn't. He was rotten to the quick." Perhaps the concept is a rejection of the neat short-story form in favor of a succession of feelings and images. It ends with one of the children holding a rock over his head and not smashing it into a passing snail.
Groff's narrator isn't the only sad tomato in Granta: 139. As we know from his novel City on Fire, Garth Risk Hallberg specializes in teen angst and the sort of sensational (yet also clichéd) Manhattan events that make headlines in the New York Post. We meet Jolie, the protagonist of "The Meat Suit," as she's practicing martial arts after school: "And when she turned to keep the delicate alms bowl on top from falling, what struck her about the room beyond was her own sadness, flashing back at her from every surface." You rarely come across a sentence that so affirms the rule "show, don't tell," and anyway, why so sad? It's probably to do with her parents' divorce. The story ends with Alice going down to the subway tracks to retrieve a dropped phone. A train shows up sooner than she thought it would, but somebody on the platform — or maybe the city itself — pulls her to safety. Death is also averted in Anthony Marra's "Liparti," but by the end of the story, which begins with a man on a cliff determined to toss himself to his death, I was wishing he'd jumped in the first sentence. Instead he saves a boy from drowning. Cute.
There is something unique at play in Esmé Weijun Wang's "What a Terrible Thing It Was," but it isn't sadness. The narrator arrives at a psychiatric hospital for a consultation about ECT treatment and has to answer a standard multiple-choice questionnaire about her condition. She checks I DO NOT FEEL SAD. She has a different problem:
I'm prepared to tell Dr Richards my medical history and about the first voice I heard when I was twenty and how the election has made my stress so much worse, which has in turn escalated psychotic symptoms that have proven to be medication-resistant. And yet Dr Richards's face, which warps and flattens and suddenly seems made of plaster, sucks out all the words I had carefully constructed and lined up delicately in impeccable rows until I am vacant; the erasure of my likes and dislikes and the hopes I harbor, leaving nothing but agitation behind, is something that terrifies me about psychosis—I cannot survive another bout of catatonia.

"I hallucinate."
This is not a condition you see very often in literary fiction, and Wang treats it with considerable grace. If only the election results ("He has won"), which arrive on the penultimate page, were just another hallucination.
Chinelo Okparanta's and Yaa Gyasi's stories are both about African immigrants to the U.S. who occupy class interzones. In Okparanto's "All the Caged Things," a girl whose parents work as cleaners attends a private high school on scholarship and plays hooky, going to the zoo and thinking about the differences between the ways she and her privileged classmates live. Her family of three lives in a one-bedroom apartment in a high-rise on the outskirts of Washington, D.C. What if she could live like the zoo elephants? "She envied the way they were so well-taken care of, the way there was always someone to feed them to cater to their every need. To clean up after them. She had come to the zoo enough times now that she had watched the elephants relieve themselves. Each time she watched she felt an urge to turn her eyes, in order to give the animal its privacy. But then she'd think that wasn't it one of the wonderful things about being a zoo animal? If you were a zoo animal, you wouldn't care about things like privacy! You'd be free to do whatever you wished, defecation and all, no shame involved." Gyasi's story opens in a different sort of cage — a jail cell — and follows two brothers who immigrated from Ghana to Columbus, Ohio, one of whom is home from New York, where he works as a consultant, to bail out the other. The story doesn't share the conceptual ambition of her centuries-spanning 2016 novel Homegoing, but it shows she's as comfortable in the present as she is in the past.
Ben Lerner's "Bright Circle" is a departure from the autofiction he's mined in his novels Leaving the Atocha Station (2011) and 10:04 (2014), both of which are narrated by poets who court confusion with the author. The third-person narration of "Bright Circle" gets inside the head of Dale, a teenage high-school dropout in Topeka in 1995 who works at a shitty grocery store and doesn't seem to have much poetry in his future. He has drawer at home where he keeps cash, knives, and "a Crossman pellet gun he had often claimed to be an actual revolver and once pointed at the younger Gordon boy, which led the older Gordon boy to open a cut above his eye." The presence Gordon boys suggest they exist in the same fictional universe as Adam Gordon, the narrator of Atocha — it would be intriguing if Lerner embarked on a Faulknerian project spanning his experiences in Kansas, Brooklyn, and elsewhere in the hipster archipelago. Dale sounds like one of the filthy, scary weirdos who might pass through a Claire Vaye Watkins story, and indeed the story ends with him puking at a party by a lake where everyone's stayed too long.
There's an immense amount of talent collected in these pages, so all hail the new Best Young Americans! They'll never be young again.