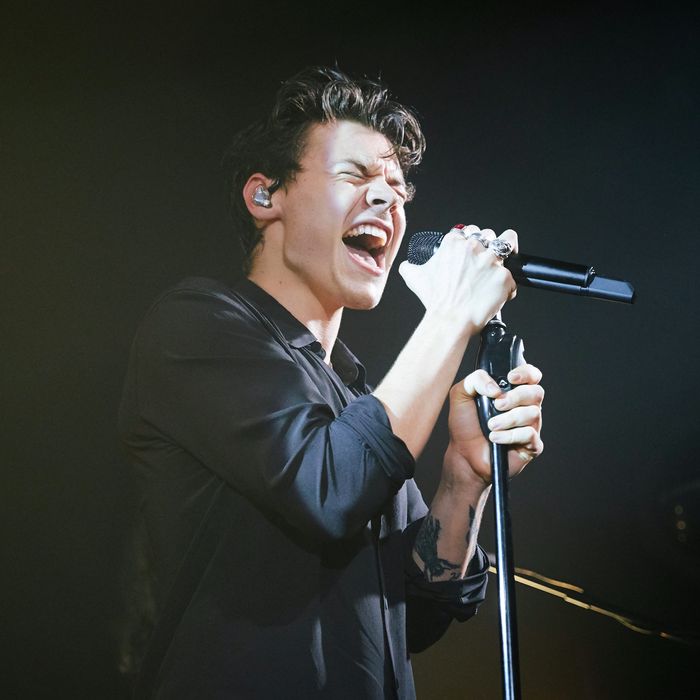 Harry Styles.
Photo: Getty Images/Getty Images
The central conceit of Harry Styles is this: Harry Styles wanted to make a classic-rock album, so Harry Styles made a classic-rock album. His voice sounds great, and while he swaps '60s and '70s British and American pop-rock styles in and out like he changes Hawaiian shirts, more often than not Styles makes the right sonic choices.
But when one of the era's bigger pop personalities unleashes a project that's not deliberately attuned to the tastes of its time, and in fact could symbolize the reinvigoration of a classic-rock sound that has been largely abandoned, it's tempting to ask cosmic questions like, Did Harry Styles just save rock music?
Pulling apart the answer is way more difficult than it looks. While it's fun to speculate that the success of this record could possibly point the way forward for a no-frills rock resurgence, that kind of projection would be missing the point. Still, there's plenty of rock-god mythology to read into. Whether it's Styles's borderline on-the-nose Jagger fixation, or his general rock-star aesthetic, which was cultivated over the past half-decade of pop stardom with One Direction, it has never been too hard to imagine that Styles — here, alongside a team of crack session musicians and eclectic hitmaker Jeff Bhasker — could come up with a style-sampling, nostalgia-baiting set of songs that could play to a wider audience. (I had fantasized about Harry Styles tackling "Dancing in the Street"–style songs, which is probably a sign of how the public imagination has run away with the Jagger-Styles comparisons. Unfortunately, this is not at all what Harry Styles sounds like.)
Harry Styles so deliberately tackles the trappings of a classic-rock record that it'll drive you insane trying to track every hat tip. But, for posterity, here's a brief, notable list of recognizable rock-and-roll characteristics featured on Harry Styles:
• Multiple cocaine references.
• A masturbation scene.
• An accompanying Apple Music–sponsored mini-doc centered around a live performance at Abbey Road Studios that also features a long Bob Dylan impression.
• Going full Goats Head Soup. The majority of the songs were written and recorded in Jamaica.
• Gospel choirs.
• A guitarist–co-writer plucked from obscurity (he was working at a pizzeria at the time) because another guitarist missed a recording session.
This was an exciting moment. It's not often that one of pop's brightest young stars is handed a blank slate and decides that he make an album that's basically a survey of an entire decade's worth of classic rock. Rolling Stone went full Almost Famous on Harry Styles, dispatching critic turned moviemaker Cameron Crowe to profile him, amounting to one of the strangest articles in modern music journalism. (In the piece, Crowe joyrides around Laurel Canyon with Harry Styles in a black Range Rover.) Rob Sheffield wrote a four-star review for the same magazine, and Ryan Adams thought that "Two Ghosts" was so Ryan Adams-y that Ryan Adams himself praised it as "badass."
However, that's the trap of the reception and evaluation of Harry Styles, because this acclaim hasn't really churned up any insight into who Harry Styles is — in fact, it's almost as if that this kind of embrace is part of the whole aesthetic that Harry Styles works to cultivate. You can almost see the CD sticker with the Rolling Stone logo on it, if CDs with promo stickers on them were something that any of Harry Styles's fans might actually purchase.
The two worlds Harry is trying to smash together — kudos from the classic-rock standard-bearers as well as his massive teenage fan base — is what makes Harry Styles the most intriguing pop experiment of the year. Its success — 230,000 albums sold and counting — could lead to a reconsideration of who dictates critical acclaim. While the album guns for the kind of prestigious acclaim it ended up receiving, what's more remarkable is the trust Styles showed in his fans to support the record despite the fact that few of his fans were alive during the rock eras that he was referencing.
In that Cameron Crowe piece for RS, Harry Styles said something very perceptive: "Who's to say that young girls who like pop music — short for popular, right? — have worse musical taste than a 30-year-old hipster guy?" he asked. "That's not up to you to say. Music is something that's always changing. There's no goal posts. Young girls like the Beatles. You gonna tell me they're not serious? How can you say young girls don't get it?" It's a quote that leaves the established rock press in the lurch, and empowers the group who actually can make Harry Styles a commercial and artistic success. And if Harry's recent interviews are any indicator — "A lot of people, when they make music, they build a wall between them and fans," he told the New York Times — he's listening to them loud and clear.
Harry Styles has its flaws — while it feels much more effortless than the taste collage of former bandmate Zayn's Mind of Mine, there's less of the artist's personality in the music than it seems like there should be. The way this record jumps from decade to decade and style to style as if they're trips to the hotel bar — from the vintage '70s British hard rock of "Kiwi" to the wistful, might-be-Badfinger rip "Ever Since New York" — makes for a distracting listen. Musically, it's not clear who Harry Styles is, or what his grand message might be. But the charm of Harry Styles is that the artist who made it understands his audience and appeal better than anyone, and that understanding fuels the best parts of this album. The songs where Harry's voice is pushed the furthest — "Sign of the Times," "From the Dining Table" — are informed by that connection.
The Apple Music documentary that accompanies the album floats between a live performance and testimonial from Styles himself, and early on, Styles says something telling while speaking about the changing expectations and relative solitude of leaving a beloved boy band: "I wanted to see if I could write something people liked without them knowing anything about me," he says.
For better or worse, Harry Styles fulfills that criteria perfectly. To think of Harry as rock's savior is to miss the point. It's possible he means so much more than that.