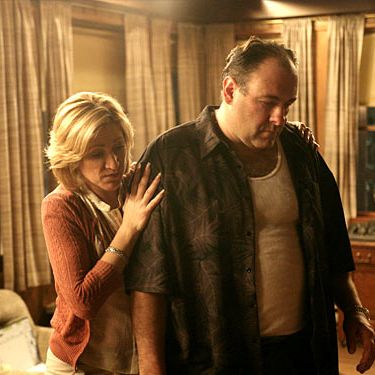 Edie Falco and James Gandolfini in The Sopranos.
Amazon Prime subscribers who've been using the service to binge older HBO series such as The Sopranos, Flight of the Concords, and Six Feet Under, take heed: A sudden departure is in the works. Richard Plepler, the network's chairman and CEO, told investors today HBO has no plans to renew its output deal with Amazon Prime when it wraps up in May 2018. The move comes a week after Amazon started noting on its site that a number of big HBO shows would be leaving the service later this month, but then quickly backtracked and told Vulture a technical error was behind the messaging. "HBO titles are not coming off the service and will remain on Prime Video," an Amazon Studios spokeswoman told us last week. But it turns out that while the HBO shows are safe on Amazon for now, they won't be sticking around long — and the decision isn't all that surprising. As with most such streaming shake-ups, ever-shifting strategic goals explain why the HBO shows are leaving.
When HBO and Amazon got together for the Prime deal back in the spring of 2014, the arrangement made a lot of sense. Remember, at the time, HBO's official company line was that if you wanted to stream HBO, you needed to first get a cable or satellite subscription. It said it didn't want to devalue its product by cutting out its cable company partners. The deal with Amazon protected that relationship by leaving out some very big HBO programs (including Game of Thrones and True Detective) and insisting nothing that had premiered on HBO less than three years earlier could stream on Prime. It was designed to allow non-HBO subscribers to get a taste of the network's greatest hits, possibly inspiring them to spring for a full subscription via their cable provider. And in the beginning, it seemed to be working well. At the time the deal was announced, Recode's Peter Kafka reported the agreement ran three years, until May 2017. (Amazon's coding error last week, which prompted the expiration notices, seems to confirm his reporting.) Given that the HBO shows will now stay on until mid-2018, it seems logical to assume that HBO and Amazon were happy enough with the arrangement to extend the pact another year.
But barely six months after HBO and Amazon hooked up, HBO also had a change of heart about selling subscriptions directly to consumers (à la Netflix). It launched HBO Now, making both current and library titles available on demand to anyone with a broadband connection. The Amazon deal, focused on older titles, probably didn't hurt HBO ability to get people to sign up for HBO Now. On the other hand, it also no longer made as much sense, at least in the long term (even if it did bring HBO a nice chunk of change). Plus, in the interim, Amazon also started letting networks such as HBO and Showtime sell digital subscriptions through Amazon as part of the Amazon Channels program. Having HBO library titles included in the cost of an Amazon Prime subscription even as Amazon and HBO were pushing Amazon customers to sign up for an Amazon Channels HBO service probably struck execs at HBO, Amazon, or both services as somewhat contradictory, or, at the very least, no longer part of HBO's bigger streaming vision. And now, as Pleper indicated today, HBO finally believes there's more benefit to keeping its shows in its own ecosystem rather than helping Amazon built up its Prime service.