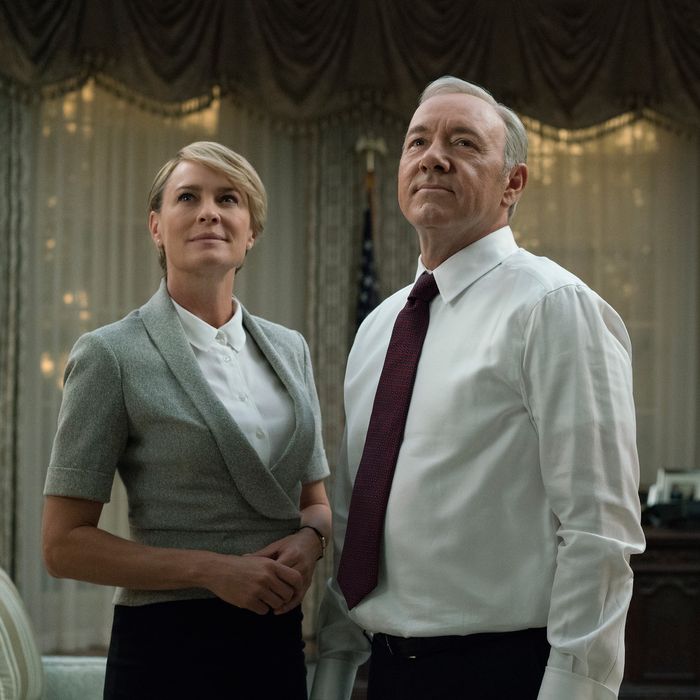 The Underwoods.
Photo: Beth Dubber/Netflix
Netflix may soon no longer be the only place to watch House of Cards in America. Sony Pictures Television, which controls the global distribution rights to the Kevin Spacey political thriller, has started approaching cable and broadcast networks to gauge their interest in acquiring reruns of past seasons of the show. No word yet on how much Sony wants for the Cards rerun, but it's understood episodes would be available to air later this year. If the idea of a Netflix show popping up on an old-school linear channel seems odd, well, it is — at least in the U.S. To date, none of the streaming giant's English-language original series have aired in America via a linear network outside the Netflix ecosystem: You need a Netflix subscription to (legally) watch Netflix shows. A Cards sale to, say, Fox or USA Network, would thus be a significant milestone. But don't expect it to become a trend.
While it's standard procedure for reruns of successful linear network series to end up syndicated on networks other than their original home — NBC's Friends now lives on TBS, Nick at Nite, and MTV — streamers such as Netflix are trying to establish a different model for their originals. They want subscribers to know they can watch a full season of Master of None as soon as it premieres, or binge the entire series seven years from now — and, just as importantly, that Netflix is the only place they can see Master of None. To maintain that exclusivity, Netflix makes sure to either produce a show itself (thus automatically controlling all rights to it) or structures deals with outside studios ensuring the show will live only on Netflix, not just in America but around the globe. So while Cards might end up airing on a cable network soon — or maybe even a broadcaster — the dozens of originals Netflix now makes probably won't begin popping up all over the dial.
So what happened with Cards? Back when Netflix was first starting its push into originals, it either didn't have the foresight — or leverage — to snag total control of how its very first shows were distributed. It was just beginning to morph from a place to stream old movies and TV shows into the first-run programming powerhouse it is today. As a result, Media Rights Capital, the studio which produces Cards, was able to make a deal in 2011 promising international distribution rights for the Spacey series to Sony. Sony, having paid upfront for the chance to distribute the show, has been understandably trying to recoup its investment. In many European countries, Cards can't even be streamed on Netflix since Sony has sold rights to the show to local broadcast and satellite outlets. And in the U.S., Sony actually made a deal with cable giant Comcast three years ago to let its subscribers access past seasons of Cards via its Xfinity video-on-demand service. A deal with a cable or broadcast network would, of course, be much splashier and expose the show to a potentially much bigger audience. Depending on what network buys the show — assuming a deal gets done — it might also require some heavy editing.
Meanwhile, even though Cards is that rare Netflix series to which the streamer doesn't control all distribution rights, it's not the only one. Lionsgate, producer of fellow winter 2013 Netflix freshman Orange Is the New Black, held on to the syndication rights for that series as well, and it could also conceivably sell reruns of that show to a service not named Netflix. Longer term, there's also the possibility that Netflix itself could decide to sell rerun rights to some of its shows to a linear channel, particularly if a show has been on the service for awhile. (Fuller House reruns on TV Land in 2020? Seems logical.) At least one of its rivals has already started experimenting with the idea: Amazon Prime recently did a deal to allow SundanceTV the right to show the first two seasons of Transparent later this summer. TV industry trade Broadcasting & Cable broke the news of Sony's Cards sales pitch Monday.