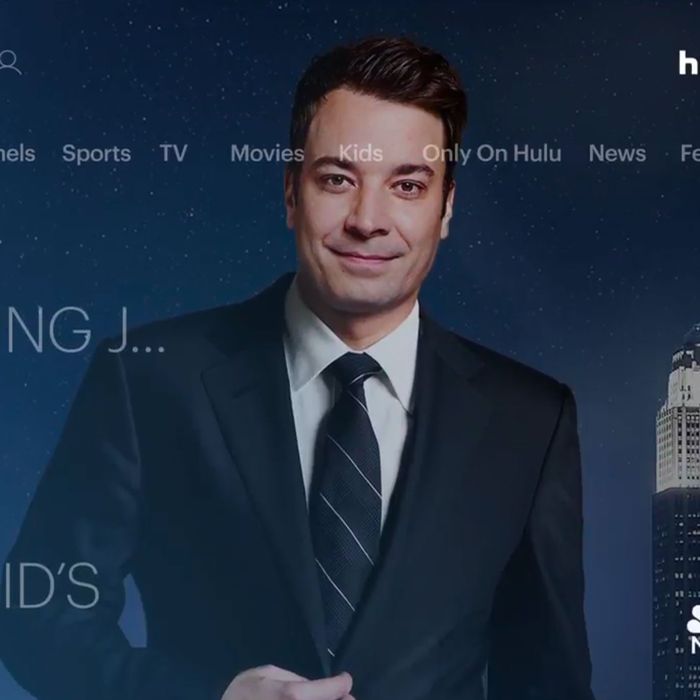 Hulu's long-awaited livestreaming service — a Sling TV–like product that lets consumers watch live feeds of around 50 big broadcast and cable networks, in addition to Hulu's usual offerings — is now officially a reality. The company confirmed on Wednesday that, as expected, Hulu with livestreaming will cost $40 per month, including the $8 consumers now pay for its ad-supported subscription service. If you want to watch old-school Hulu ad-free, the monthly charge jumps 10 percent to $44. The basic package also includes 50 hours of program storage and two simultaneous streams, so multiple people can watch various live feeds at once; power users will be able to pay extra for a more sophisticated DVR-like option with 200 hours of storage. You'll be able to start signing up for the Hulu with Live TV beta as soon as today, but before you do, it's worth diving into the pros and cons of Hulu's new product.
Since all of the major broadcast networks have an ownership stake in Hulu (except CBS), it's no shock that Hulu's live plan appears to offer the easiest access to network content for all subscribers, including DVR abilities. You can get all four networks on YouTube TV and PlayStation Vue, but only in a few big cities. On Hulu with live, local network streams for all four networks won't be available nationally at launch, but more cities are expected to follow soon. Consumers in every part of the country should be able to get at least a couple broadcast nets at launch, and all will have access to network VOD and Hulu's next-day streaming of network shows. Live subscribers will also get immediate access to a fancy new Hulu user interface, one which will be making its way to all Hulu users over the next few months.
Hulu is also offering what appears to be the most generous and sophisticated cloud-based storage plan — if you're willing to pay a bit more. For $15 extra each month, you can upgrade to a fancy cloud DVR with 200 hours of storage, and the ability to fast-forward through commercials and record as many "channels" at once as you want. You'll also be able to watch those "recordings" outside of your home, whether you're at Starbucks or on a plane. No other big cable or livestreaming service offers that sort of flexibility. If you have a big family, Hulu will also offer you the deluxe DVR and the ability to start as many streams at once as you like while at home, and three streams when out-of-home. (If you don't want the upgraded DVR, the unlimited streams option can be had for $15, too.) Showtime is also available for $9 per month (as it has been for a while now on Hulu), while other premium services (read: HBO) are expected to follow.
As for channels, Hulu offers a wide selection from most major players for the $40 fee. All the big cable channels — including Disney (Disney, ESPN, Freeform), NBCUniversal (Bravo, E!, MSNBC, USA), 21st Century Fox (FX, Fox News), A&E Networks (A&E, Lifetime, History), Turner (CNN, TNT, TBS, TCM, Adult Swim), and Scripps (HGTV, Food, Travel) — are part of the deal, along with CBS's Pop channel and CBS Sports Network. But a few big players are missing. Need to see The Walking Dead or IFC's buzzy, new comedy Brockmire? Hulu won't have any of the AMC Networks (AMC, IFC, Sundance, BBC America), at least not at launch. Viacom's big suite of channels (MTV, VH1, Comedy Central, Spike) is missing, as are all of the various Discovery Networks (which means you're on your own if you want to watch OWN, or Shark Week).
This puts Hulu with livestreaming on the same level as YouTube's new streaming service, which also keeps its basic price low ($35), but misses out on some of the same big channels. (YouTube does now have AMC Networks channel, though it didn't at launch.) DirecTV Now does offer AMC and MTV for $35 (and even less if you have AT&T for your cell service), but doesn't offer CBS at any price and, like Vue, has more expensive tiers with other channels, but no fancy cloud DVR (at least not yet). Bottom line: Hulu's new service doesn't promise the TV Nirvana that a superexpensive cable subscription might, and depending on your viewing habits, its missing channels might make it a no-go for you. But for anyone on the verge of cutting the cord — or current cord-cutters who like the appeal of one service that blends the rich content library of Hulu and live TV — this new option might prove tempting.