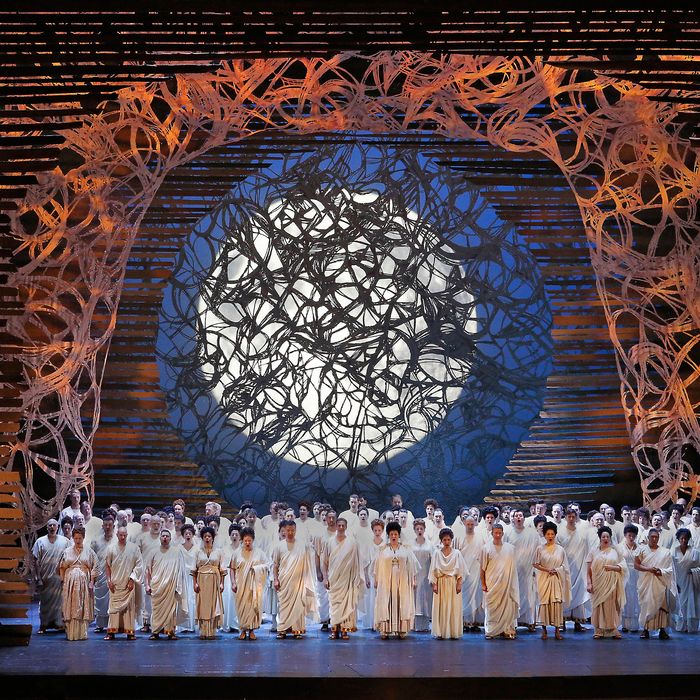 Onstage at the Met at the 50th-anniversary gala: Samuel Barber's Antony and Cleopatra.
Photo: Ken Howard
It's commencement season in the classical-music world, when seniors feel the new class's nudge, old discontents are gilded in nostalgia, and the future suddenly yawns. The Metropolitan Opera's 50th season at Lincoln Center is drawing to a close, marked with a wistful gala, as the company waits for its next chief of music, Yannick Nézet-Seguin, to open a new era. At the New York Philharmonic, music director Alan Gilbert is taking a valedictory lap as an institution that sounds better in the hall than it looks in its annual report pins its hopes on new management. The Met and the Philharmonic both upsized when they moved to Lincoln Center in the 1960s, with bigger budgets, fuller seasons, more lavish payrolls, and more seats to fill. Half a century later — and four years after New York City Opera crumbled — both institutions are coping with issues that range from real estate to the reason for their existence. The Met finds it ever more challenging to fill its house; the Philharmonic is trying to figure out how to build a new one.
Near the end of Strauss's Rosenkavalier, the Marschallin, still beautiful but no longer dewy, gives opera's most famous shrug. "That's how young people are," an older man says, and she answers with a sigh— "Ja, ja"— then exits on a cloud of exquisite melancholy. The soprano Renée Fleming, who still sounds beautiful at 58, will murmur those syllables for the last time in the broadcast performance that wraps up the Met season on Saturday. She leaves the role and that Olympian stage for a life of recitals, theater, and the occasional new opera. Watching her go will be the 40-year-old mezzo-soprano Elīna Garanča, who sings the role of Octavian, the adolescent lover whom the Marschallin relinquishes, and the 36-year-old soprano Erin Morley as Sophia, his betrothed. Though both are older than Fleming's character, their voices have the suppleness and sparkle of singers in their prime. Garanča, especially, is a revelation: She sings the title role not as an adorably horny kid but as a boy with a woman's voice who blooms into a man. Rosenkavalier is Strauss's exhortation to each generation: Know when it's your time to take charge, and when to make a graceful exit. It's never easy to get the timing right.
That commandment was much on my mind during the gala performance celebrating the Met's 50 years at Lincoln Center. That general assembly of opera stars wound up running five hours, one for every decade of the history being marked, and featured plenty of singers who, while past their peak years, can still stir an audience. James Morris as the fearsomely antique Grand Inquisitor from Don Carlo, Plácido Domingo in a subdued duet from Thaïs with Fleming — these are artists who offset their thickening vocal cords with undimmed musical wisdom. The baritone Dmitri Hvorostovsky, battling brain cancer, made a surprise appearance to sing Rigoletto's "Cortigiani, vil razza dannata," and showed that he can still curse a race of vile courtiers with ferocity and style.
I listened for intimations of the future, too — for all the Octavians and Sophies still active onstage, glowing with self-discovery and the knowledge that the story is now theirs to tell. (It is Octavian, after all, who delivers the rose of betrothal and gives Strauss's great opera its title.) And there they were: Pretty Yende, buzzing with charm and scattering pearl-like notes from Don Pasquale; Garanča, spinning out silken romance in the famous aria from Samson et Dalila; Javier Camarena, dinging high C's with Pavarottian glee in La fille du régiment; Michael Fabiano, light and powerful, like the honest-to-goodness Verdi tenor he is in I Lombardi. All this fresh singing was put to the service of hoary music: The Met could have borrowed its anthology from a gala in 1947, or 1917, with very few adjustments. I wobbled stiffly away at the end of that endless night feeling that the company has little interest in the genre's ongoing evolution, but at least the future of the past is in good hands.
Specifically, it is in the hands of the conductor Yannick Nézet-Seguin, who was anointed the Met's next music director nearly a year ago but won't formally assume the charge until 2020. (Empires rise and fall in the time it takes an opera company to trade one maestro for another.) At the gala, he shared podium duties with another beloved regular, Marco Armiliato, and with his predecessor James Levine, whose late-evening conducting grew sleepy and vague. Nézet-Seguin, on the other hand, conducts with athletic enthusiasm. He values expressive specificity more than martial precision. Quick passages sometimes blur a little, but the emotional trajectory is clear. A couple of weeks before the gala, he conducted Wagner's Der Fliegende Holländer (The Flying Dutchman). And he defied the plodding plot and sometimes stuck-in-the-mud bombast with orchestral playing that hurtled and dodged like a mountain biker on a precipitous track. The performance left me eager for more of that high-stakes excitement and slightly anxious that he might chip away at the habits of subtlety that Levine spent decades inculcating: the soft half-light of Debussy, the braided threads of melody in a Mozart ensemble. In any case, Nézet-Seguin's first day on the job can't come soon enough for the orchestra's players, who pelted the new boss with roses during his curtain call. I share their hopefulness. After years in which Levine left artistic strategy to the general manager Peter Gelb, the Met needs a powerful musical personality.
The company doesn't need the excuse of an anniversary to revisit its history — it does that week to week. In the last few months, the company has been steadily defrosting productions that haven't been seen in years: Jürgen Flimm's 2000 staging of Fidelio, Jean-Pierre Ponnelle's 1982 version of Idomeneo, and Cyrano de Bergerac, which Francesca Zambello directed in 2005. This cryogenic approach keeps the repertoire in circulation for new generations of singers and audiences, but it also can make the Met feel like an antiquarian society. In this context, Robert Carsen's new Rosenkavalier feels like a gust of freshness. Sharp, lean, and effective, it keeps the focus where it belongs, on the characters and the score. Strauss operas are about women, and when Carsen moves a comic seduction scene from a restaurant's private dining room to a Belle Époque whorehouse, he lays bare the transactional side of love.
The anniversary celebration made the case for opera's persistent glamour and vibrancy, and also to celebrate the Met's physical plant. Wallace Harrison's austerely elegant building remains an advanced blockbuster factory, one that can handle eight performances of four operas in a week, and two dozen productions in a year. The gala's photomontage bristled with vintage blueprints, construction photos, and drawings of alternate visions of Lincoln Center, plus footage of President Eisenhower turning the first shovelful of earth. In 1966, the company showed off the house's technological prowess with Franco Zeffirelli's Ziegfeld-esque production of a new opera, Samuel Barber's Antony and Cleopatra. No sooner had the curtain come down than the Met stashed the work away in embarrassment. (A brief choral number resurfaced at the gala, but not, alas, "Give Me My Robe," the signature aria written for Leontyne Price.) In the decades that followed, directors like Zeffirelli and Otto Schenck made the most of the Met's resources — not just its ability to swap a Japanese villa for a Norse god's mountain peak in the hours between the Saturday matinee and evening shows, but also the industrial-scale haberdashery and a corps of tailors who outfitted choruses of soldiers, peasants, rebels, smugglers, congregants, and courtiers. All this hugeness came at a cost: The burden of filling 3,800 seats, the demand for voices with the range and power of field artillery, the challenge of staging an intimate love scene on a stage as vast as a helipad. Many fine singers and small-scale operas get lost in Harrison's canyon. A lot of nuance goes unnoticed.
The gala managed to pay tribute to the Met's history of craftsmanship while at the time suggesting that much of it might be obsolete. Who needs carpenters and stagehands when digital wizardry and projected light can instantaneously conjure an entire 3-D world onstage? A tenor popped onstage for a quick aria, and the sets materialized around him, dissolved, and recomposed for the next number. The designers, Julian Crouch and 59 Productions, paid sly homage to the company's architecture, sprinkling its elements into the parade of digital backdrops. The tall arcade of the Met's facade reappeared as a Renaissance palazzo, as an archway leading to Catfish Row, and as a street in revolutionary Paris. They also re-created beloved productions in virtual form: Zeffirelli's picturesque garret from La Bohème existed only as long as it took Joseph Calleja and Sonya Yoncheva to fall in love, whereupon it vanished. In the future, sets will be stored on a server instead of a warehouse in the Bronx.
While the Met is nervously congratulating itself, the New York Philharmonic is doing the same next door. Alan Gilbert leaves his successor Jaap van Zweden a legacy of sonic splendor: On any given night, the orchestra sounds unimpeachably superb. He has also prodded a slow-moving beast into a new, if tentative, sense of mission. He sprinkled the repertoire with recent compositions, started a new music biennial, mounted off-campus adventures such as a Stockhausen night at the Park Avenue Armory, and infused regular programming with a sense of seriousness and depth. Recently, he opened a choral concert with Schoenberg's A Survivor From Warsaw, a short but shattering memorial to the doomed ghetto uprising during World War II. As the orchestra writhed, a men's chorus burst into the back of the auditorium and stomped down the aisles, singing a Hebrew prayer. Shema Israel, "hear our voices," they sang, and oh, we heard them, thundering over our heads until the final crack. And having thus cleared the audience's mind of mundane thoughts, Gilbert went straight into the opening shimmer of Beethoven's Ninth Symphony.
As Gilbert packs his boxes, he will bump into Deborah Borda, the Philharmonic's new president, who arrives preceded by a fanfare of great expectations. She presided over the most exciting phase of the country's most adventurous orchestra, the Los Angeles Philharmonic, and the music world is watching to see if she can bring that West Coast magic with her. She helped the L.A. Philharmonic grow into Frank Gehry's Disney Hall; now she has to see if she can get David Geffen Hall at Lincoln Center gutted and rebuilt (at a projected cost of more than half a billion dollars) without sending the New York Philharmonic into a death spiral. Next month, Gilbert will make his adieu with a concert performance of Das Rheingold, the first of the four operas that make up Wagner's Der Ring des Nibelungen. It begins with a real-estate deal gone bad, and a fight over how to pay for the gods' extravagant new home. The cycle ends with the established order going up in flames.