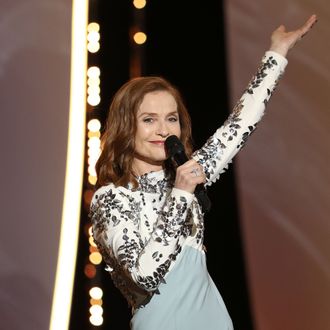 Isabelle Huppert.
Photo: VALERY HACHE/AFP/Getty Images
This will never happen, but can we please start the "Isabelle Huppert for Oscar Host 2018" campaign right now? The French acting legend may have been robbed by the Academy this year, but she still seems to be riding high on all that awards-season momentum at the Cannes Film Festival, where she's won two Best Actress prizes, once served as the jury president, and tonight absolutely killed it as co-host of the festival's 70th-anniversary soirée (with festival director Thierry Frémaux). She's closer to being royalty here than any actual minor princes who may have their yachts docked nearby.

How great was La Huppert tonight? Well, she seemed genuinely touched when the entire Palais rose to their feet for several minutes of thunderous applause the moment she stepped onstage. Then she kicked the night off right by singing a half-French, half-English rendition of "Happy Birthday" to Cannes, with a strong, clear voice that must just bring the house down at karaoke. (Huppert doesn't do anything by halves; wanna bet her karaoke song is Heart's "Crazy on You"?)
Both hosts spoke exclusively in French, and this writer does not — but it was immediately clear, even through the imperfect subtitles flashing above the stage, that Huppert was hilarious, and quite possibly giving her many extended speeches without a teleprompter. (Take, as evidence, that a very charming Guillermo del Toro had to ask the organizers to turn on a teleprompter for him because he kept forgetting what to say.) When Huppert mentioned 1974's Palme d'Or winner, Francis Ford Coppola's The Conversation, she pleaded, "American directors, please start casting Gene Hackman again, even if it's only on Netflix!" — a full-shade reference to the streaming service, which has been getting dumped upon and booed all festival for refusing to release their films in French theaters.
Then she, brilliantly, turned that shade on the festival itself, declaring, "70 years of Cannes, 76 Palmes d'Or, only one of which has gone to a woman … No comment." After saying those last two words in loud English, she just stood there and smirked as the audience applauded and Frémaux called for the camera to pan over to Jane Campion, said only female Palme d'Or winner, whom the festival has been trotting out as a symbol of its feminism since 1993. Well, technically. Three women have won the Palme, if you count the Blue Is the Warmest Color actresses Adèle Exarchopoulos and Léa Seydoux, who shared the prize with their male director in 2013 — though they're not quite viewed as equal Palmes to Campion's. That puts Cannes at 70 just slightly ahead of the Oscars, which still has only had one woman director win in 86 years.
This was, of course, immediately followed by a montage of all the beautiful actresses who've come to Cannes — Bardot! Vanessa Paradis! Kristen Scott Thomas announcing "as you know, I am eternal" — just further illustrating Huppert's point about how the festival tends to embrace women as screen presences and glamorous figures on the red carpet but very rarely as visionaries and réalisateurs.
I'd also like to put in a request that whoever edited these Cannes montages also get hired by the Oscars. Every single one of them felt taut and necessary to tell the history of the festival — warts, yelling, vanity and all. (Although the montage of children in cinema that came at the end definitely felt like one montage too many.) The montage on prizes at Cannes featured a great clip of Roberto Benigni twirling Martin Scorsese around the stage, and 2015's winner Jacques Audiard thanking two-time Palme winner Michael Haneke for not making a movie that year. A montage on scandals at Cannes — which Huppert introduced by pointing out that lots of movies that get booed in the moment at Cannes have gone on to be taught in film schools — featured everything you wanted it to, including the infamous four-minute Vincent Gallo–Chlöe Sevigny blow job scene from The Brown Bunny; Quentin Tarantino flipping the bird to people who booed him when he won the Palme for Pulp Fiction; and that great moment when director Maurice Pialat, getting booed while winning the 1987 Palme for Under the Sun of Satan, shouted out, "If you do not like me, I can say that I do not like you either!"
Best of all were the montages featuring a moment from every winning film of Cannes. Each time a seminal film of my life showed up onscreen, which was often, unexpected waves of emotion crashed over me. When 1959's Orfeu Negro (Black Orpheus) was followed by 1960's La Dolce Vita and 1961's Viridiana from Luis Buñuel, I felt overwhelmed by what it must have been like to live in that incredible era. Soon the music of Umbrellas of Cherbourg (1964) and M.A.S.H. (1970) had me crying, and vowing to put myself through a boot camp of watching every film I'd missed on that list.
Throughout the night only a few people managed to steal the spotlight, ever so briefly, from Huppert, including Youth director Paolo Sorrentino, a jury member this year, who told a great story about how the first time he came to Cannes, he walked into his hotel to see "a topless girl having a conversation with two guys in the door of her room, and I was happy." He also met a huge producer who got him to agree to make a movie about cows, which fortunately for him (but maybe not for us) never came to be.
Guillermo del Toro gave the only semi-political speech of the night — which was surprising, given what happened in Manchester last night. Introducing a montage about movie monsters, he urged us to be wary of the boring monsters we live among today, "smiling and lying in beautifully tailored suits." He went on, "Today, in the post-truth era we live in, we need to talk about monsters. Forgive our sins and imperfections and rebel against those who claim it is 'the other' that we should be afraid of. Against those who tell us that there is 'us' and 'them,' who we must reject, and who demonize anything that stands out from the norm."
French pop star Vianney closed out the evening with a bizarre acoustic reinterpretation of the Pulp Fiction soundtrack, among others. But it was Huppert who'd left the biggest impression. As Frémaux invited every famous person from Cannes history who'd been invited to join him onstage (Agnès Varda! Uma Thurman! Nicolas Winding Refn! Gael García Bernal!) and launched into a reprise of "Happy Birthday," I found myself wishing it had been Huppert singing again, and that she would sing everything and host everything in the world from now on. Well, internet, time to get to work! Oh, and if you could make that Huppert–Barry Jenkins dream collaboration happen, too, that would be fantastique.