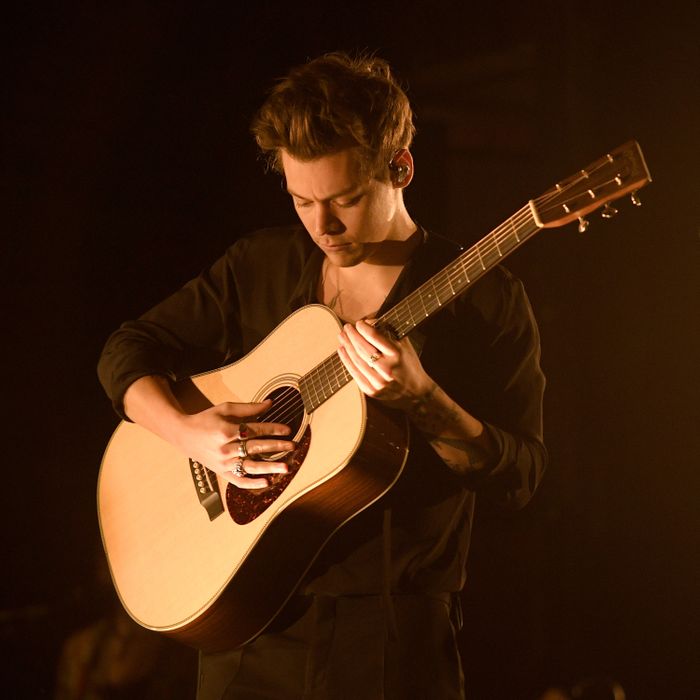 Harry Styles, unplugged.
Photo: Dimitrios Kambouris/Getty Images
In his first-ever solo music video for his first-ever solo single, "Sign of the Times," Harry Styles ascends. In the very attractive Rapture of one, the former One Direction heartthrob lifts the second the pre-chorus drops, gliding over the gorgeous and desolate Scottish Highlands. The implication of his levitation is obvious: He wants us to know that post-1D, he is free, and he's chosen to take flight. Why stand on your own two feet when you can leave the weight of the world behind?
Styles is alone for the entirety of the clip, belting out a vocal melody not too far removed from Chicago's "Hard to Say I'm Sorry," offering some comfort in an apocalypse: "Just stop your crying, it'll be alright / They told me that the end is near / We gotta get away from here." Where he's leading us is unknown, and he's smart to cloak his future in mystery. In a music climate without One Direction — or even one with them in it — not much is known about Harry Styles, the person, and that's pretty rock and roll (or so he says in his Rolling Stone cover story — an honor 1D were possibly considered too sophomoric to ever obtain). He thrives in his protective, self-created mythos, and it's time to take him seriously. It's undeniable that those who've never cared for Harry Styles, 1D heartthrob, are now expressing interest in Harry Styles, solo artist, and with good reason — liking him no longer holds the negative cultural baggage of liking a member of a boy band. Those who fear taste-based marginalization are now allowed to enjoy his charisma.
"Sign of the Times," and every other single that's been released in the lead up to the release of his self-titled solo LP, is steeped in classic-rock tradition, an unsurprising move considering the songs that appeared later in the One Direction catalogue, especially in the Harry-centric ballads of 2014's Four and 2015's Made in the A.M. (there are some up-tempo exceptions, like in the Sloan-channeling "Little Black Dress" or the Fleetwood Mac worshiping "What a Feeling"). Styles has always been drawn to vintage sounds, finding ways to contemporize them with modern production and sweeping vocal performances so as not to lose or confuse his dedicated Directioners (and maybe to attract their parents in the process). This sets him apart from his boy-band brethren — where Zayn Malik, Louis Tomlinson, and even the Ed Sheeran–adjacent Niall Horan have opted for modern sounds, Styles is seeking success in something soft and familiar. He's making music accessible to anyone who might normally write off One Direction or teen pop in general, and it's working.
Since 1D announced their hiatus last year, each member of of the band has pursued his own individualistic sound, but Harry's focus has been on making his acting debut in the Christopher Nolan war film Dunkirk. (He's played himself in One Direction movies and in teen-centric programming like Nickelodeon's iCarly, but this will be his first time acting as someone else.) Acting on location has allowed Styles to relish some relative privacy, exasperating the public hunger for anything Harry-related, as Malik and others made their Billboard chart debuts. Styles's foray into solo recording, however, was an unspoken understanding. We all knew it was coming, we just didn't know when, and requesting patience from his audience has only made them more loyal, giving room for One Direction nonbelievers — the mainstream music publications that largely ignored the biggest boy band in the world as something juvenile — to learn to love Harry Styles. It's not that absence breeds legitimacy, but time that creates distance from the social stigma that comes with liking a boy band.
It takes a variety of personalities and talents to form a successful boy band. Its foundation is an equation of stereotypical archetypes, and they all have an expiration date. All boy bands eventually burn out, but successful solo careers are born from the flames.